Anaheim Morning Report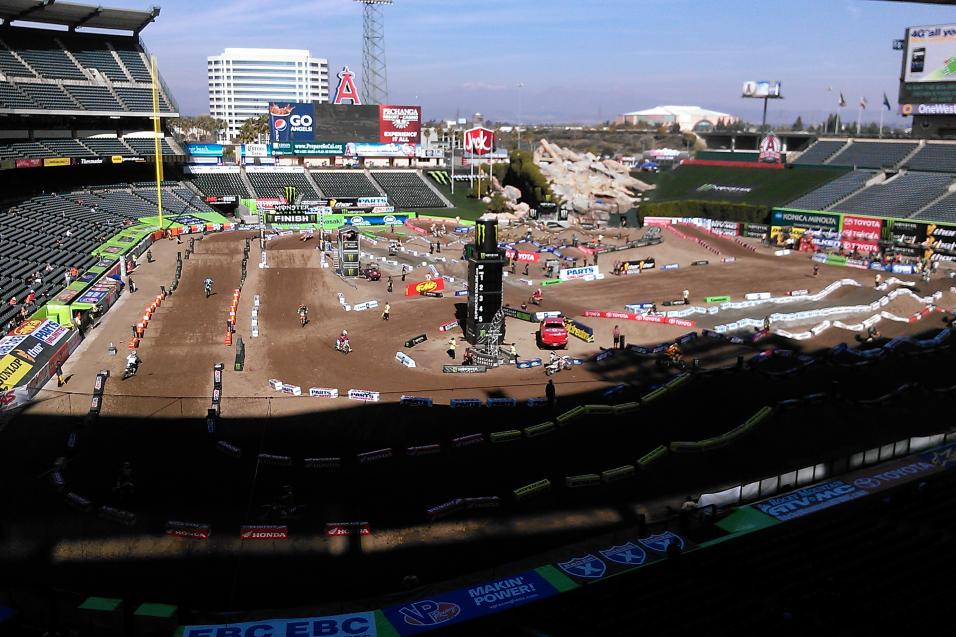 Angel Stadium
Anaheim

,

CA
Race Center: Anaheim 1
Monster Energy AMA Supercross Championship
The wait is finally over. Race day coverage of Monster Energy AMA Supercross, an FIM World Championship, starts right now, and you couldn't ask for a better day to kick the season off. The sun is shining, there is no threat of rain and temperatures are expected to hover in the mid-60s all afternoon. Even better, everyone has somehow miraculously made it through the off-season without sustaining major injuries, ensuring that the races tonight will be absolutely jammed with talent.
(Stop with the jinx talk, people).

The track is a big improvement over Anaheim 1 the last season. There are no weird long sections that guarantee to create extended periods of single file racing, which immediately became an issue last year at A1. Also gone is the weirdo carousel turn, the "340 degree corner" from last year. It's way better. But, as usual for the opener, the track isn't terribly technical by pro standards, which reduces the chances of anyone getting injured right off the bat. AMA Race Director John Gallagher says that the overall design at A1, and the rest of the year, is meant to improve safety by building and placing obstacles in such a way that top speeds are lowered, relative to previous years.
There are two whoop sections, and although the whoops themselves are fairly large, the sections are short, each consisting of seven or eight whoops. Everyone says the whoops are quite easy. The second set of whoops is preceded by a massive berm that stands easily ten feet tall, and as the whoops wear down we may see some of the top riders start going high on the berm and jumping nearly the entire set. The most treacherous sections of the track may end up being the sand sections. There are two of them, and the sand is soft and deep. Both have jumps leading into them, although most riders will likely opt to roll the single in the second section.
Untimed practice is now under way, so be sure to keep it locked here on Racer X Online and follow us on Twitter for updates on the action from the season opener in Anaheim.