Monster Energy World Speedway Invitational Preview
December 27, 2012 10:05am
World Class Motorcycle Speedway Racing Returns to U.S. Soil in Two Days at World Speedway Invitational
Two-Time Speedway World Champion Greg Hancock Leads Global Lineup

CORONA, Calif. – Double World Champion Greg Hancock says the Monster Energy World Speedway Invitational at Industry Racing on Saturday night, December 29th, is American Speedway's biggest meeting "since the eighties."           

The last top-line event staged on U.S. soil was the 1988 World Team Cup Final – the year before Hancock turned professional and joined legendary British club Cradley Heath.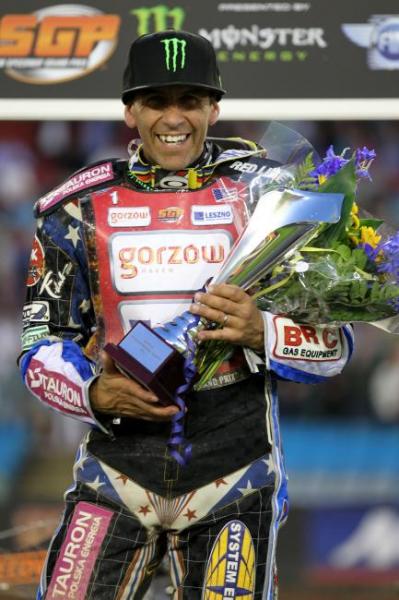 Monster Energy Athlete Greg Hancock
(Courtesy Cycle News)
The 42-year-old has raced in every FIM Speedway Grand Prix (SGP) event since the competition replaced one-off World Finals in 1995, but he is still waiting for the chance to compete for World Championship points in his homeland.  

He won't get that opportunity in 2013, but Hancock cannot wait to tackle the likes of Polish icon Tomasz Gollob, two-time SGP winner Antonio Lindback, Swedish SGP gold medalist Freddie Lindgren, and 1996 World Champion Billy Hamill in what will be a Monster meeting at Industry Racing's roof-covered Grand Arena.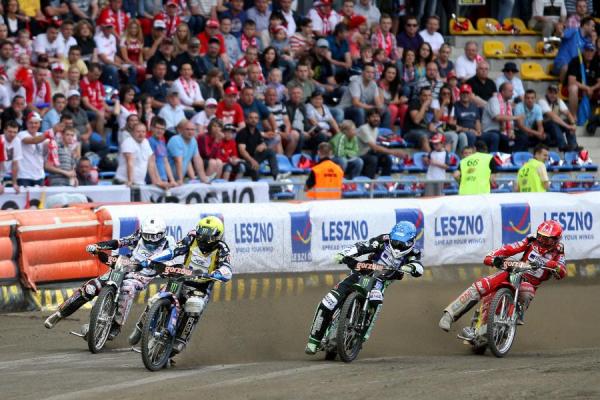 2012 FIM Speedway Grand Prix action.
(Courtesy Cycle News)
Danish star Hans Andersen, seven-time British Champion Scott Nicholls, 2011 World Under-21 Champion Maciej Janowski, Team Great Britain racer Edward Kennett and American international Ricky Wells will also compete on the highly technical 1/8th mile (200 meter) track. 

Hancock admits this is the strongest field assembled in the U.S. since his formative years and is delighted the Monster Energy World Speedway Invitational appears destined to become a regular fixture on the calendar at Industry Racing.     

"On an international level, there hasn't been anything like this since the eighties – nothing of this nature anyway," said Hancock. "We've had the USA versus the Rest of the World, which Dave Joiner puts on at the end of the year when he brings over some great names, but we're getting a number of the heavy-hitters from the Grand Prix for this meeting and it's awesome. It's a big thing and the fact Monster is backing it helps so much financially and from the publicity side of things.           

"They're going to add so much to the picture and I know my friend Kelly Inman, the promoter of the event, is so excited about it. He's getting to know the people from Monster and other corporate names who want to work with him. They're educating him and, in return, he's educating them about our sport. This isn't a one-time deal. It's a two or three years that Monster wants to do it and keep building it. It's not just a one-hit wonder. It's something we hope to run for years coming."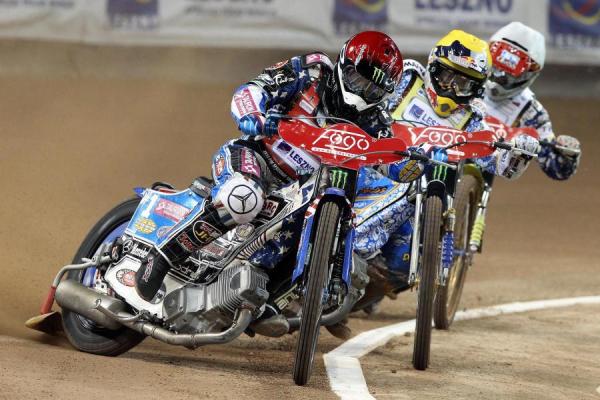 Close competition is the trademark of speedway racing.
(Courtesy Cycle News)
Hancock may be a familiar face to the American fans, but the Whittier-born rider admits his home fans cannot wait to see him lock wheels with his biggest rivals in person, instead of on television or YouTube.          

"It's guaranteed to be a sell-out crowd in my opinion," he exclaimed. "It's going to be huge. Many people in my area go to speedway, but suddenly I'm getting phone calls, people stopping by, emails and stuff talking about this event. There is so much hype. It's something American Speedway has needed for a long time. I'm as excited about it as anyone."

*Text courtesy of FIM Speedway Grand Prix.

Tickets for the inaugural Monster Energy World Speedway Invitational are available for purchase at the Industry Expo Center offices through Friday, December 28th, and the Industry Racing Box Office beginning at 4:00 p.m. on Saturday, December 29th. Tickets are priced at $23 for Adults and $15 for Juniors and Seniors. All kids under 12 are free with adult admission. Parking is $5 with motorcycle parking free of charge. The event will run rain or shine as The Grand Arena has a roof.

Industry Racing at The Grand Arena
16200 Temple Ave.
City of Industry, CA 91744

Contact Track/Racing Director Kelly Inman at Kelly@IndustryRacing.com

To get a rundown on the most recent Monster Energy Speedway Grand Prix season, log onto www.SpeedwayGP.com.