It's now just 23 days until the 2013 Monster Energy Supercross Championship begins at Anaheim 1, so we turn to #23 on the Monster Energy 30-day Countdown of the best supercross racers of all time.
Number 23 on the list is a true superstar of the sport, Broc Glover. Born and raised outside of El Cajon, California, the "Golden Boy" entered the pro ranks in '76 and immediately became a success, making the podium numerous times his first season in the 125 Nationals. Although Glover is well inside the top ten in career motocross wins (and combined overall wins) and has an amazing six AMA Motocross titles—second only to Ricky Carmichael—he sits nineteenth in career SX wins with ten and no championships. The indoors were just a little bit tougher for Glover but he still got quite a few wins over his long career.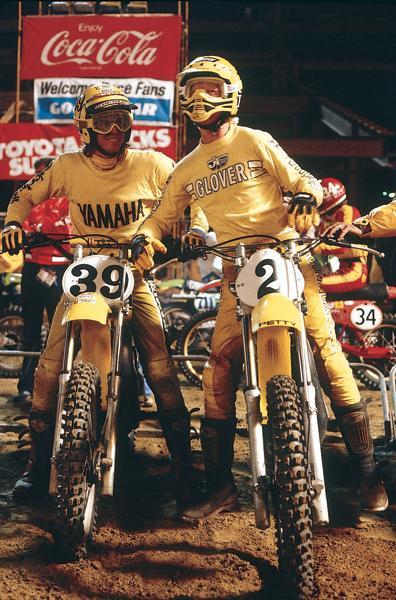 Glover sits nineteenth in career SX wins.
Moto Verte photo
They called our #24 Ron Lechien "The Machine," but that also could have been a good nickname for Glover, as his precise riding style didn't always show his tremendous speed. Glover had his share of injuries, and riding a production Yamaha (he was a factory Yamaha rider for his entire career but in 1984 Yamaha went to a production-based bike) against the factory Hondas wasn't always ideal, but Glover made it work.
His first SX win was in 1980 and his last win in supercross was his last supercross ever, in the Los Angeles Coliseum in 1988. Broc also came very close to winning the 1985 supercross title, finishing just two points behind Jeff Ward after a myriad of controversies, including a points-rewarding system for heat races that was changed halfway through the series, as well as an added main event to the last round, at Pasadena. And then there was the fact that Wardy had crashed in that last race and ridden backward on the track to find a place to turn around. Controversy ensued in the form of filed protests, but in the end, Glover lost the race and the appeal and finished second in the series points. It was the closest he ever came to the title.
Injuries haunted Glover after '85 in terms of supercross, as he broke his wrist and leg in subsequent years before retiring from supercross after that '88 Coliseum win. Broc Glover may not have a #1 plate from supercross to match all those outdoor titles, but he easily slides into the top 30 supercrossers of all-time.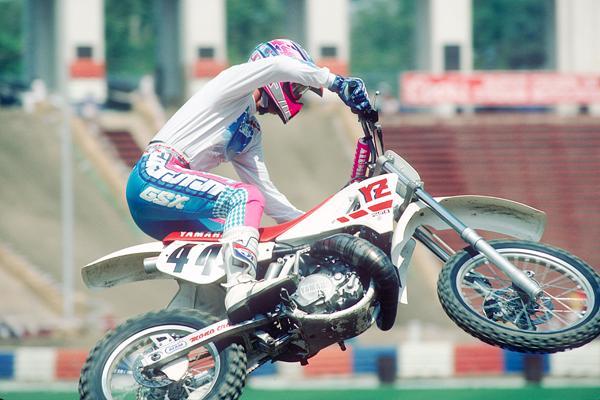 Glover at the Los Angeles Coliseum in 1988, the site of his last SX win.
Moto Verte photo
Here's a look at all of Broc Glover's race results, courtesy of the Racer X Vault.
The 30 Best Supercross Racers of All Time Tracker:
#23 Broc Glover
#24 Ron Lechien
#25 Jimmy Weinert
#26 David Vuillemin
#27 Donnie Hansen
#28 Larry Ward
#29 Mike Kiedrowski
#30 Marty Tripes