NEW! Excel Adjustable Spoke Torque Wrench
- Excel's new lightweight aluminum bodied Spoke Torque Wrench takes the guessing and fatigue out of building wheels and maintaining the desired tension of your spokes.
- Tightens all spokes identically to proper torque setting to maximize the highest strength capacity and reduce the likelihood of rim/hub/spoke breakage.
- Unlike other spoke torque wrenches, Excel's Torque Wrench is easily adjustable with a range of 15-60 inch-lbs.

- Excel's Torque Wrench Kit comes with 5 heads in the most common sizes, including the Spline Drive head.  Additional and replacement heads are available in sizes ranging from 5.1 to 6.9mm.

- Comes in a handy blue composite storage box and makes a great gift!

- Optional spoke wrench handle sold separately.

Retails for $149.95

Contact your local dealership to place order.

For more information contact:
RK EXCEL America Inc.
Tel 760-732-3161   Fax 760-732-3186
Email info@RKExcelAmerica.com Website www.RKExcelAmerica.com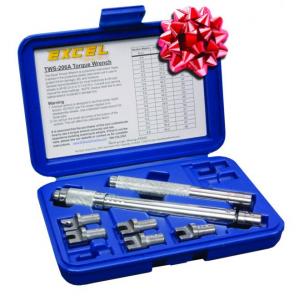 The Turtle Shell is Outdoor Tech's rugged, portable, and wireless boom box. Whether you're cruising on your board, hanging out in the pits between motos, raging with some friends, enjoying the outdoors or kickin' it at the beach the Turtle Shell is ready for adventure with its IP5X dust and waterproof standard. Assuming the form of its reptilian namesake, The Turtle Shell offers a uniquely rugged design with an array of color offerings to express your style. Easy-to-use integrated controls enable quick access to control tracks, volume and calls directly at the touch of a button.

Let's talk sound. Your music, movies, calls and even games will sound crisp with Hi-Fi sound and deep bass. The rechargeable lithium-ion battery will keep the party going for up to 10 hours of quality sound. It is also equipped with a built-in microphone which makes it ideal for obtaining a board-room like feeling for conference calls.

Outdoor Tech outfitted the Turtle Shell with the Turtle Claw all-purpose clamp, allowing you to easily mount it to a bike. The Turtle Shell has a number of patents pending, including the first ever camera threading on a speaker, which allows it to attach to any standard camera accessory such as a flexible tripod. The Turtle Claw is sold separately for a suggested retail price of $19.95.

Specs and Features
- Wirelessly connect to any Bluetooth-enabled device
- Standard threading for multiple accessories
- IPX5 dust and waterproof standard
- Rugged, minimal design
- Rechargeable lithium-ion battery
- 9-10 hours of Hi-fi sound or talk time
- Operating distance: up to 30 feet
- Operation time: Talk- 9 hours/Play music: 8 hours
- Standby time: 700 hours
Available at www.outdoortech.com, www.backcountry.com, www.dogfunk.com, and select Urban Outfitters locations.
Retail: $149.95