For Chris Plouffe, a two-time champion at the Red Bull AMA Amateur National Motocross Championships at Loretta Lynn Ranch, 2012 represented a tough rookie pro season. A shoulder injury suffered early in the 250SX West Region left Plouffe on the sidelines for a majority of the supercross season. The California native returned late and pieced together his best results of the year—including a career-high 11th at the season finale in Vegas. But his season was cut short, again, when he was unable to obtain a ride for the 2012 Lucas Oil Pro Motocross Championships. (You can read more about Plouffe's journey in The Only Life They Know.)
In desperate need of racing experience after a shortened rookie season, Plouffe headed to Australia to ride for Factory Husqvarna in the Terex Australian Supercross Championship. But his time Down Under was short-lived, too. After his season debut at round 2 at Phillip Island, Plouffe cracked his humerus testing and was soon headed back to America. But good news was on the horizon. Earlier this week Plouffe announced that he re-signed with 51 Fifty Energy for the 2013 250SX West Region [the same team he raced for in Monster Energy Supercross during 2012]. We caught up with Plouffe earlier this week to talk about his new deal, Australia and much more.
Racer X: It was officially announced this week that you have re-signed with 51 Fifty Energy for 2013. Take us through the deal.
Chris Plouffe: Yeah, I just re-signed with 51 Fifty Energy Drink Honda for 2013. As of right now it is a 250SX West Region Supercross-only contract. Hopefully, we will also be able to work out deal to do the outdoors as well.
For those who may not know, can you explain how the 51 Fifty Energy team came together?
Yeah, I rode for the 51 Fifty Energy Team last year, and this year we will be doing the 250SX West Region. Carlos Vieira is the owner and Mike Hutcherson is the team manager. I know we will have two mechanics. I have yet to meet my mechanic, so I'm not 100 percent on who that will be. Carlos is the big backer, obviously. Last year Nick Johnson called me and wanted to put something together and after about two months of talking we were able to get all the sponsors in there. This year we have a lot more support from sponsors, so that's good. It's really just having the support we  we didn't have for 2012 – which will make a huge difference. I'm sure everyone will see a huge difference in the team this year. It just takes the pressure off of Preston Mull and myself a little bit.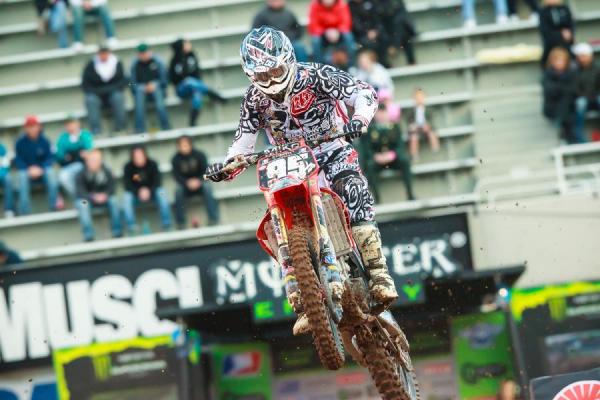 Plouffe has re-signed with 51 Fifty Energy Honda for the 2013 250SX season.
Simon Cudby photo
It was the first year in the professional ranks last year for you and the team. How much of a difference will a year make?
Last year was a huge learning year for the team and myself. Going into it [my rookie season] I didn't exactly know what to expect, and I know they didn't know what to expect team wise. We learned a ton just at the first round, but unfortunately I got hurt and that set me back. But I was able to go and watch the races and I feel like that helped me a lot. Going into next year we are way more prepared than we were last year. We know what to expect going into Anaheim 1 this time. I know what I need to do for myself as far as riding and training and I know that I will be a lot better than I was last year.
Toward the end of the year, once you came back from injury, something seemed to click for you. What were you able to take away from your rookie season that you can apply to next year?
It was really practice at the races. I really struggled with my qualifying times. I was never able to put down good laps. When it came to the heat races, I was a lot faster than I was in practice, but in practice I wasn't able to learn the track fast enough. I think that is something I really struggled with. So going into this year, I know what I need to do for practice at the races while I'm practicing [at the test track]. I know I need to really focus on putting down a hot lap in practice and things like that.
Do you think about talking with veterans during practice, or changing up the way you approached the track walk?
Yeah, definitely. Last year I would always do the track walk with someone I knew or had a couple of years of experience and I was able to learn a lot that way. This year I have a great group of people around me that I can ride with that have been in it for a few years.  You definitely learn a lot from practicing with some of the veteran guys.
You mentioned focusing more on practice during the race while you train for the upcoming season. What are some of the things you are adjusting to get that quick lap in practice?
To have that, you have to have a good sprint. I was decent at it in the heat races, but you don't get the same adrenaline rush in practice as you do the races. I guess you could say I was too mellow in practice. I never was able to put down that fast lap that I knew I had in me. When I'm practicing now, I'm constantly trying to practice like I'm racing 100 percent all the time. That is going to be the biggest part for next year.
You spent some time in Australia this off-season competing in their supercross series, before your time got cut short. Can you elaborate on how the deal came about and what led to you coming back early?
I received a phone call from Josh Davies and he wanted me to come there and race for Factory Husqvarna. I was there for about a month and did the second round at Phillip Island. I had a couple of struggles and got in a first turn pileup in the main event and then another pileup later in the race. We went to test a new motor the following week and I had a little dumb, slow tip-over and landed on my shoulder perfectly and cracked my humerus. It's been about four weeks since and I have about two more weeks until I can begin riding. So it was about a six-week injury, which wasn't bad, it could have been worse. The bone stayed in place, so I didn't have to have surgery or anything.
This injury kind of puts you on the pressure cooker as far as time goes to prepare for Anaheim 1. How much do you think it will affect you?
I don't think it will affect me much. I'm still able to train. I'm working with Icon Sports Performance now and I'll be in shape and I know how to ride a dirt bike. I'll have about three weeks before Anaheim and I think that will be enough time to get ready. Preston Mull, my teammate this year, will be doing some of the testing for me and we'll have a well-developed bike by the time I'm able to ride.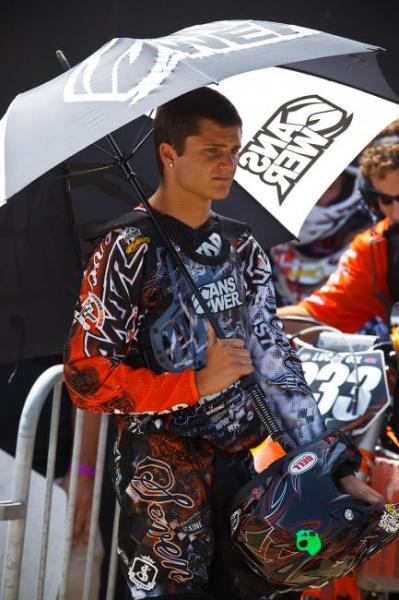 Plouffe hopes to rebound from a difficult rookie season in 2013.
Simon Cudby photo
Obviously an injury is not what you wanted going into Australia. But are you able to look back and be satisfied that you were able to at least get some race experience in—especially after missing some time in SX with injuries and then not having a ride for the Nationals?
Yeah, definitely. Going down there I got to ride with a bunch of different guys and those guys are fast. The guys that are racing supercross down there could race supercross here. I practiced a lot with the 450 guys during the week, so that was good for me. Going there, I needed to race. I haven't been racing that much this year from being hurt in supercross and then not being able to do the entire outdoor series. I wasn't able to do too much racing but it kind of got me going again and that's what I needed.
A lot of guys have gone to Australia, PJ Larsen for example, and blossomed as not only a rider but also a person. Did spending time thousands of miles away from home change your outlook on things?
It's a lot different. I was going there all by myself, and the plan was to be there for two months. They put me in a great house, right by the beach, so I can't complain about that. I was able to see a lot of different things, and having to live on my own for a month makes you mature in a different way. It really makes you appreciate everything. Going over there and seeing and meeting new people … you learn a lot from being around other people. It was a good experience and it made me a better rider going there. It was a bummer that I had to leave early, but that stuff happens in this sport.
Thanks again, Chris. Anything else you would like to add?
Yeah, I would like to thank 51 Fifty Energy Drink, Race for Autism, RG3, MX Solutions, etnies, Fly Racing, Deft Family, Jett Boots, Bell Helmets, Moto EFX Graphics, Lufo's Kustom Designs, Icon Sports Performance, Matrix Racing Products, Cycra, Mika Metals, ODI Grips, Works Connection, Moto Tassinari, Renegade Fuels, CV4, Slacka Wear Clothing, Hinson, Brake Tech, Warp 9, Silkolene Oil, Dunlop Tires and H&S Electric.