The picture and heading at the top of this article can only mean one thing. Yep, it's time for another article highlighting some of the funniest and most outrageous dirt bike buys on Craigslist. This week the ads featured are once again supplied entirely by our readers, and there are some absolute gems. Enjoy!

Dueling Yamahas
This first ad comes to you from St. Louis, although judging by the $1111122 asking price in the header, we initially thought it must be coming from some backward country whose residents aren't sure how money or numbers work. St. Louis isn't too far from the Ozark Mountains, so in a way, our suspicions weren't completely unfounded. A quick read of the ad in its entirety reveals that the seller is willing to part with his two junk piles for $650, which still seems steeper than a Montana hill climb. As always when quoting these ads, we use the [sic] tag as liberally here as you would use WD-40 on these bikes.
"I have a yz490 and a yz465 for parts the 465 has a fresh topend bored to a 512 I have the 490 bottom end stIll thats good. Text for what u need or I'll take $650 for everything will trade for blaster parts or anything dirtbike or four wheeler."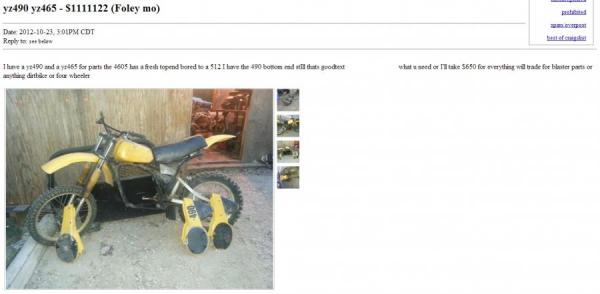 Click here to view the ad.
The Silver Lining: When these bikes had engines in them, we're willing to bet that they were strong runners. How else can the upward-pointing rear fenders on both machines be explained?


Black Lightning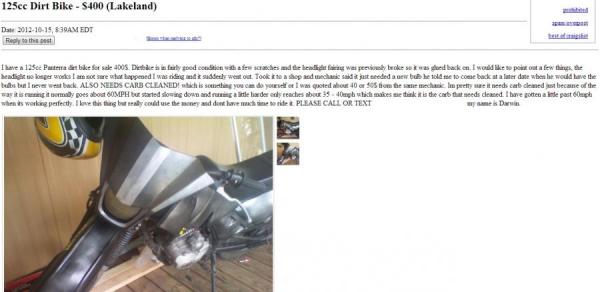 Click here to view the full ad.

This bad boy is exactly what comes to mind when envisioning the perfect ad for this column. The bike has the makings of an epic listing: Flat black spray paint, futuristic headlight cowl, and the coolest name this side of Bullet 450: Pantera. Best of all, the seller's name is Darwin, which is ironic because he seems like the type of person that would be nominated for a Darwin Award after riding a black motorcycle at night with a blown headlight.

Further promising to project this ad into the Best of Craigslist is the fact that the bike barely runs at half of its original top speed.

"…it normally goes about 60MPH but started slowing down and running a little harder only reaches about 35 - 40mph which makes me think it is the carb that needs cleaned."

As always, only the coolest dirt bikes are described in terms of top speed. And no need for concern here, we're sure it's a simple carb clean, not an engine issue that would require impossible to find replacement parts. What shop doesn't have a stock of Pantera carb parts on hand?

The Silver Lining: This bears the name Pantera. Not only is it a cool name, but judging by its appearance and moniker, there's a chance it was actually used in the filming of one of Pantera's music videos. RE! SPECT!

Two-Stroke Camshaft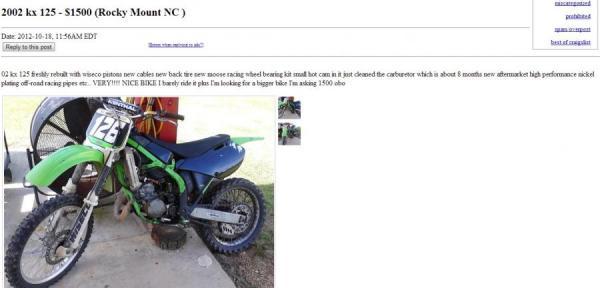 Click here to view the full ad.

At first glance this listing doesn't look crazily out of the ordinary, and it definitely wouldn't gain automatic admittance into this column. Sure, it's missing a radiator shroud, but that's hardly enough to make it Cool as Hell. The real gold in this ad comes from the seller's pitch.

"02 kx 125 freshly rebuilt with wiseco pistons new cables new back tire new moose racing wheel bearing kit small hot cam in it just cleaned the carburetor which is about 8 months new aftermarket high performance nickel plating off-road racing pipes etc.. VERY!!!! NICE BIKE I barely ride it plus I'm looking for a bigger bike I'm asking 1500 obo."

Last time we checked a KX125 was a single-cylinder motorcycle, so if this guy rebuilt the engine with pistons, there's a pretty good chance there's going to be some kind of running issue. Another question mark is raised by the absence of the high performance nickel plated racing pipes the seller claims this bike has, and contrary to the ad, that rear tire definitely ain't new. The best part of all comes from the claim that this machine comes equipped with a "small hot cam." Is this bike from some kind of backward, parallel universe where two-strokes have cams and valves and four-strokes have reeds and transfer ports? What is going on? If this thing has a camshaft, we're willing to lay down the $1500 just to get a glimpse!

The Silver Lining: Since the rear tire is already balder than Charles Barkley, you won't feel even a twinge of guilt when you smoke off the remaining millimeters of rubber while your mullet flows freely in the wind as you chug down a tall can of Budweiser in your garage. Shouldn't be tough to do with that aggressive cam grind and twin Wiseco pistons.

Now it's time for you, the reader, to use the comments section below to vote on whether Dueling Yamahas, Black Lightning or Camshaft Two-Stroke is the clunker of the week. Do it. Do it now.

See a bike you think would make a good fit for this column? Send an e-mail over to aaron@racerxonline.com

If you've been offended by anything you read here, you can also send us an email, but first, try taking a deep breath, relax, and remember, it's all in good fun.