Saturday at Loretta Lynn's, Am-Pro Yamaha's Paul Whibley came out on top in a nail-biting Can-Am Grand National Cross Country final round showdown. His victory over season-long rival Kailub Russell gave Whibley his second career GNCC title. We rang him up this morning to say congrats and get his take on the race and season.
Racer X: So did you celebrate?
Paul Whibley: Yeah, I did go down to Nashville on Saturday with a few friends. Things were going a little slowly on Sunday, that's for sure!
[Laughs] Okay. take me through this. You won the GNCC title in 2009 and it was close, but nothing like this. How nervous were you?
Yeah in 2009 I had about a 14-point lead at the last race. Here I was down by one, there was more pressure, I had to win and beat Kailub. During the week, I was kind of thinking about a lot of things and trying to make a game plan, but when it came down to the race day I was able to approach it like another race. I knew I had done everything I could do leading up to it—my training and practice was good. I was comfortable and confident I could put in a good race and it would go to plan.
Off the start, you grabbed the holeshot and Kailub went down. Did you even know that?
No, I actually didn't know that until after the race!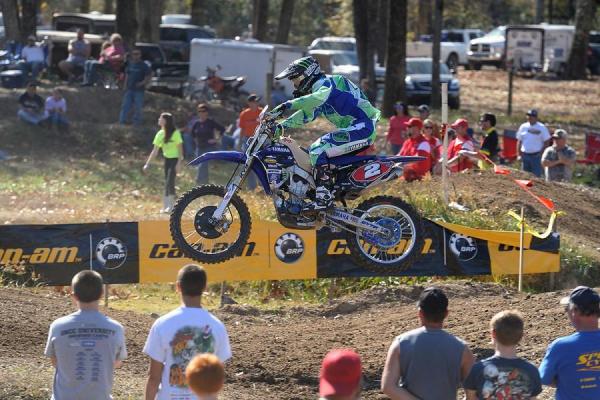 Whibley trailed points leader, Kailub Russell, by one heading into the final round.
Ken Hill / GNCC Racing photo
What? They didn't tell you?
My first pit board told me he was 15-seconds back, so I just thought he had an average start and had made his way back up. I guess he had actually fallen and had charged really hard to get to that point.
So it was pretty close, early?
Yes, that's what I remember. The first lap, I get the pit board saying he's only 15 seconds back, so I figured I would see him pretty soon!
So when it didn't happen, did you start wondering? I would think it would be hard to focus on your own deal for three hours without your mind wandering to the other guy.
Yeah, the second pit board, the gap had grown just slightly, to 20 seconds. I thought maybe he was waiting. And I could hear other bikes behind me charging. Then the third lap it was up to 30 seconds, and I thought, maybe I could increase my pace from here and try to make a break for it. So I stepped up the pace and the gap kept growing.
You have some races where you're good, and some where you're even better than that. What is the difference on some days—what was the difference in this one?
I'm not really sure! I actually don't prefer this track; I like the softer stuff instead of the rockier tracks like this. But it's strange because in the past I've won some of the rockier races. I don't know, it was just one of those days, maybe! I feel like my pace has been really good this year at every race, but you can't win them all, no matter how on form you feel.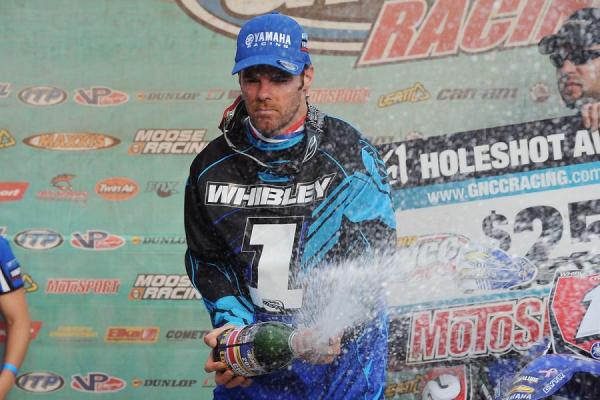 Whibley celebrates his first XC1 title since 2009.
Ken Hill / GNCC Racing photo
Well you bring up a good point. Last year at Loretta's, your agent Fred Bamblett mentioned that no rider even goes thirteen GNCC rounds without some problems. And lo and behold, last year's points leader Charlie Mullins blew an engine on the first day of racing, which put you back in contention. But you didn't have any DNFs this year. Did you feel like you beat the odds? Or did some of the other stuff that happened to you, like running out of gas at the last race, was that your bad luck?
[Laughs] The running out of gas was a pretty bad deal. And you're right, it's pretty hard to go through the whole year without having some sort of mistake or disaster. Thirteen races at three-hours is a long time on the bike for something to go wrong. At Unadilla, I broke a rear brake pedal, I was able to hang on to second but maybe I could have contended for the win. And then we ran out of gas at the last one, which was the only race where I didn't finish on the podium [Note: Whibley was able to get gas from another rider and finish the race, although he lost time stopping for fuel, and was also penalized a position for fueling outside the designated pit area]. So I had some bad races, but it was just bad results-wise, but it didn't make me feel like I wasn't riding well.
Last lap, were you thinking about this?
It's actually kind of funny, I wasn't even really thinking about the championship up until the last few corners! I was trying to keep it all out of my mind and just ride. So the last little bit, I probably wasn't celebrating enough!
So when it was over, and it sunk in a little, how good was it?
Oh this is huge. Each championship and win is its own individual deal. That first one in '09 is hard to beat, but this year was such a great battle with Kailub, and Charlie [Mullins] was there, Thad [DuVall] and Rory Mead won races, there were great battles all year. So it was tight all season. And, it was my first championship with Yamaha. I've been with these guys for three years so I was happy to deliver for them. We put in so much work; it feels like a long time since 2009.
Yes, you're riding the highly controversial YZ450F. We hear a lot about this bike. What do you think?
[Laughs] Well, it seems to work for me. When I first came to the team I was on the WR450, and when I was able to try the YZ, I was immediately more comfortable on the bike and my results improved straight away. I've been comfortable on this bike the whole time. We've refined the setup the whole time, but that's about it. I think it's been a solid platform, it works good. But I don't listen to a lot of people, I just get on it, set it up the way I like it and ride it.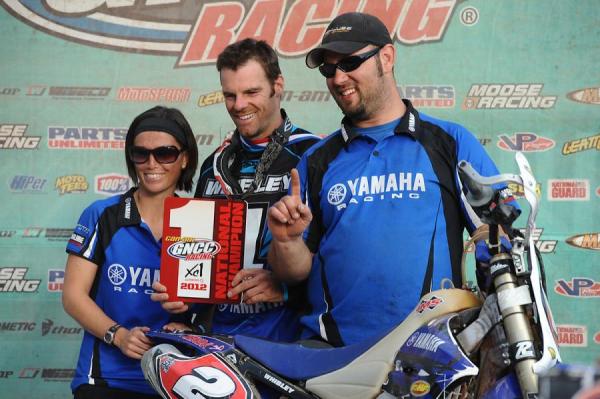 Contrary to some reports, Whibley said he will be back for the 2013 season.
Ken Hill / GNCC Racing photo
You're the blue-collar kind of champion. Where do you think you rank natural talent wise?
I don't know, maybe D+ or something! I don't really feel like I'm that naturally talented on the bike. Back in my days when I was on Suzuki, we had a good team with Josh [Strang], Charlie [Mullins], Jimmy [Jarrett] and myself. We go out on practice days and I was the slowest guy on the track! But at the races, I was winning more than anyone else on the team. I think, for me, in a three-hour race, fitness plays a big part, and throughout the week I'm always working on my fitness. My speed is what I really need to work on, though it doesn't come naturally to me.
I have to ask about the starts. You used to be the worst starter in the series, now you're the best. I don't think I've ever seen a rider make that kind of improvement!
It's just something I've practiced over the years. But five years ago when I was on a Honda, I was on the only four-stroke, and with the dead engine start it's hard to get a start. Now everyone is on four-strokes. We've made a few changes to the bike to help, but nothing top secret. We have a Vortex ignition, which makes the bike start better, a Works Connection holeshot device, and a good Kenda tire back there. I got every holeshot this year, and so many riders are capable of getting holeshots, it's pretty cool to get them all.
A perfect season on starts is unreal. Last thing: everyone is talking about you retiring, but I never hear that from you. And I haven't heard any announcements—so you're not retiring?
Not as of yet! I can't tell you how many people ask me about this on weekends. At the moment I don't have a deal for 2013 worked out, but I'm pretty sure I'll be back. It's kind of amusing all the people who ask me, maybe people think I'm looking old. Or maybe they just want me to leave! I don't know!