Sam Boyd Stadium
Las Vegas

,

NV
Race Center: Monster Energy Cup
Monster Energy Cup
There's no denying that amateur motocross has undergone a major face-lift in recent years. Sparse media coverage has been replaced with live coverage of the Monster Energy Cup races on SPEED (and the Red Bull AMA Amateur National from Loretta Lynn Ranch gets coverage on NBC in November), streaming webcasts and thousands of videos migrating around the web. Long gone are the days of the unknown amateur prospect. Up-and-coming riders are examined through a microscope from the time their on 50s. Right now, names like Ryder Difrancesco and Gage Linville are already household names before the age of eight. Adam Ciancarulo was the star pupil for Monster and Pro Circuit before he could even drive.
Loretta's has always stood as the proving grounds for amateurs across the country. It's a place where Carmichael, Stewart, Windham … and just about every top American rider made their mark. But now with the Monster Energy Cup providing a platform for young amateurs to hone their skills on a full-blown supercross track, on live TV none-the-less, the pressure to win at a young age has been ratcheted up a notch. Sure RC and the rest had pressure to win at a young age, but that was during an era long before the scrutiny of message boards, Twitter and Facebook. And with the new-found ability to have factory backing before you've entered middle school, the watchful eyes of the industry have never focused so closely on so many young riders.
North Carolina native Cooper Webb has dealt with this pressure for years. A mini rider prodigy, Webb has been in the spotlight since capturing two titles at Loretta's in the 51 and 65 classes, respectively. But it's something he welcomes. An environment in which he thrives.
"It's one of those things where you have to be confident, which I feel like I am. I am not feeling much pressure because I know what I'm able to do," Webb explained to Racer X just days before the second-annual Monster Energy Cup.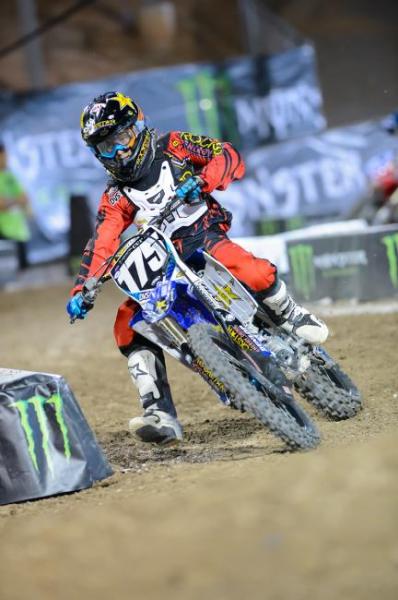 Webb has been cast into the spotlight from a young age.
Simon Cudby photo
Like many top amateurs of this generation, Webb has been groomed from a young age to compete on the big stage. He's worked with the iconic Gary Bailey since the age of nine, has his own personal trainer (Tim Crytser, the Racer X Virtual Trainer) and is already signed to a pro deal with Star Racing Yamaha.
"Basically anybody that is anybody right now he [Gary Bailey] has worked with at some point and he knows so much about everything that it's great to have him in my corner and for us to have such a good relationship on and off the track," stated Webb on his relationship with Bailey.
Webb is surrounded by a core group that has prepared him for pressure packed situations that have contributed to his calm demeanor. And that came into play at the Monster Energy Cup.
"I didn't feel too good after practice, but after I talked with Gary, my parents and Bobby Regan [Star Racing Team Owner] they were like, 'Practice is practice and it doesn't mean anything.' The whole team really helped me out," explained Webb.
His serene attitude helped him overcome the adverse conditions he faced in the second Amateur All-Stars main. After taking second behind newly signed Lucas Oil/Troy Lee Design Honda rider Shane McElrath in the first main, Webb was staring down the barrel of defeat after a bizarre start to the second main.
"I ended up going a little wide and got stuck on a Tuff Block," commented Webb on his second main start. "When I was coming around was right around the time that Shane [McElrath] was flipping across our lane. Basically our whole lane had to stop or we would have been decapitated."
With first-race winner McElrath down, Webb had the chance to pounce and grab the overall victory. But he was way, way back in the pack himself, and needed to make up ground. But Webb has an innate ability to block out things that surround him and focus on the track—and that began way before the start of the second main.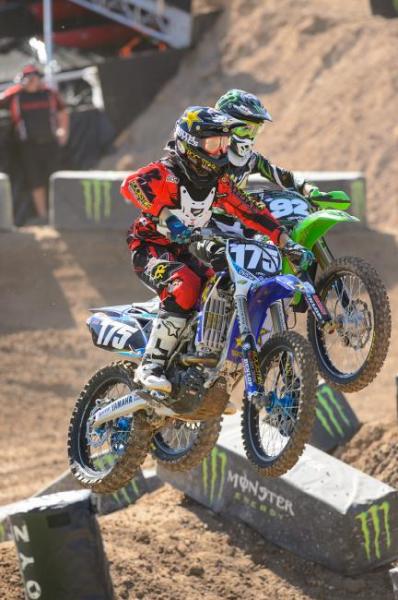 Old rivals, Webb (near) and Cianciarulo (far) faced off for the first time on big bikes at the Monster Energy Cup.
Simon Cudby photo
With the hype machine at full steam surrounding Webb's amateur rival Adam Cianciarulo— who was making his 250F debut after capturing a record 11 mini bike titles at Loretta's—the underdog role was placed squarely on Webb and the rest of the field.
"He's a great rider so it was no surprise to see him up front," Webb said regarding Cianciarulo's performance at the MEC. "But it definitely made myself and everybody, kind of being the underdogs, want to beat him."
Cianciarulo and Webb have had some heated battles throughout their amateur careers, going all the way back to their days on 50s, but Webb was quick to dismiss the validity of the rivalry.
"We've had a few incidents as amateurs, but once you hit the pros no one will remember it because you have 40 other guys that were really good as amateurs," Webb said. "To me, it's not really a rivalry. I see everyone I race against as a rival."
"I think it's one of those things where it is definitely hyped up. But at the same time it's good because I have a lot of respect for him and he has pushed me to want to win and want to get better," continued Webb.
With McElrath too far back to contend, AC was running away with the second moto win and likely the overall as Webb sat in eighth early. But Webb was able to stay calm and collected in the face of adversity.
"It was just one of those things where it was just true determination in wanting to get up to the front and try to show these guys that I'm definitely one of the faster guys," Webb said.
Unlike the 20-minute slogs at Loretta's, the Monster Energy Cup featured two quick, six lap main events. But even with little time, unfazed by the pressure, Webb quickly made his way into contention for the overall.
"After the McElrath incident off the start I remember looking back and I only saw three people, and I knew I had to get to work fast to even be on the podium," Webb said. "I knew it was going to be short laps, but I wasn't putting any pressure on myself."
"I knew I had to make my passes quick and make them count because you only have a certain number of laps," he continued.
In the span of two laps Webb had maneuvered his way into fifth, but with AC in the lead (coupled with his a fifth in the first main) two places stood between Webb and the overall with two laps remaining.
"I actually thought I had to get second to win, so I was trying to get to second to catch [Paul] Coates," Webb said. "Then I started doing the math and I realized he [Cianciarulo] had fallen in the first moto."
"It was one of those races were you are battling to the front trying to calculate your win," continued Webb. "When I crossed the finish line I was like, 'Wow, I just won.'"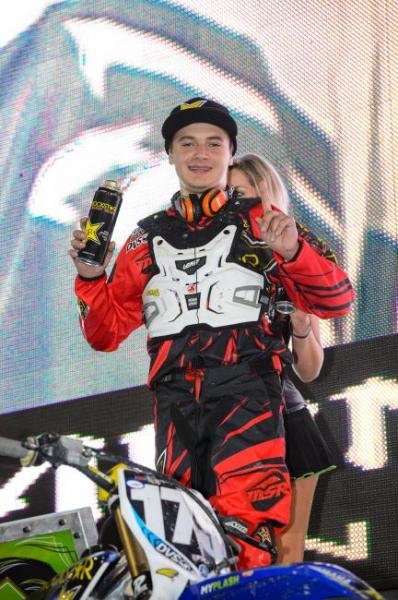 After his big win at the MEC, Webb will begin to prepare for the Winter Olympics.
Simon Cudby photo
Just one year after finishing second behind Cianciarulo at the same event in the Super Mini Class, Webb was elated with his growth during the last year.
"Last year I got second in the Super Mini class, so this year on the big bikes to actually win was cool to see my progression from one year even," Webb said.
But there's not much time to dwell. Webb will now begin preparations for the Winter Olympics at Gatorback in less than a month's time.
"It was good to be able to do this race because you can see where you are heading into Mini O's," Webb explained. "It's not like you are coming straight from Loretta's, we now have an in-between race to see where you are and what you need to improve on."
The Winter Olympics is the only amateur national to feature supercross, and although it's much tamer than what he faced this past weekend, the Monster Energy Cup provided a good gauge for Webb to see where he stands. And after a bench mark win in his career, the four-time Loretta Lynn Champion enters the last amateur national of the season with loads of confidence.
"You could say my confidence is up there," Webb humbly explained.
Although he has a tranquil demeanor on and off the track, Webb is prideful in his competitive nature, which he says began at an early age.
"Growing up I always wanted to win," explained Webb. "Like everybody says, 'Nobody is your friend on the track' and that's how I approach things."
Scheduled to make his pro debut in less than a year's time at the opening round of the 2013 Lucas Oil Pro Motocross Championship, the pressure will continue to build on the young phenom. But last weekend in front of nearly 40,000 people, under the bright lights on Sam Boyd Stadium, Webb proved no stage is too big to conquer.