High Point Raceway
Mt. Morris

,

PA
High Point
Lucas Oil AMA Pro Motocross Championship
GEICO Honda's Eli Tomac turned it up to another level in the second moto at the FMF High Point National, digging deep in a come-from-behind effort to win the race and then take the overall win via 2-1 scores. That makes ET the first rider this year to claim two 250 class overalls—and provides a huge confidence boost as well. ET talked about it in the post-race press conference
Racer X: That was probably the biggest smile we've ever seen behind the podium! Lots of man love there, you and your mechanic almost fell over! It was like the last race of the year there—but that was an unbelievable ride. Tell us about it. It was special.
Eli Tomac: Man, that second moto, it was a lot of work. I just never really gave up, I kept fighting, and then Kenny [Ken Roczen] made that little mistake right there at the end and I was able to capitalize on it.
Obviously you could see Roczen up there ahead. Did you see him go down? What happened there.
No, I didn't see him go down. All of a sudden I just looked up, and he was right in front of me! I was like 'What the heck happened? I can win this thing!' I was glad I was able to turn it around for that second moto. First moto, I just rode kind of tight, and I actually got arm pump. I kind of blew it out there at the end, and held on for second, and that ended up being really important for the overall.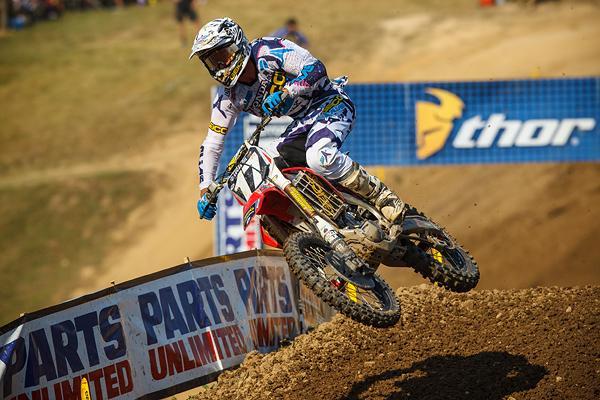 A furious charge in the second moto gave Eli Tomac the win and the overall.
Simon Cudby photo
Coming into the year, you had struggled before in some of the hot races. But you've really proven yourself this year, winning two of hottest ones we've had so far this year.
Yeah, definitely proved that at Texas, and yeah, I'm just not scared this year!
Where does that second moto rank for you as far as career rides? On TV, Emig said it was one of the best rides he had ever seen—not just from you, from anyone.
I definitely think it was [the best ride of my career]. I had to make it happen from so far back. In Texas, I did start a little ways back, but not at the back of the pack, and it just seemed like it was easy to make passes there. Here, that spot where I made the passes—around Justin [Barcia] and Kenny, where I went square square before the RC double, that was the only place I could find on the track where I could really make anything happen. It was kind of flat, and I could kind of flat track it through there. That was my spot to make passes.
It seemed like a lot of riders said it was hard to find lines to pass. When you were battling with Barcia, you were able to get next to him over and over, but couldn't quite get around for awhile. Was that because those lines would go away before you could complete the pass?
Yeah, there were lines and you could get next to a guy, but it seemed like the fast guys would just go in the fast line and it would make it hard to make that pass stick. A lot of times, I would get next to Justin, but you can't go anywhere because you you'd get out of the main line, or you'd be into the outside line—you had to be smart. You could have easily over did it trying to make a pass and gotten into trouble.
Can you point to something different from last week? You were good last week but it seemed like you were on another level, here, and Freestone was kind of the same thing. Anything different today?
Man, I guess my riding was just on. My starts, they're just really getting annoying! I don't know if I'm like five pounds heavier than everyone else or what. The thing is that last week and this week, we had an uphill start. I'm hoping we can get back to a flat start, so hopefully I can yank my weight down the straightaway or something.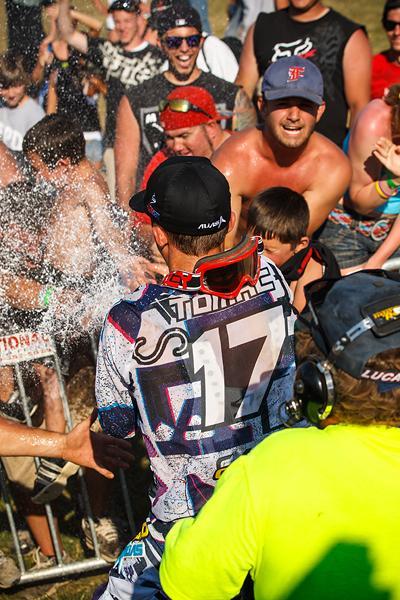 With his win at High Point Tomac becomes the first repeat winner in the 250 class in 2012.
Simon Cudby photo
How bad was the start in the second moto.
I think I was like sixth or eighth or something. But the first moto, I ended up clicking third gear coming off the pad, and I just bogged. I had a better jump in that moto, but everyone went past me right there. The second moto, my start just wasn't that good.
Did you think you could win the second moto at that point?
I didn't really know what to think! Kenny was almost out front the way Barcia was in the first moto, so when you're that far back, you don't really expect it. It just ended up working out.
You came from way back. Go through that moto a little more.
Me and Barcia were just training each other for what seemed like forever. I was just eating roost. I was able to find that spot—it was after the start, into that big sweeper, before the RC double. To make it happen you had to square the turn before the RC double and then square again to get back to the inside.
You guys had a pretty good pace going with Justin, but when Kenny went down, and you could actually see him, do you feel like you picked it up even more?
Yeah, I feel like I had another gear. It was just a matter of trying to make that pass stick right there.
Your thoughts on going to Budds Creek next weekend?
Should be good, I like that track. They have lots of elevation, but luckily for me, not off the start. The dirt is good, it has a bunch of lines. It should be a good one.