Freestone Raceway
Wortham

,

TX
Race Center: Freestone Raceway
Lucas Oil AMA Pro Motocross Championship
While there may be some debate about the definition of a true privateer these days, there is no debating that Sean Collier is a true privateer. On very limited resources, Collier is hitting as many races as he can this year and despite not competing in an outdoor race since 2008, Collier battled through a nagging wrist injury and exhaustion to finish seventeenth overall by way of 14-24 moto scores at the FMF Hangtown Motocross Classic, presented by Coors Lite. Collier's performance caught our eye and got us wondering where he'd been lately, which is why he got the call for this week's Shoei Privateer Profile.
Racer X: To start off, why don't you give us a quick rundown of your career for the fans who might not be familiar with you.
Sean Collier: I turned pro in 2004, and rode for the Motosport Outlet Honda team, and got my feet wet in the professional ranks. It was quite an adjustment, as one would assume. In 2005 I was a privateer and did pretty well, got some solid finishes, and got a ride with the Star Racing Yamaha team for the 2006 and 2007 seasons. 2006 went pretty well, I had a few injuries though. I made it through most of supercross and then I got hurt at the very end of the year. At the Nationals I finished every round. I did okay, but I had a few health issues through out the season. I finished up in thirteenth.
Then when I was preparing for the 2007 season I had a string of injuries that set me back pretty bad. That put me on the East Coast for supercross, and I ended up injuring myself again before the start of that. So I came back in 2008 and raced the WORCS series aboard a privateer Kawasaki 450. I hit a few select Nationals, Glen Helen, Hangtown, Colorado, Washougal and I believe Steel City and Southwick. I did okay, not too great, I had a top five at Hangtown, which was the highlight of the year. I finished eighth in Colorado too, so that wasn't too bad.
Then in 2009, I was preparing to race the supercross class on a privateer 450 Honda, and the day before the opener I got a call from Bobby Regan, the owner of Star Racing, asking if I could fill in for the injured Broc Tickle who had hurt his jaw really bad. We were struggling financially, and were only going to be able to make the first two rounds on the 450, so we just decided to do it. I went for it. We went to the Yamaha test track that morning, I rode the bike for a few laps and felt decent. Obviously it was quite an adjustment. I went out and tried to do the best I could on a bike that I wasn't comfortable on. I started getting acclimated to it, and started feeling pretty good, but in San Francisco I came over an obstacle and clipped another rider's rear wheel, put my feet out to counterbalance myself, and blew my knee out completely. ACL, MCL and meniscus. That completely wiped out my whole rest of the supercross season and also the outdoor season. It was a bummer.
In 2010, I tried to ride my 2009 450, but wasn't able to find any financial support, so I wasn't able to do any races in 2010, besides the Red Bull Catalina Grand Prix, which actually turned out to be pretty good. I was riding the bike with supercross suspension and a regular motocross tank, so I wasn't prepared to go the full two hours. I almost ended up winning it though! I passed Kendall Norman on the last lap but stopped for fuel, which put me about 30 seconds behind him. I tried to close the gap to get the win, but unfortunately I was a little bit shy and I got second there.
In 2011, I got some support and started hitting it hard and was feeling great, and was signed up to do the USGP, and was going to do the Nationals on the West Coast, but the Wednesday before the USGP, I was riding out at Milestone and another rider came onto the track when I was in the middle of a moto. It was a freak accident, he must not have seen me or something, and came across my front wheel and completely leveled me. I sustained a double compound fracture in my right arm and tore ligaments in my wrist severely. I'm still dealing with the injury. It's not 100 percent yet, but it's getting close. I had surgery scheduled for December 31st of last year, but I canceled the surgery because I knew they would have to reconstruct all the ligaments, which meant I wouldn't be able to do the outdoors this year. I scrapped surgery and decided to go for it this year, and we'll do the surgery later on in life when I have an opportunity to take a whole year off to let the ligaments reattach and all that good stuff. So that's basically where I'm at now.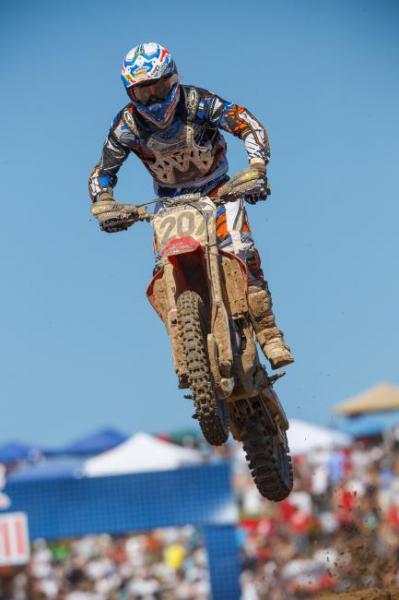 Sean Collier was impressive at Hangtown, finishing 17th overall in the 450 class.
Simon Cudby photo
You put in a serious charge at Hangtown in the first moto and passed a lot of guys, you have to be stoked about that.
Yeah, the first moto was great! The reason I had such a terrible start was because my holeshot device pulled out of the fork guard before the gate dropped. Naturally because of that, my front end was higher and I pulled a fat wheelie out of the start. It totally ruined my start. I hit the brakes going down the start and cut in, because I knew there was going to be a hole on the inside when people drifted wide. So I cut in, passed a bunch of guys, cut in again on the second corner and passed a bunch more guys. I came around the first lap like 25th or so, which means I passed like ten guys on that first lap.
I started charging and started riding a nice, smooth consistent pace. I wasn't riding over my head by any means, and sure enough, I started reeling in [Josh] Grant, but at the halfway point I started slowing it down just to keep from falling down. I kept it on two wheels though, and I think I ended up getting fourteenth. I finished the first moto and felt like hell, but that's what happens when you're not riding.
We did the best we could, and I don't think it wasn't too shabby considering the circumstances. I'm excited about it. If someone would support me with bikes and parts and everything, I could be up there on the podium, I have no doubt about that. But you need to be ready, you can't go and expect to battle with those guys for a podium position if you aren't ready to ride your dirt bike. These are the best riders in the world and they train their butts off, ride their motorcycles, and have solid programs. You can't get too down on yourself. This is what I love doing, I'm going to be doing it as long as I can, and I'm hoping to put together a program for 2013 supercross. That's what I'm looking forward to.
Hangtown isn't exactly the kindest track on the circuit. Was it rougher than what you remember?
Honestly, I've been riding tracks up in the hills that are pretty brutal so for me, the track was absolutely beautiful. It was prepped, and it had bitchin' ruts, and the soil was incredible, and the atmosphere was great. I thought it was perfect. As far as it being really, really rough, I wouldn't really consider it any more challenging than any of the other tracks that I've ridden. It was really typical for Hangtown, it had that choppy, square-edged kicker, harder base feel, so I think it was pretty much like it has been every year, except when it rains. The Dirt Diggers did a great job. The layout was really clean. I was a little worried at first, coming there on Friday, I thought some of the sections would bottleneck really bad, but it ended up being a really good track to make passes on. Once we all got into our pace, it was a great layout, I dug it. I thought it was great.
So what's your plan for the rest of the year?
Basically, my plan was to do Texas, Colorado, Washougal and Elsinore. After Hangtown though, the plans have changed. Texas is out. Financially, we have such a small amount of resources that I really don't want to go to Texas and have another Hangtown type of scenario, which is quite likely. Just putting in another week of riding just isn't enough to get to where I need to be in order to finish 30+2 strong. The only problem is taking my motor and going out to Texas, hammering on the motor to get a twentieth place finish, then we have to rebuild it before Colorado, I just don't want to do that. I don't have the financial backing for that. It's unfortunate, because I really want to ride that track. Unfortunately, it's not going to be happening. So I'll train throughout the weekend and be stronger for Colorado. In the long run it'll be better. Hopefully in 2013 I'll be able to put together a solid effort and I can get out to every single round.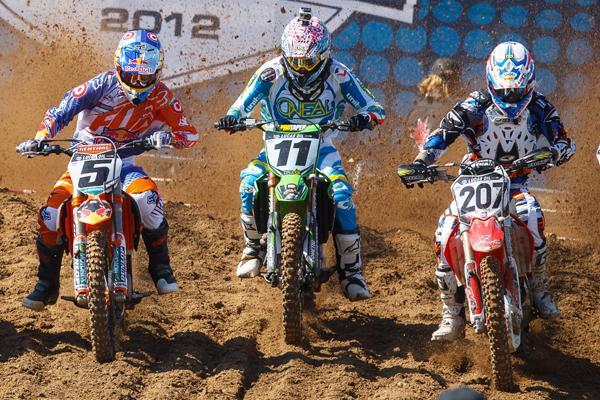 Collier (207) will miss Freestone but will return for Thunder Valley.
Simon Cudby photo
It seems like we keep seeing you pop up from time to time, get some good results, then check out for a while. Is that mainly due to injury?
Exactly. That and financially, this is a difficult sport to be involved in if you don't have the resources. It's like any form of motor sport, you need a significant amount of capital to put together even a semi-serious effort. The last few years have been extremely difficult, and I've got to thank my dad. If it wasn't for his unwavering support to my career, I wouldn't be riding. His business has really taken a downturn with this economy, but he's made it a point to always keep a bike underneath me, which is why I can come back after four years of being laid up and still be able to run the pace with those guys. I've always had a bike that I could ride. I love this sport, and I do it without getting a paycheck.
When you think about it, guys like me are the grassroots, we're the backbone of the sport. We keep the sport going financially. All the parts on my bike are purchased, or my dad purchased or whoever has stepped up to the plate to keep me out there purchased. I think it's great, I'm still out there doing it because I love it, and I'm having more fun than ever. Financially, I'm more distressed than I've ever been, but I've still got a smile on my face and I think everyone notices that at the races. All the people that come around and support me love that, and they feed off that. I think it's great, and that's what I'm all about. It's not quite a Cinderella story, but it's my life, it's my story, and it's unique. I think it's pretty cool.
How can potential sponsors get in touch with you?
I can be reached on Twitter, @seancollier207 or through email, scollier207@gmail.com.
Who is sponsoring you now?
Pasha Racing, Verti-Zzz, N-Style, Motion Pro, Moto Works, AXO, Focus Apparel, Smith, Gaerne, Allsport Dynamics, Boyesen, Cycra, Hammerhead Designs, Maxima, IMS, Yoshimura, Mechanix Wear, Shoei, Dunlop, Renthal, Dubya, Works Connection, Moto Tassinari, Twin Air, Hinson, CV4, Injectioneering, Millennium Technologies, Matrix Concepts, Grame Brough, 1.7, my family, friends and girlfriend. Thanks for all the love and support!