Hangtown Motocross Classic
Rancho Cordova

,

CA
Race Center: Hangtown Motocross Classic
Lucas Oil AMA Pro Motocross Championship
If you've read this week's, Racer X ReduX, from Jason Weigandt, you've already taken a look at some possible scenarios that could play out between heavy hitters James Stewart and Ryan Dungey. Now, it's time to dive into the next tier of riders, or as they were dubbed in supercross, the best of the rest. Does one of these men have what it takes to break through and challenge for their first 450 title?
There are even more contenders in the 450 class, so be sure to check back tomorrow for our Wild Card breakdown.
First off, we've got the mercurial Davi Millsaps, who has the potential to be one of the most exciting guys to watch this summer. Although he didn't break through for a stadium win this year, he did take second in the series, stood on the podium five times and was one of only three riders to race in every single main event (the other two were Mike Alessi and Brett Metcalfe). With Millsaps, it isn't a question of whether or not he's got the skill to hang up front, because he's demonstrated in the past that he does. The question is, where is the mercury in Millsaps' thermometer right now? Judging by how hard he was beginning to surge by the end of the indoor series, it's as high as it's ever been, which means he probably won't be a stranger to the podium this summer. Davi says Hangtown isn't his favorite track, but he always seems to ride well there. If the situation is right, we may even see a few Millsaps/Dungey/Stewart battles play out over the next few months.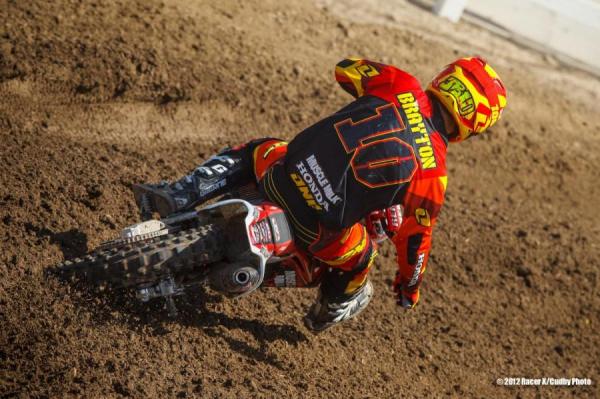 Will Justin Brayton challenge for wins in 2012?
Simon Cudby photo
Next up is Mike Alessi, whose birthday just happens to fall on the same day as the FMF Hangtown Motocross Classic. Like Millsaps, Alessi has been coming on strong lately and with his bread and butter, The Nationals, about to kick off, the future is looking bright for him and the MotoConcepts crew. Yes, Alessi stumbled a bit the last few years on his KTM, but in 2010 he was on a bike with an engine that was 100cc's smaller than the ones he was racing against, and last year he put himself at an immediate disadvantage by going over the bars in practice at Hangtown (after setting the fastest qualifying times in both sessions) and suffering a concussion that would cause him to miss the first two rounds. This year, he's back on a Suzuki, a bike he used to start taking control of the series in 2009 before he was sidelined with injury. Alessi isn't on a factory bike like he was in 2009, but his supercross results from this year suggest that he gets along just fine with the MotoConcepts-tuned RM-Z450. Look for Alessi to be fighting with his old amateur rival Millsaps for spots on the box all summer.
Another guy who stands a good chance of gracing the podium is Andrew Short, who is back on the same equipment he used to take third in the series in 2010. Along the way, Short took top-three finishes in eleven of twenty-four motos, and even won the first moto at Budds Creek. One of the keys to Short's success on a Honda that year was his ability to nail holeshot after holeshot, and when the season was over, he had racked up eleven of them. Short said that part of the reason he was able to start so well was because of a bike that Honda dedicated to gathering data in order to improve starts. Think the 29 will rip some holeshots now that he's back in familiar territory with Factory Honda equipment? All signs point to yes.
Of course, Short will have Brett Metcalfe to deal with. Metty just beat out Short for second place in the 2010 outdoor series by just five points. Metcalfe is coming off of a supercross season that can accurately be described as less than stellar, especially for being Yoshimura Suzuki's sole effort. Being the only rider on a team can be a lot of pressure, and can often cause a rider to start trying so hard that small mistakes start snowballing. The addition of new teammate Stewart might help take some of the pressure off of Metcalfe's shoulders and help him get back on track. Metcalfe is typically stronger outdoors than in, and we can't forget that he took the overall at Southwick last year, the same venue where he ran out of fuel while leading in 2010. Expect Metcalfe to shake off his lackluster supercross season by rebounding outdoors.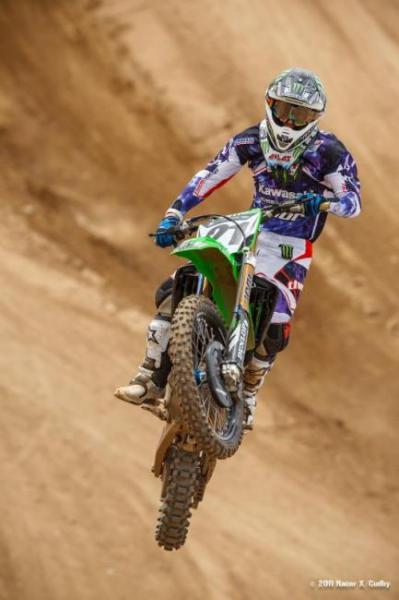 Can Weimer bounced back from a sub-par rookie year?
Simon Cudby photo
We can't forget about Team Muscle Milk Honda's Justin Brayton, who is coming off the best supercross season of his career. Despite missing the first four rounds of the outdoor series last year with damaged ligaments in his ankle and knee, Brayton still managed to secure seventh overall. That's pretty good, although the fact that he only finished a single moto in the top three doesn't bode well for his championship hopes this year. But, Brayton is on a the Honda Muscle Milk team now, and as previously mentioned, he just finished a pretty good year of supercross. If any of the frontrunners get hit with injuries, Brayton just might find himself in the middle of a title fight.
Then there's Jake Weimer, who despite having some success on a 250F outdoors (he won two Nationals and represented the U.S. in a winning MX of Nations effort in 2009), doesn't exactly have a reputation as being a title contender in motocross. He finished sixth in his rookie 450 effort last year, but he was also coming off an injury that had kept him off the bike for almost all of supercross. He did improve toward the end of the season once he got on the 2012 KX450F. This year, he's coming in more prepared, and even though his 2012 indoor season was a tumultuous one, he was able to log some fantastic results. If Weimer can improve his consistency, which was also a problem for him last year, he could easily finish the year in the top five with a few podiums along the way.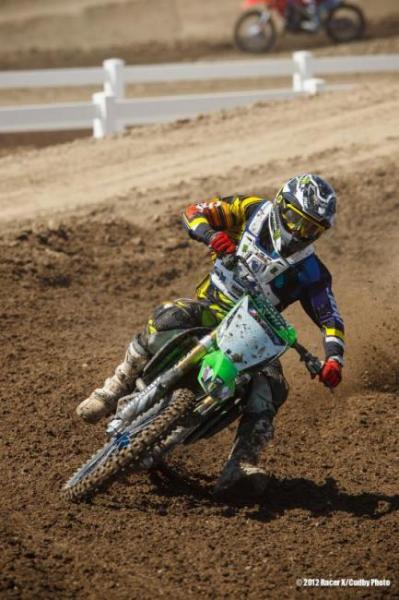 Rattray makes the jump to the 450 at Hangtown, how will he adjust?
Simon Cudby photo
Last but not least we have Tyla Rattray, who is a huge question mark. He's a former MX2 world champion, he took four overall wins last year on a 250, and he's shown that he can go hard for the entire thirty plus two. On the other hand, he only received clearance to ride again a few weeks ago after getting hurt at the Oakland Supercross. Further complicating matters is the fact that his jump to the 450 came at the last minute. Is he back up to speed after the injury? Is he gelling with the 450? These are all questions that won't honestly be answered until the gate drops this weekend, but if the South African has been able to get himself back into his usual, outstanding physical condition, he could do some damage this summer, especially at some of the eastern rounds that typically feature stifling heat and suffocating humidity.
So there you have it, a look at the competitors we're likely to see slugging it out for top fives this summer. With this many guys capable of beating one another on any given weekend, it's impossible to make an accurate forecast on who will come out on top. But one thing is certain, it sure is going to be fun to watch!