Hangtown Motocross Classic
Rancho Cordova

,

CA
Hangtown Motocross Classic
Lucas Oil AMA Pro Motocross Championship
If you want the feeling of racing a full season of Monster Energy Supercross, just hangout at the final weekend of the season in Las Vegas and go big. Do it up Vegas style for a few nights, and by the time you return home, you'll get a small glimpse of what it's like to race the season. When you get home, you'll be tired and hurting. You'll also not want to go near the place you just came from. In fact, you may want to just write off the whole sport (in this case, partying, and in their case, riding) for a little while. You know when you return from Vegas, you always promise to never drink or stay out late again.
But you can do that. You can just lay low at home for a few weeks until you get your mojo back (and then break those promises). The riders don't have that option, because they now enter the shortest off-season ever (about a week) to prepare for an even more grueling test, in the 24 moto Lucas Oil Pro Motocross Championship. This is like pre-gaming in Vegas before catching a flight to Amsterdam.
The small break between indoors and outdoors never leaves enough time to be truly ready, but we have an exceptionally mad scramble going on right now because of all the injuries from supercross. Injured riders are either trying to get back into shape and drag themselves back to the races, or teams are busy trying to fill spots for the riders who won't make it. Nowhere is this more prevalent than the Kawasaki camp, which went from sweeping both the 450 and 250 MX titles last year, to scrambling just to get teams together this year.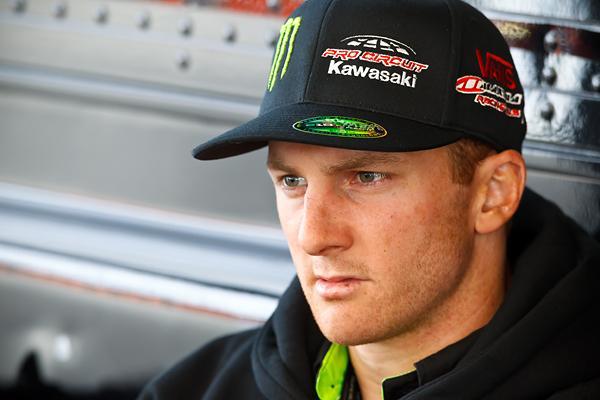 Monster Energy Kawasaki announced earlier this week that Tyla Rattray would fill-in for the injured Ryan Villopoto in the 450 class.
Simon Cudby photo
Both 2011 champs, Ryan Villopoto and Dean Wilson, are hurt. Villopoto already went through knee surgery and is done for the year, while Wilson has said he will need surgery on his shoulder at some point. Darryn Durham also hurt his shoulder and is going to miss at least few early rounds recovering. That would leave Blake Baggett and Tyla Rattray scheduled to race 250 MX for the team (Broc Tickle was testing a PC 450, scheduled to race the big bike). But the factory Monster Energy Kawasaki Team wanted Rattray as Villopoto's replacement, which means PC loses a big gun from their 250 cabinet.
Yesterday, Kawasaki announced that Rattray is getting the call up. It's a great move for the 450 team, as Rattray is as tough and strong as they come, and he will do better than the average replacement. Styla won't just put the bike in the show; he'll put it up front. In fact, he could prove to be better than his 450 teammate Jake Weimer by the end of the year. Does Rattray have the raw speed to beat Ryan Dungey and James Stewart straight out? Doubt it, but over the course of 24 long, hot grueling motos, he's not going to wear down. He'll be consistent, and supercross this year has proven consistency trumps all. Go ahead and rank you title favorites based on raw speed, and then go look at the final SX standings—injuries and the unexpected can and do happen. Rattray at least keeps Kawi in the hunt.
As for Tickle, sure, he rode a 450 all season indoors, but if you're Kawasaki, the pick is obvious. Last year Rattray won four motos, a couple of overalls, and finished second in 250 points. Tickle had just a single podium finish in a moto and finished seventh in points. Rattray is the higher draft pick.
Meanwhile, Rattray moving up indicates Wilson will still give it a go in the 250s, since PC would be crazy to lose both their defending champ (Wilson) and the rider who finished second last year (Rattray). But Wilson needs shoulder surgery at some point, he's just going to prolong it and hope he can get through the Nationals. But if it gives out at some point, Pro Circuit's hopes fall only on the shoulders of Blake Baggett. And considering how up and down Blake has been, you really don't know what to expect. He could win 10 races and dominate El Chupacabra style, or he could be mired further back. We saw both performances last year, and we didn't see much in supercross. To go up against a loaded GEICO Honda team with just Baggett, a wounded Wilson and a shoved back onto a 250 Tickle doesn't seem to solid.
So now we hear that Ivan Tedesco is in the mix as a replacement, and riding a Pro Circuit Kawasaki 250. This one comes out of nowhere, as IT hasn't raced for that team or in that class since he won the title in 2005. I doubt anyone has a clue how well Tedesco will do—he's only raced one outdoor race since 2010.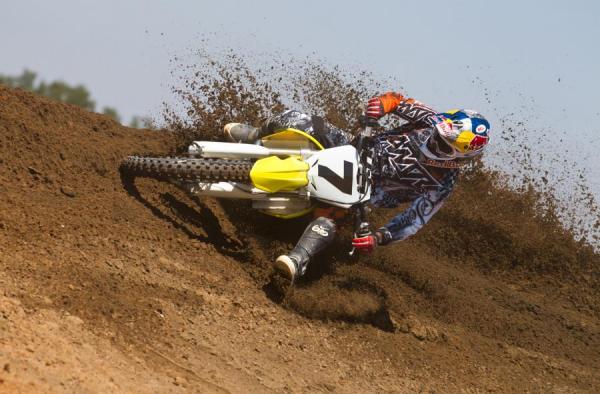 Big news also came from Suzuki this week as they announced the signing of James Stewart.
Suzuki photo
Meanwhile, more scrambling over on the Suzuki side. Suddenly, James Stewart is on board, and although we all know Stewart's deal didn't really just happen on Sunday and Monday like the press releases say, its still very short notice. James did ride a Suzuki last summer while he was trying to make his decision (oh, was that a LeBron reference?) on where to go for 2012, but that was nearly a year ago. He's way behind, now. Plus, don't rule out how different it is to jump back into motocross after a few years out. Villopoto, whose strengths lend themselves to motocross as much as anyone, still took a few races to get back into the swing of things last year after missing most of 2009 and 2010 with injuries.
Stewart can say that he's riding for free and just looking to have fun, but we all know that if Stewart merely finishes second in a race, let alone worse, people go nuts. The standards are there and the pressure is on. Stewart will maybe get a few mulligans as he gets back into it, but it's more likely that if he finishes merely third in a moto at Hangtown, people will be studying, analyzing and talking about his performances to death, because that's the way it works with James. So he will have some fun, I'm sure, but he needs to get wins to keep the natives happy.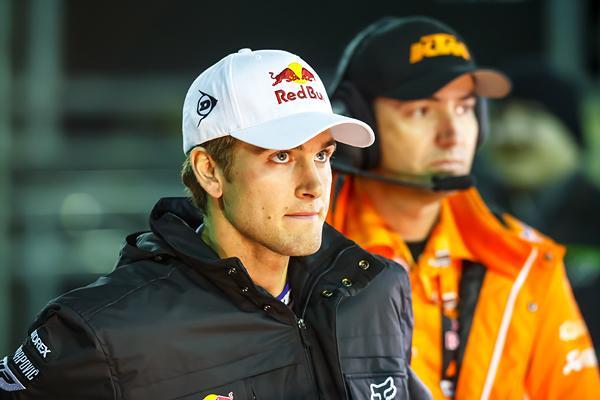 Dungey and KTM seem to be in a good position heading into the Nationals.
Simon Cudby photo
Things keep moving on that front. Today, JGR announced that Kyle Regal will be their new man as a replacement for Stewart. For JGR, Regal really just represents the best available, however, you could always twist that one around a bit considering the bad blood that exists between Stewart and Regal (and just to add some intrigure, I hear that Travis Preston was considering coming out of retirement to take the vacant JGR slot). But I don't believe the Stewart-Regal relationship and Regal coming in as a replacement is anything more than coincidence, and right now, both Suzuki and JGR couldn't care less about that. They're just trying to get ready for the races.
What's amazing is the one team not in a scramble is the team that should be further off the back than anyone else. Yes, Red Bull KTM has an all-new bike and a one-rider 450 effort, and yet, the Ryan Dungey program now appears to be the most certain of all. Four supercross wins have proven the KTM can win, and the crew around The Dunge is capable. Yes, there will be a learning curve as they put the all-new bike through its paces outdoors for the first time, as winning in supercross doesn't mean the bike is automatically on rails outdoors. We've got a great story developing with Stewart now racing for the team Dungey chose to leave. But for now, Dungey and KTM look like a solid bet during this short pre-season, and they are probably are having the least sleepless nights trying to get everything together. Ah, sleepless nights. Sounds like Vegas all over!