There were several talking points from the Italian Grand Prix and the third round of sixteen in the FIM Motocross World Championship at Fermo, where the atmosphere, action and general impression of the event was as pleasant as the fine early summer weather.
This was the meeting where Christophe Pourcel took his stock Monster Energy Pro Circuit Kawasaki to a first Grand Prix victory since the Italian round of the 2007 MX2 series, where Michael Leib, in second place overall in MX2, put America back into the international spotlight with a career-defining performance to-date and where the touted title dispute in MX2 between Red Bull KTM's Jeffrey Herlings (the winner here) and Floride CLS Monster Energy Kawasaki Pro Circuit's Tommy Searle raised several degrees after the two smashed into each other at the start of the second moto.
Then of course there was Fermo. The Monterosato course boasts some of the steepest drops and heftiest step-ups on the calendar and the strange mix of hard-pack, tacky mud and punishing ruts was brutal. Plenty of GP riders couldn't conquer the Italian hill and left Fermo in more pain than when they arrived. Searle's teammate Joel Roelants was puking after a concussion as a result of a crash on one of the scariest parts of the track. Honda World Motocross team's Rui Goncalves also covered himself and the factory MX1 CRF in vomit after pulling a groin muscle and needing to go into his reserves for a top ten finish. Both Pourcel brothers were left bloody-nosed by flying rocks and Monster Energy Yamaha's David Philippaerts –- not a man you want fighting for the other team -– looked like a punchbag after a stone cracked his right eye. Teammate Steven Frossard was hesitant to the point of withdrawal only five days after a knee op to remove a broken anterior cruciate ligament. The fact that someone stole his knee brace did not help either. As Rockstar Suzuki's Clement Desalle (a rider who wore a frown most of the weekend and clearly did not enjoy the challenge despite finishing third overall) said: "I found the track difficult, especially compared to when I won here in 2010; it felt like you were on the edge of making a big mistake all the time."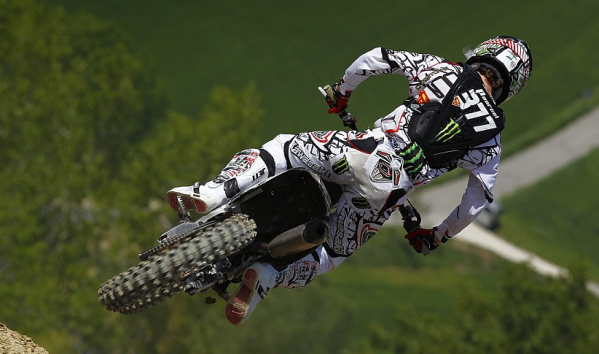 Pourcel won his first GP since 2007 in Italy.
Kawasaki photo
For all its idiosyncrasies on this occasion Pourcel's favouritism of the hard-pack base served him well and he was consistently the quickest and the smartest on this day. His only fault came through an engine stall in a tight battle two laps before the chequered flag in the first moto that let brand-mate and Bulgarian GP victor Gautier Paulin take advantage in their close and entertaining dice; replayed from Bulgaria and also from Fermo in 2011 when the meeting closed the series. Paulin would run slightly wide in the last true overtaking spot on the track on the final lap however and Pourcel struck like a cobra.
World Champion Tony Cairoli couldn't touch the Kawasakis in third place but a better start in moto two (where Paulin crashed on the first turn) allowed him to maintain a slight gap over Pourcel and then Desalle for most of the moto. Cairoli was riding extremely well on the KTM 350SX-F and was clearly pleased with his runner-up slot.
Red Bull KTM went one better in MX2 and Herlings was imperious if perhaps a little foolhardy in his blatant attempt to block the line of pole-sitter Searle out of the gate. Searle ended up being dragged for a portion of the start straight until both riders crashed. Herlings was able to get back from last to win and Searle was just three seconds behind; giving extra emphasis to the notion of 'chasing' an opponent. The Brit was livid post-race and team staff had to hold back the riders to prevent a confrontation at the podium.
"Tommy just kept on full gas and hit me. I don't really know who was in the wrong. Let's say both of us," said Herlings who won with a damaged front wheel and brake and now has a 30 point lead in the standings already. "It will be a long season and after what happened today I hope I can still race clean with Tommy."
"I don't know why he needed to do that," commented Searle, who had DNF-ed the first moto with a blown Kawasaki as a consequence of a blameless fall. "It is kinda early in the season to be pulling moves like that but he's the one with the points now and he'll have to watch out. I have to say I really enjoyed the race after that though. I was so far back and probably rode the best I have done in my career. I needed a special little something and found it in that moto."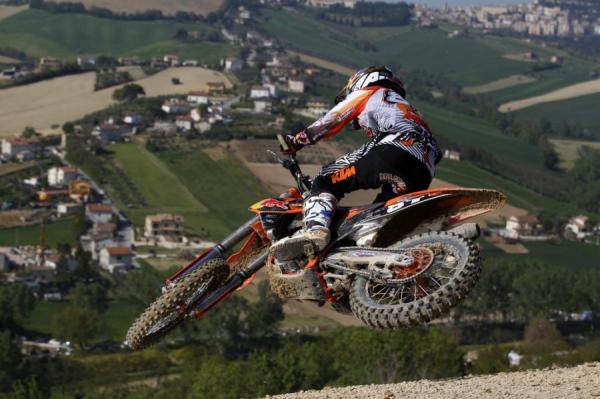 Herlings overcame a second moto crash to go 1-1 for the overall.
Ray Archer / KTMImages
Finally there was Leib with a result out of the blue and against the odds. A 3-3 scorecard in only his second outing on the factory Monster Energy Yamaha, one week after leaving the U.S. for the wild-card opportunity and nursing a twisted knee after the first moto. It was a big result for the team and also the Californian. Leib led the lion's share of the second race until his lack of forty minute moto mileage told, but his flight from just inside the top twenty to the winner's circle in the first dash was the major eye-catcher.
Here's what he had to say:
Racer X: Michael, how can you explain that?
Michael Leib: I can't explain it. The last two years here were tough for me and I got the opportunity to come over here for two weeks and ride a good bike and the goal was to do exactly what I accomplished today. It is not everyday you can achieve a highly set aim like that, especially one other people think you cannot reach. I proved myself, and it was a very emotional feeling. I've had pretty good success in supercross and I was starting to build myself up. Today was a day where I wanted things to come together and they did.
The first race was pretty special.
The first moto was one of the best I've had in a professional race. I came across the board on the first lap in twentieth or something like that and found a way up to third. It might have been a fluke but I backed it up later by showing I can be a top contender. The first race was really good and it was even better to end it with the second. I twisted my knee a little bit and I'm sure it will be better in a couple of days.
Fermo was pretty tricky.
The track was unbelievably difficult. It was really rutted, really soft and hard in some places. It was grippy and then it was loose. It is my third year here and it was interesting to see how it can vary.
The big question then…what now?
My goal is to have fun racing a dirt-bike. It was cool to come back here and get a bit of personal redemption. I hope that has raised my stock a little bit. At home I was doing the supercross out of an eleven year old trailer and I was knocking on the door of the top five! I hope people might see me in a different light and the rest is about fun. Everything is a bit up in the air at the moment.
After back-to-back events the GP trail pulls up for a week before packing crates and bigger suitcases for a two week stint in South America; Mexico first followed by Brazil. That is of course if the majority of factory teams can resolve a small courier crisis with the shipment of their fuel to Guadalajara. A deadline for the resolution of which has been set for lunchtime on Monday after a series of meetings throughout the weekend in Fermo.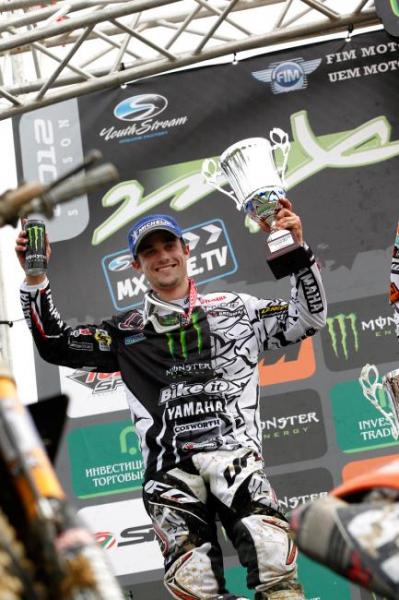 Leib secured his first career GP podium in Italy.
Ray Archer photo
MX1 Moto1
1. Christophe Pourcel (FRA, Kawasaki), 40:45.152; ;
2. Gautier Paulin (FRA, Kawasaki), +0:00.807;
3. Antonio Cairoli (ITA, KTM), +0:10.841;
4. Clement Desalle (BEL, Suzuki), +0:45.920;
5. Xavier Boog (FRA, Kawasaki), +0:46.277;
6. Evgeny Bobryshev (RUS, Honda), +0:49.834;
7. Ken de Dycker (BEL, KTM), +0:57.051;
8. Shaun Simpson (GBR, Yamaha), +0:59.812;
9. David Philippaerts (ITA, Yamaha), +1:04.282;
10. Kevin Strijbos (BEL, KTM), +1:07.930;
11. Tanel Leok (EST, Suzuki), +1:09.830;
12. Davide Guarneri (ITA, KTM), +1:20.842;
13. Matteo Bonini (ITA, KTM), +1:21.502;
14. Jonathan Barragan (ESP, Honda), +1:30.149;
15. Cedric Soubeyras (FRA, Honda), +1:32.581;
16. Matiss Karro (LAT, KTM), +1:32.687;
17. Dean Ferris (AUS, Kawasaki), +1:33.574;
18. Anthony Boissiere (FRA, TM), +1:46.935;
19. Milko Potisek (FRA, Honda), +1:49.535;
20. Rui Goncalves (POR, Honda), +1:54.514;
MX1 Moto2
1. Antonio Cairoli (ITA, KTM), 39:48.505; ;
2. Christophe Pourcel (FRA, Kawasaki), +0:09.147;
3. Clement Desalle (BEL, Suzuki), +0:15.265;
4. Ken de Dycker (BEL, KTM), +0:20.222;
5. Evgeny Bobryshev (RUS, Honda), +0:31.310;
6. Gautier Paulin (FRA, Kawasaki), +0:42.169;
7. Kevin Strijbos (BEL, KTM), +0:54.334;
8. David Philippaerts (ITA, Yamaha), +1:02.716;
9. Rui Goncalves (POR, Honda), +1:05.010;
10. Dean Ferris (AUS, Kawasaki), +1:06.052;
11. Tanel Leok (EST, Suzuki), +1:22.905;
12. Matiss Karro (LAT, KTM), +1:26.852;
13. Anthony Boissiere (FRA, TM), +1:46.079;
14. Xavier Boog (FRA, Kawasaki), +1:58.639;
15. Cedric Soubeyras (FRA, Honda), -1 lap(s);
16. Davide Guarneri (ITA, KTM), -1 lap(s);
17. Herjan Brakke (NED, Yamaha), -1 lap(s);
18. Alfie Smith (GBR, Yamaha), -1 lap(s);
19. Santtu Tiainen (FIN, Kawasaki), -1 lap(s);
20. Augusts Justs (LAT, Honda), -2 lap(s);
MX1 Overall
1. Christophe Pourcel (FRA, Kawasaki), 47 points;
2. Antonio Cairoli (ITA, KTM), 45 p.;
3. Clement Desalle (BEL, Suzuki), 38 p.;
4. Gautier Paulin (FRA, Kawasaki), 37 p.;
5. Ken de Dycker (BEL, KTM), 32 p.;
6. Evgeny Bobryshev (RUS, Honda), 31 p.;
7. Kevin Strijbos (BEL, KTM), 25 p.;
8. David Philippaerts (ITA, Yamaha), 25 p.;
9. Xavier Boog (FRA, Kawasaki), 23 p.;
10. Tanel Leok (EST, Suzuki), 20 p.;
11. Dean Ferris (AUS, Kawasaki), 15 p.;
12. Matiss Karro (LAT, KTM), 14 p.;
13. Davide Guarneri (ITA, KTM), 14 p.;
14. Rui Goncalves (POR, Honda), 13 p.;
15. Shaun Simpson (GBR, Yamaha), 13 p.;
16. Cedric Soubeyras (FRA, Honda), 12 p.;
17. Anthony Boissiere (FRA, TM), 11 p.;
18. Matteo Bonini (ITA, KTM), 8 p.;
19. Jonathan Barragan (ESP, Honda), 7 p.;
20. Herjan Brakke (NED, Yamaha), 4 p.;
MX1 World Championship standings
1. Antonio Cairoli (ITA, KTM), 133 points;
2. Gautier Paulin (FRA, Kawasaki), 116 p.;
3. Christophe Pourcel (FRA, Kawasaki), 106 p.;
4. Clement Desalle (BEL, Suzuki), 105 p.;
5. Ken de Dycker (BEL, KTM), 95 p.;
6. Kevin Strijbos (BEL, KTM), 76 p.;
7. Xavier Boog (FRA, Kawasaki), 72 p.;
8. Evgeny Bobryshev (RUS, Honda), 69 p.;
9. David Philippaerts (ITA, Yamaha), 69 p.;
10. Tanel Leok (EST, Suzuki), 62 p.;
11. Shaun Simpson (GBR, Yamaha), 58 p.;
12. Rui Goncalves (POR, Honda), 54 p.;
13. Steven Frossard (FRA, Yamaha), 40 p.;
14. Davide Guarneri (ITA, KTM), 36 p.;
15. Matiss Karro (LAT, KTM), 35 p.;
16. Jonathan Barragan (ESP, Honda), 33 p.;
17. Cedric Soubeyras (FRA, Honda), 27 p.;
18. Sebastien Pourcel (FRA, Kawasaki), 24 p.;
19. Dean Ferris (AUS, Kawasaki), 22 p.;
20. Matteo Bonini (ITA, KTM), 21 p.;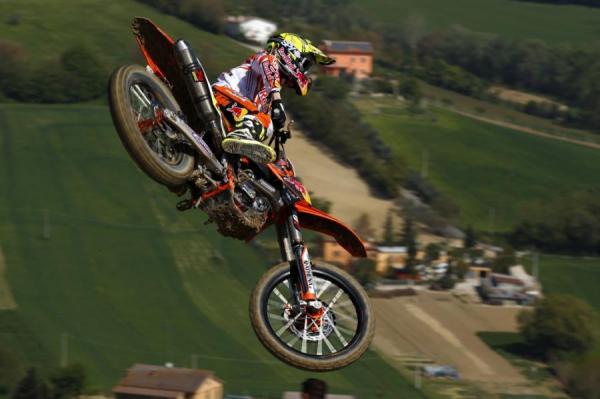 Cairoli finished second behind Pourcel in Italy, but still holds the MX1 points lead.
Ray Archer / KTMImages
MX2 Moto1
1. Jeffrey Herlings (NED, KTM), 40:06.301; ;
2. Jeremy van Horebeek (BEL, KTM), +0:16.652;
3. Michael Leib (USA, Yamaha), +0:21.834;
4. Jake Nicholls (GBR, KTM), +0:27.065;
5. Dylan Ferrandis (FRA, Kawasaki), +0:34.091;
6. Harri Kullas (FIN, Suzuki), +0:36.761;
7. Jordi Tixier (FRA, KTM), +0:40.763;
8. Christophe Charlier (FRA, Yamaha), +0:43.712;
9. Jose Butron (ESP, KTM), +0:48.831;
10. Nikolaj Larsen (DEN, Suzuki), +1:03.412;
11. Max Anstie (GBR, Honda), +1:11.938;
12. Alexander Tonkov (RUS, Honda), +1:17.840;
13. Petar Petrov (BUL, Suzuki), +1:23.827;
14. Alessandro Lupino (ITA, Husqvarna), +1:25.063;
15. Valentin Guillod (SUI, KTM), -1 lap(s);
16. Ivo Monticelli (ITA, Suzuki), -1 lap(s);
17. Kevin Fors (BEL, Yamaha), -1 lap(s);
18. Loic Larrieu (FRA, Husqvarna), -1 lap(s);
19. Antonio Mancuso (ITA, Honda), -1 lap(s);
20. Andrea Cervellin (ITA, TM), -1 lap(s);
MX2 Moto2
1. Jeffrey Herlings (NED, KTM), 39:49.655; ;
2. Tommy Searle (GBR, Kawasaki), +0:03.234;
3. Michael Leib (USA, Yamaha), +0:17.454;
4. Jeremy van Horebeek (BEL, KTM), +0:28.991;
5. Jordi Tixier (FRA, KTM), +0:32.368;
6. Alessandro Lupino (ITA, Husqvarna), +0:34.819;
7. Jose Butron (ESP, KTM), +0:40.922;
8. Max Anstie (GBR, Honda), +0:57.391;
9. Christophe Charlier (FRA, Yamaha), +1:04.357;
10. Petar Petrov (BUL, Suzuki), +1:16.502;
11. Mel Pocock (GBR, Yamaha), +1:19.011;
12. Dylan Ferrandis (FRA, Kawasaki), +1:20.500;
13. Alexander Tonkov (RUS, Honda), +1:21.928;
14. Harri Kullas (FIN, Suzuki), +1:24.191;
15. Nikolaj Larsen (DEN, Suzuki), +1:41.166;
16. Pascal Rauchenecker (AUT, KTM), +1:53.755;
17. Samuele Bernardini (ITA, KTM), +2:01.607;
18. Valentin Guillod (SUI, KTM), +2:02.462;
19. Loic Larrieu (FRA, Husqvarna), +2:05.117;
20. Roberts Justs (LAT, Honda), -1 lap(s);
MX2 Overall
1. Jeffrey Herlings (NED, KTM), 50 points;
2. Michael Leib (USA, Yamaha), 40 p.;
3. Jeremy van Horebeek (BEL, KTM), 40 p.;
4. Jordi Tixier (FRA, KTM), 30 p.;
5. Jose Butron (ESP, KTM), 26 p.;
6. Christophe Charlier (FRA, Yamaha), 25 p.;
7. Dylan Ferrandis (FRA, Kawasaki), 25 p.;
8. Max Anstie (GBR, Honda), 23 p.;
9. Tommy Searle (GBR, Kawasaki), 22 p.;
10. Alessandro Lupino (ITA, Husqvarna), 22 p.;
11. Harri Kullas (FIN, Suzuki), 22 p.;
12. Petar Petrov (BUL, Suzuki), 19 p.;
13. Jake Nicholls (GBR, KTM), 18 p.;
14. Alexander Tonkov (RUS, Honda), 17 p.;
15. Nikolaj Larsen (DEN, Suzuki), 17 p.;
16. Mel Pocock (GBR, Yamaha), 10 p.;
17. Valentin Guillod (SUI, KTM), 9 p.;
18. Pascal Rauchenecker (AUT, KTM), 5 p.;
19. Loic Larrieu (FRA, Husqvarna), 5 p.;
20. Ivo Monticelli (ITA, Suzuki), 5 p.;
MX2 World Championship standings
1. Jeffrey Herlings (NED, KTM), 144 points;
2. Jeremy van Horebeek (BEL, KTM), 114 p.;
3. Tommy Searle (GBR, Kawasaki), 109 p.;
4. Joel Roelants (BEL, Kawasaki), 85 p.;
5. Max Anstie (GBR, Honda), 80 p.;
6. Jordi Tixier (FRA, KTM), 78 p.;
7. Dylan Ferrandis (FRA, Kawasaki), 73 p.;
8. Jake Nicholls (GBR, KTM), 69 p.;
9. Harri Kullas (FIN, Suzuki), 65 p.;
10. Michael Leib (USA, Yamaha), 61 p.;
11. Alessandro Lupino (ITA, Husqvarna), 60 p.;
12. Alexander Tonkov (RUS, Honda), 55 p.;
13. Jose Butron (ESP, KTM), 48 p.;
14. Petar Petrov (BUL, Suzuki), 43 p.;
15. Mel Pocock (GBR, Yamaha), 42 p.;
16. Nikolaj Larsen (DEN, Suzuki), 32 p.;
17. Christophe Charlier (FRA, Yamaha), 25 p.;
18. Valentin Teillet (FRA, Kawasaki), 23 p.;
19. Glenn Coldenhoff (NED, KTM), 21 p.;
20. Valentin Guillod (SUI, KTM), 17 p.;