Rogers Centre
Toronto

,

Canada
Toronto
Monster Energy AMA Supercross Championship
Honda Muscle Milk's Justin Brayton is starting to hit his stride late in the season, with three podiums in the last four races, the last two being runner-up finishes behind Ryan Villopoto. Of course, many of the top riders in the field are now out with injuries, which could lead you to say Brayton is merely taking advantage of openings in the results. However, he has clearly begun to pull away from riders he was battling with earlier in the season, so there are definite signs of progress no matter how you look at it.
Of course, progress means pressure, because Brayton is now coming to the races thinking a win is a possibility. Matthes talked to him about that after the Toronto race.
Racer X: Another podium. Maybe we're at the point where podiums are no big deal and now you've got to win.
Justin Brayton: Exactly. I actually felt pressure all day today. I actually like the pressure. It's good pressure to have, to go out there and have people believe in me, and I believe myself and know that I can win. It started off good in practice, but I was just really bummed with the heat race. I was getting roosted the whole 10 laps. I really wanted to win that, but I got off to a good start in the main. There's a reason RV [Ryan Villopoto] has the number 1 plate, he's really fast. I feel like I have the speed, I just need to put in a solid week of riding and do some 20 lappers and start pushing my leg. I feel like the injury is starting to sneak up on me a bit, fitness wise. Yeah, just keep getting good starts, put myself in good positions and it'll happen.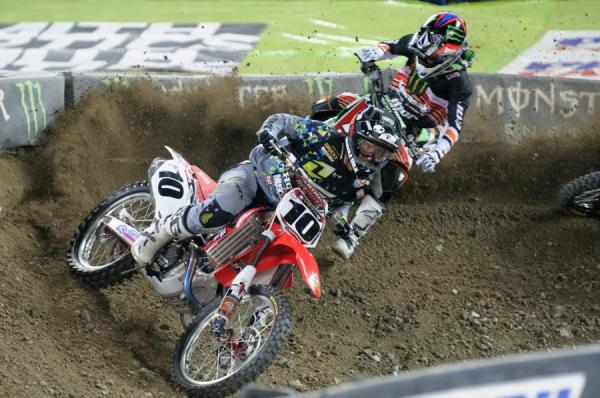 Brayton grabbed the early lead in Toronto, but was unable to hold off a hard charging Ryan Villopoto.
James Lissimore photo
This is your second podium in a row, three in four races. You're taking that next step, you're working at it. What do you have to do, though? Where is he pulling you or gaping you?
He's just really, really aggressive everywhere. I mean, any little cushion he can find, he finds it. I'm more smooth and precise. I gotta' get out of that a little bit, but I can't go away from how I ride. I can't just copy what he does. And the whoops were nasty tonight. I just need to be a little more aggressive and be there for 20 laps. That's pretty much the main thing. I felt like I was there for 10 or 11 today. I'm getting closer and closer.
It's like we said, where you've got to be the best of the rest and now you're at the next level where you've got 10 or 11 and next week 15, right?
Yeah, for sure. I really want to win, man. Actually, this week was rough.
Do you believe you can win?
I totally believe I can. It was a rough week after watching last week's race on film. I was pretty mad. I was really mad at myself. But then again, I've got to take the positives from it, and I ran up front. That was the first time I've ever really led laps in the 450 class and now pulling the holeshot tonight, my first holeshot. So there are things happening that are positive. Now I think people are starting to see that I have the speed and I do have all the goods to win races. Now there's that pressure to win. I love it, though. I want to get up there and battle with him and try and win one.
I walked the track with Shane Drew this morning and he said "We will holeshot." Why? Do you agree? And why?
The Honda is insane. Once you hit third gear, it's a rocket ship. The long starts are great. And short starts are good, too! I've had some great starts on short ones, but if you just get across the gate good, it's over, especially on the long ones. It's awesome to get good start. And to go to the gate knowing that you're going to get good starts and ride like you can. I mean, if you get a bad start or even a fifth place start, you can't ride like you know you can and that's what I've done in the past. Now, just having the confidence to go to the gate, know I'm going to get a good start, and know that I can run that speed is pretty cool.
The track broke down pretty good.
The track broke down really good. The whoops were nasty. Crazy thing is the past two weeks, the whoops have been gnarly. That's where I got beat last week. And I felt like I was maybe a touch better than him tonight, but he was better than me on the rest of the track. So we'll just keep working, like I said, and hopefully get it here soon.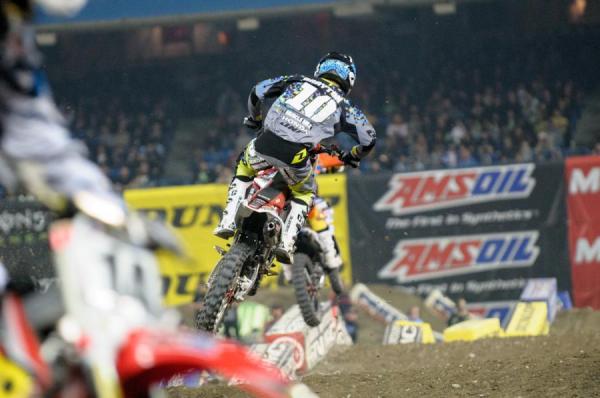 Brayton is still looking for his first win of 2012.
James Lissimore photo