Lucas Oil Stadium
Indianapolis

,

IN
Indianapolis
Monster Energy AMA Supercross Championship
Time to let the dirty little secret out and just face the facts: Injuries define this sport.
When we talk about racing, we like to talk about the good stuff—riders as athletes and dirt bikes as racing machines. We key in on this man-and-machine struggle, pitting one team-bike-rider combination against another. We have an insatiable appetite for info on who is fast and why they're fast, but we don't want to talk about injuries any more than we want to see them happen, and we don't want to see them happen at all.
For example, think back to any preseason bench-racing conversation you had that entailed making predictions for the year. You keyed on Villopoto's confidence, or how the #1 plate might affect him. We talked about the changes to his 2012 KX450F or hard work with his trainer Aldon Baker. We marveled at his unique and incredibly effective riding style. Then we did similar things for his opponents. Ryan Dungey talk centered on his new team and bike and old relationships with his new bosses. And James Stewart? We went around and around wondering if James' old bike brand and new team could get him back to his old heights, while simultaneously wondering if James doesn't dominate only because today's competition, like the Ryans, have gotten too fast to be dominated.
We weighed all the stories about new riders and new teams. Made predictions and put thoughts together. But never in those thoughts did we weigh in the injury factor. We want to talk about speed and fitness and bikes, not "But what if Canard, Reed, and Dungey all go out for the year with injuries?"
Sure, it seems crazy to have predicted such a thing, especially when Reed and Dungey have cemented reputations as two of the least injured riders in the game. But you don't have to go back very far to find similar strange things happening. Heading into the 2010 season, the epic 2009 Stewart-Reed SX clash was still fresh in our minds. Many wondered if Dungey and Villopoto could make the leap and join the old favorites at the front. Would they be fast enough to run with Stewart and Reed? That was the question everyone had, but no one—no one—was asking "But what if Reed and Stewart are out by the second round of the season with injuries?"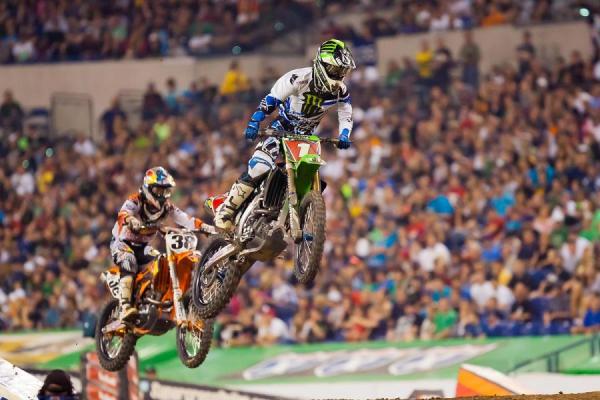 It's beginning to look like Ryan Villopoto's last few years will be described as, "The years he was hurt and the years he won."
Fredrickson photo
By the end of that 2010 campaign, the SX tour was looking pretty haggard. Once Villopoto went out with a leg injury in St. Louis, Dungey was free to wrap the title by round 15 of 17, and he held a 70-point lead in the series at the finale. Teams were subbing in replacement riders all over the place, like Trey Canard getting his big shot on the Team Honda 450 when Andrew Short went down with a leg injury. And Nick Wey seemed to shuffle between privateer and factory Kawasaki duty every week.
And this stuff is not reserved only for supercross. The first year I announced the TV shows for the Lucas Oil AMA Pro Motocross Championship (2009), we keyed on Villopoto at the first race, only for him to tear his knee up before round two. Then we focused on Mike Alessi until he busted his knee after round three. From there, the series was all Reed's, although he was dealing with a bizarre stomach ailment the whole time. Then the 2010 outdoor tour morphed into the 2010 supercross tour, with Dungey dominating and a whole bunch of fast guys out with injury and illness.
The point is, all of the bench-racing leading into a season focuses on who would be the fastest, strongest rider, not who would get injured the least.
Then came 2011, dubbed the greatest season of all time. What was the big difference between 2011 and so many of the seasons we expected to be great but weren't? The top guys didn't get hurt! Villopoto, Reed, Dungey, and Stewart made all 17 rounds. The rest of the action took care of itself, just like it would have this year if those dudes didn't get hurt. Possibly would have worked the same way in 2010, too.
But it didn't. You can start running back through time and think about how each season turned out, and you'll realize injuries were often a bigger factor than speed or fitness. They are beginning to define this season as well, and the Indianapolis race served as a stark reminder. Injuries had already become the big story via the quick exits of Dungey and Reed, but Indy pounded the point home when so many riders pounded themselves. Stewart down. Windham down. Wey down. Hanny down. Chisholm down. Josh Grant back from being down but then going down in practice (but escaping safely—this time). There was even that bizarre red-flag restart (which I thought was awesome, by the way) in the Lites main to bring, yes, crashes back to the forefront.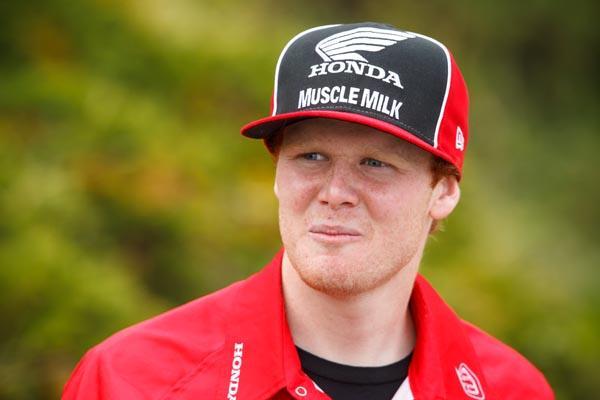 We miss this guy.
Cudby photo
Now, I understand that as you read this you're beginning to look for answers. What can be done to stop this? What is causing all of the injuries? Well, if anything, I've realized that you can't point to a specific trend or reason why such injuries happen. This isn't a trend. It's a constant. Bikes and tracks and speeds evolve, but the injuries never change. Was there anything fundamentally different about 2011 compared to 2010 and 2012? Nope. Riders competed on the same 450 four-strokes and the same basic tracks.
Sometimes guys get hurt, sometimes they don't. Hey, the first year I followed the sport every week was in 1987, courtesy of the trusty Cycle News subscription. Let's review the 1987 season: First, 1986 runner-up David Bailey was paralyzed in a preseason crash. Then defending champion Ricky Johnson got knocked out at the Anaheim opener but mounted a comeback in the points when Jeff Ward broke his ankle. RJ got the points lead back, only to crash at Pontiac and break his fingers, allowing Ward to reel off wins and get the title. That season, completely, was defined by who got hurt and who did not. Then all hell broke loose in 1989 when both RJ and Ward were knocked from the hunt with injuries, allowing Jeff Stanton to take over the sport.
The stories are the same year in and year out, and only occasionally do we get a season where the main players all make it through all the races. When it happens, we can get incredible, memorable years like 1992 (Stanton, Bradshaw, and JMB taking it down to the wire), 2006 (Carmichael, Stewart, and Reed taking it down to the wire) or 2011 (pretty much everyone taking it down to the wire). This is not a new trend, folks!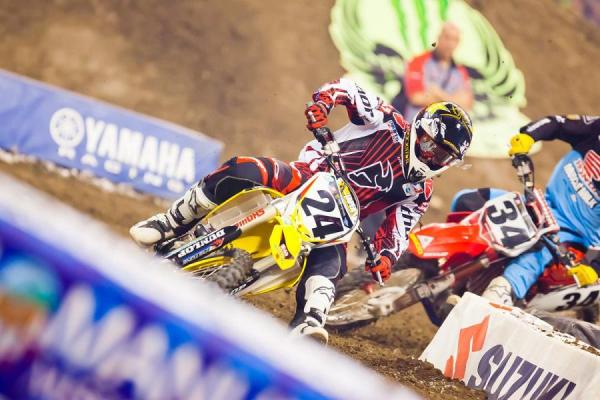 The podium and even the victory spot is now open for guys like Brett Metcalfe.
Fredrickson photo
To that end, we have to commend the riders who manage to avoid such carnage. We will forever sing the praises of Jeremy McGrath as the King of Supercross and applaud laurels such as his technique, starts, timing, and showmanship. But MC's most incredible accomplishment is actually the one he gets the least credit for. Forget 72 wins. More amazing? MC went ten straight SX seasons without missing a single race due to injury. Ten years! That's an entire career for some riders. Similarly, Carmichael went ten years as a pro and only missed significant time twice—early in his '99 rookie 250 SX season, and for the full '04 SX tour with a torn ACL. Even including that, Carmichael's attendance was nothing short of remarkable. RC is defined by his strength, speed, tenacity, will, fitness—all of that, sure. But his basic durability is what allowed all of those assets to flourish.
Put it another way: I recently read a basketball story by ESPN's Bill Simmons saying "[Michael] Jordan's greatest feat ever was playing 310 out of 310 games (including playoffs) in a 31-month stretch from November '95 through June '98."
Yup, Jordan amazed with his athletic ability, his work ethic, and his competitive drive. But his durability was his greatest asset. Without it, his talents would have been wasted.
This is athletic competition, and this is how it works. Dudes get hurt. And that, usually, defines who wins and who loses just as much as any other athletic feat