Kailub Russell Bounces Back at Georgia GNCC
Washington, Ga. (March 18, 2012) - Something sparked a fire inside Factory FMF/KTM's Kailub Russell in the five short days since the opening round of the Can-Am Grand National Cross Country Series. At that race, the young gun sat out the last hour of the grueling three-hour race after crashing and injuring his shoulder. Many wondered if he would even be able to compete at round two, but it was clear from the early stages of the race that the 2010 XC2 Pro Lites champion was determined to make a statement in the woods surrounding the Aonia Pass Motocross Park in Washington, Ga., for round two of the 13-race series.

Russell ran within the lead pack all day and used his impressive sprint speed to put a small gap on his Factory FMF/KTM teammate Charlie Mullins and AmPro Yamaha's Paul Whibley, winner of Florida's season opener and today's $250 Motosport.com Holeshot Award. Mullins put in another solid ride for second place, matching his result at the opener, and demonstrating the poise and consistency that earned him the 2011 XC1 title.

"I had a pretty bad crash there on the second lap and I ended up breaking my forks, so my bike was kind of off. The crash was pretty gnarly but I was able to get back recover and even lead a few laps, but Kailub got around me and dropped the hammer the last few laps," Mullins said.

Russell finished out the final two laps with his two fastest times of the day, showing determination and heart to fend off GNCC veterans Mullins and Whibley and an entire field of stacked riders behind.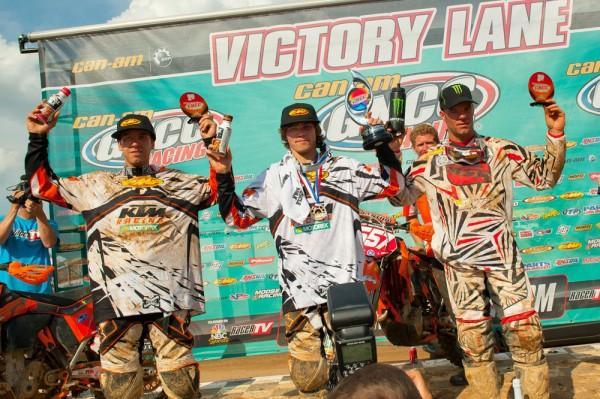 Kailub Russell (center) took the win with Mullins (left) and Whibley (right) rounding off the podium in Georgia.
Photo: DigitalOffRoad.com
"I felt like I had a little more at the end of the race and I knew I could go faster, so I got around Charlie and laid down a couple fast laps," said Russell after taking his second career XC1 win. "I'm focused, I'm driven, I've done the training and I just need to position myself in the race like I did today and I'm going to try to do that the rest of the season."
Whibley crossed the line just seven seconds behind Mullins for third place, which gives the kiwi a scant one-point lead in the early championship standings and an opportunity to sport the white number plate background and red number at round three.
"Everyone seemed to have some good lines today and we all mixed it up, it was a good day," Whibley said. "The last couple laps Kailub was on fire and Charlie and I pushed each other pretty well. I got caught in some lappers at the end there but I'm really happy with third today."
JG Offroad Honda's Nate Kanney also bounced back from a less-than-par finish in Florida, putting in a solid ride for the fourth place position and outdueling Shenandoah Honda/Offroad Champions.com's Thad DuVall late in the race. DuVall has put in consistent rides so far this season, giving him the third spot in the points standings after two rounds of racing.
Japan National Cross Country Series (JNCC) champion, Takeshi Koikeda (KTM) rounded out the top ten in the XC1 Pro class, just behind American Beta/WMR's Chris Bach, WMR/KTM's Rory Mead and Florida native Garrett Edmisten, who battled together all afternoon. GNCC Racing welcomed additional JNCC Racers Yano Kazuto (YAM) in the XC2 Pro Lites class and Saito Yutaro (YAM) in the Open A class at the The Maxxis General, in honor of GNCC's continued partnership and alliance with the JNCC family in Japan. The riders finished 18th and 22nd in their respective classes.
Defending XC2 Pro Lites champ, Steward Baylor Jr., made it two wins in a row, despite having what he called an off day. "I just couldn't get going really. I felt sleepy all day but I'm happy to get the win," said the Fly Racing/RidePG.com/KTM Support rider after crossing the finish line twenty seconds ahead of F.A.R Husqvarna's
Jason Thomas
. The XC2 veteran looked strong all day but lost touch with Baylor on the final lap and was forced to settle for second. Australia's Glenn Kearney may be a replacement rider for the F.A.R Husky team, but with two podium appearances in the first two rounds, it's hard not to validate a stay for the remainder of the season.
It was Aaron Plessinger taking the top amateur honors, besting fellow 250A competitor Grant Baylor by just over thirty seconds.
Sportsman A riders Casey Leatherman, Wesley Keller and Robby Towery battled it out for the unofficial overall in the 10 a.m. race, while Master's A (50+) Mark Hyde led the way once again over second place finisher Mark Patterson and Super Senior A (40+) Michael Grizzle.
It was Factory FMF/KTM's Maria Forsberg who topped the Women's class by about five minutes over fellow KTM riders Ashley Crouch and WMX's
Sarah Whitmore
.
Indiana's Michael Witkowski took the Youth overall win from the Super Mini (12-13) class, followed by Super Mini (14-15) racers Jonathan Johnson and West Virginia's Cody Pingley rounding out the overall podium.
Round three of the 2012 Can-Am Grand National Cross Country Series heads to Morganton, North Carolina, March 31 and April 1 for The FMF Steele Creek GNCC. For more information, go to www.gnccracing.com.
XC1 Pro Results:
1. Kailub Russell (KTM)
2. Charlie Mullins (KTM)
3. Paul Whibley (YAM)
4. Nathan Kanney (HON)
5. Thad DuVall (HON)
6. Cory Buttrick (KTM)
7. Garrett Edmisten (KAW)
8. Rory Mead (KTM)
9. Chris Bach (BET)
10. Takeshi Koikeda (KTM)
XC2 Pro Lites Results:
1. Steward Baylor Jr. (KTM)
2.
Jason Thomas
(HSQ)
3. Glenn Kearney (HSQ)
4. Jesse Robinson (HSB)
5. Jedediah Haines (YAM)
6. Dustin Gibson (KTM)
7. Brad Bakken (YAM)
8. Cole Kirkpatrick (KTM)
9. Cody Gragg (YAM)
10. Ricky Mair (KTM)
XC1 Pro Standings:
1. Paul Whibley (51) (1/win)
2. Charlie Mullins (50)
3. Kailub Russell (39) (1/win)
4. Thad DuVall (34)
5. Rory Mead (34)
6. Cory Buttrick (29)
7. Chris Bach (28)
8. Garrett Edmisten (25)
9. Jordan Ashburn (24)
10. Nathan Kanney (24)
XC2 Pro Lites Standings:
1. Steward Baylor Jr. (60) (2/wins)
2.
Jason Thomas
(43)
3. Jesse Robinson (43)
4. Glenn Kearney (42)
5. Jedediah Haines (31)
$250 Motosport.com Holeshot Award: Paul Whibley (YAM)
$100 Motosport.com Pro Am Holeshot Award: Cody Gragg (YAM)
About GNCC Racing:
The Can-Am Grand National Cross Country series is America's premier off-road racing series. Founded in 1975, the 13-round championship is produced exclusively by Racer Productions. Cross-country racing is one of the most physically demanding sports in the world. The grueling three-hour GNCC races lead as many as 1,500 riders through tracks ranging in length from ten to 12 miles. With varied terrain, including hills, woods, mud, dirt, rocks and motocross sections, GNCC events are tests of both survival and speed and draw talent from all over the U.S., Europe, Australia and New Zealand. GNCC Racing is televised and airs every week on NBC Sports Network. For more information, please visit www.gnccracing.com.