Daytona International Speedway
Daytona

,

FL
Daytona
Monster Energy AMA Supercross Championship
Daytona is known as the supercross track that favors the tough guys—it's a man's supercross track, a motocrosser's supercross.  Considering that, the track has evolved as of late and no longer serves as the outdoor preview that it once was. But the old days, when Gary Bailey designed the Daytona track with seemingly-sinister intent, yeah, those days, only the most rugged in the field could win.
Proof comes with the 1989-1995 dominance at Big D from Jeff Stanton and Mike Kiedrowski, two riders who specialized in fitness, endurance and toughness instead of scrubbing jumps and blitzing supercross-style whoops. Proof comes with Bob Hannah winning at Daytona in 1983 and 1985. The Hurricane was getting up in years, but on a rough track, he could still show the kids how it was done. Heck, proof comes from 2000, when Ricky Carmichael, still too rough around the edges to win a stadium-style supercross, collected his first career 250 SX win at Daytona.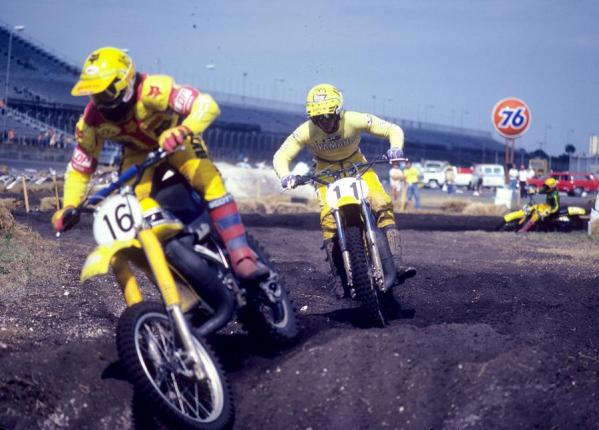 Staten leading Broc Glover en route to his only win at Daytona in 1980.
Photo: Paul Buckley
But maybe the best proof of all came in 1980. Yamaha entered the season without its three-time (1977-1979) SX Champion Hannah, who had broken his leg in an off-season water-skiing accident. But the team was still stocked with talent and good equipment. Mike Bell and Broc Glover reeled off a bunch of wins for the YZ crew, with Bell winning the title and extending Yamaha's SX title streak to four.
But at Daytona, a different Yamaha rider busted through, and he may have been toughest of all. "Rocket" Rex Staten was never known as a finesse guy. He would find the roughest lines and pin it through it. He raced with sheer determination. He was fierce. And while Rex had no problem muscling a 500cc bike around an outdoor track, he collected exactly one AMA 250 SX victory in his career—at Daytona in 1980. If the tough guy is going to win one, Daytona is usually going to be that one.