Edward Jones Dome
St. Louis

,

MO
St. Louis
Monster Energy AMA Supercross Championship
By Moser
Today is February 29, a day that doesn't roll around very often. In fact, a leap year is just as rare on the supply-and-demand chain as a presidential election and the Olympics. To honor this year's leap year, we're celebrating the 29 the best way we know how—with a salute to AMA #29, Andrew Short.
We asked Short's biggest fan, a man known mostly by the name of Moser, to pen this week's edition of Going for the W on Shorty.
Supercross.com Honda's Andrew Short is a familiar face at the races and has been on the scene for a while now. No longer considered a rookie of the 450 class nor an old man -- I would argue he's in his prime. Experience can't be bought. Trainers and riding coaches attempt to teach what it takes, but knowing what works for yourself is priceless. Shorty is universally known in the industry as a nice guy, or the nicest guy. He is well spoken, has a personality, sense of humor, is great with fans and sponsors, well grounded, a riding style smooth as silk, and he's easy on the eyes.
But the question remains can a nice guy win?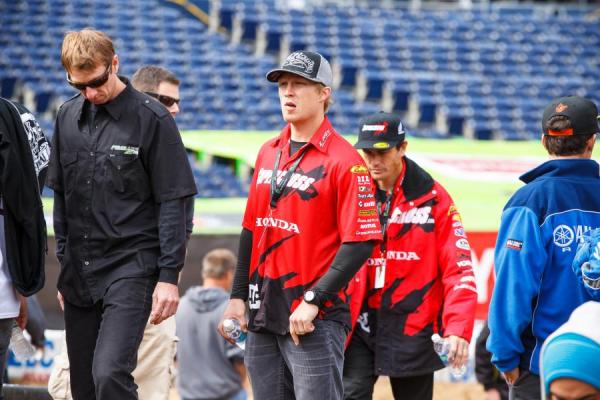 Short is still looking for that elusive first career SX class win.
Photo: Simon Cudby
We're all familiar with the phrase that was apparently coined by baseball manager Leo Durocher in 1939: "Take a look at them. They're all nice guys, but they'll finish last. Nice guys. Finish last."
Well Shorty has certainly not finished last through-out his career and by all accounts he's had a lot of success in a sport that is very unpredictable with extreme highs and lows. Shorty's resume is full of wins in the 125cc/250F Lites class in both supercross and motocross, and he came just short of winning a SX Lites title. His 450F big bike class finishes have proven Shorty to be one of the most consistent riders on the circuit finishing in the top three overall in the Lucas Oil Pro Motocross Championship series four years in a row. Not only was he chosen to ride for the MXDN team in 2010 but the team also won on home soil for the red white and blue, an honor very few riders get the chance to experience. One win that elludes the nice guy of the sport is a supercross class win.
There is no doubt that Going for the W is at the top of Short's to do list. Although Shorty is known as the nice guy while on the race track some of this competitors may not agree with the nice guy persona. The nickname "smiley faced assassin" is used on occasion to describe both his aggressive riding style and nice guy image. How nice of a guy is Andrew Short? Do any of us really know? Is it all an act at the races? To enlighten all of us about how nice Shorty is on a day to day basis away from the cameras, press and fans of the races who better to ask then a person no man can make happy all of the time, his wife, Mrs. Jacki Short.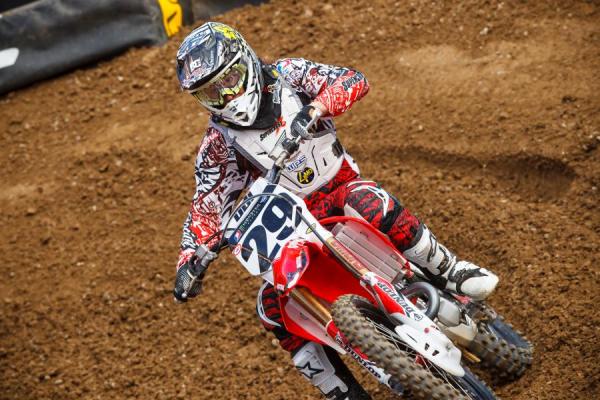 Short has looked more comfortable in 2012 after switching back to the Honda.
Photo: Simon Cudby
Racer X: Mr. Short is considered a nice guy of the sport, do you agree with that statement or is it all smoke and mirrors?
Jacki Short: Andrew is a nice guy.  What you see is what you get!

What's the last nice thing Mr. Short did for you?
One of the more recent times that Andrew had to go back to California to test, he got me flowers delivered!

Do you feel Mr. Short is too nice on the track, too aggressive, or just right?
I think Andrew is just right on the track. He would never race anyone harder than they race him.

In today's supercross/motocross racing is there enough rubbing or has everyone gotten a little soft?
I think all the riders respect each other for the most part, that's why you don't see too much rubbing. Rubbing is racing, and sure makes it more exciting!

Is Mr. Short a lover or a fighter?
Andrew is a lover, I'm the fighter!

The saying goes behind every nice man is a nicer woman, but for the record who is nicer Mr. or Mrs. Short
Andrew, not me!

Thanks for your time Jacki, and unless Andrew did a superb job of disguising his voice while performing this interview I think we can lay to rest the question of is Shorty truly a nice guy.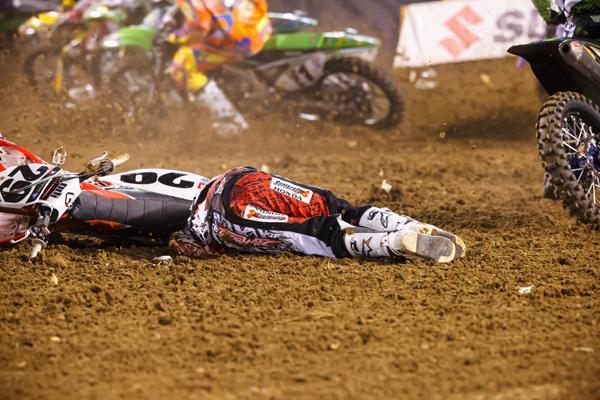 Short has been sidelined with a shoulder injury after a first turn crash in San Diego.
Photo: Simon Cudby
What will it take to get the ellusive win in supercross? Moving back to a Honda 450 seems to agree with Short and he looks more comfortable this year than he did riding the KTM 350 last year. The intensity of Supercross.com manager Larry Brooks one of the most successful team managers ever and team owner Jeremy McGrath the most successful supercross rider of all time in your corner certainly can't hurt. Getting run over by Weston Peick in the first turn at San Diego can and does hurt though, and after Short had built some momentum at the beginning of the season, having come back from injury last summer a current shoulder injury will be a small setback for now.
There are so many integral components that all have to be in sync to get a win; speed, fitness, bike setup, confidence, color coordinated gear, and luck. Short may have been raised in Colorado but he now resides in Texas and this isn't his first rodeo, there is no doubt he will continue to be the nice guy in the sport and continue chase after the W.