Pennsylvania's Michael McDade has lived a life that most 24-year-old's probably wouldn't comprehend. As an amateur champion moving through the ranks, McDade caught support from various teams and sponsors along the way and although he proved to be one of the fastest riders on the track at times, something always seemed to be missing. McDade admittedly got caught up in the world of fast living and his physical condition and race results suffered. But after the birth of his son, Keegan, the still-young racer put his life into perspective and made his move back into the racing scene once again. We caught up with McDade after securing his first AMA Arenacross Lites East Championship at Rupp Arena in Lexington, Ky., over the weekend.
Racer X: Congrats on the AMA Arenacross Lites East Championship. Talk about your night in Lexington.
Michael McDade: Thanks! I actually did good on the starts all night. I got more holeshots Saturday night than I've gotten all year, so that was good. The track was slick, which is something I'm not used to. I haven't gotten to ride because of the snow and we've ridden probably once or twice this whole season. I got a good start in the main event but I slid out twice and it just didn't end up how I thought it would.
I definitely wanted to end with a win but there was no pressure because I knew I had the East Lites Championship wrapped up. Michael Willard has been my competition all year but he actually scored too many points in the AX class, which meant he wasn't able to race this round. If Willard would have raced—and I had finished where I did—it would have been a one-point difference. So it was good knowing I had a 26-point lead heading into the main event, but I still wanted to get the win. I start riding KTM's next week, so I kind of wanted to win my last race on the Kawasaki, but I'm pumped with taking the championship for sure.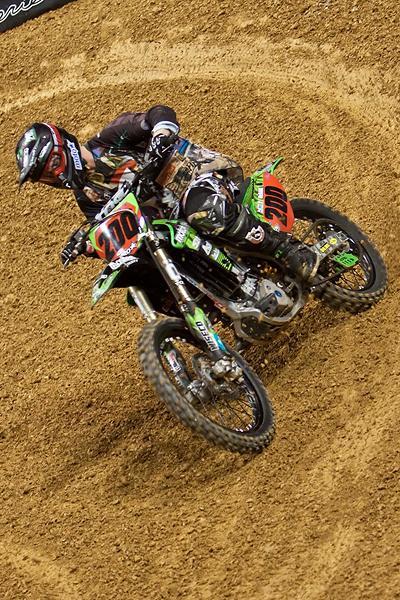 McDade captured his first career Arenacross title over the weekend in Lexington.
Photo: Mark Pearson
Can you talk about what's going on with your switch to KTM's?
Yeah, I'm actually going to finish the last three Arenacross rounds out west with Reed & Reese Racing as Dave Ginolfi's teammate. Those guys approached me and wanted to help out so I think we're going to do the last four East Coast Supercross rounds as well. This week we're actually driving out to California and I'm going to learn how to ride a KTM (laughs). You know, I'm just happy to be back at it and making this into a job again.
It sounds like you've got the ball rolling. Who supported your AX Lites efforts pre-championship?
The biggest support I've had this year is Shane Shipley. I met him at the end of February last year and we talked a little bit, I gave him my number and a week later he went and bought me a bike. We started training together and I then I found out I was having a son, so it kind of became crucial for me to put my head on straight and do well. I didn't have a good job and didn't even want to work (laughs). I knew this was my last shot to make something happen. Shane and I trained all year together and I ended up breaking my leg twice in a row but we just kept pushing it. Finally we decided to take time off the bike and just train to get me physically strong.
Shane and I work so well together. He's so mentally good for me and he gave me faith and taught me things that I would have never learned and never wanted to listen to before. I mean, it came with age I guess and definitely after having a son. But I definitely couldn't have done it without Shane and I hope to bring him with me wherever I go. He's definitely going to be there, whether it's to be my friend or whatever else. He's going to train me still, until I figure out what's going on and hopefully we can get him a spot on the team doing something, but I don't know what will happen just yet.
It seems like outdoor motocross is more your style, but now that you have an AX Lites title will you rethink your focus?
When we first decided to do Arenacross, we wanted to do the big class but [Tyler] Bowers and those guys ride good! We showed up to Baltimore and we hadn't really done anything indoors. We were riding outdoors the week of Baltimore and I just wanted to see how I would do and I actually won the Lites class. I mean, I haven't won one since, but that's because I was just trying to be consistent and get on the podium every weekend so I could thank my sponsors and everybody, and so far it's been good.
I'm happy where I'm at now, but I can't afford it much longer. It would be nice to actually make money off racing, I mean I did it this year and I'm still broke. I'm going to finish out this year with the final stops of Arenacross and then move to East Coast Supercross with Reed & Reese. My main thing this year, though, is going to be motocross. I raced some last year and Eleven 10Mods built a good bike but we didn't really have the money to get what we needed. I had top twenty finishes and a couple times I got up around fifteenth but I'm looking forward to this year with Reed & Reese KTM. I'm not sure what class I'll be racing yet, but I want to get consistent top ten's. I want people to notice what I did and I think that kind of momentum is what's going to keep me going right now.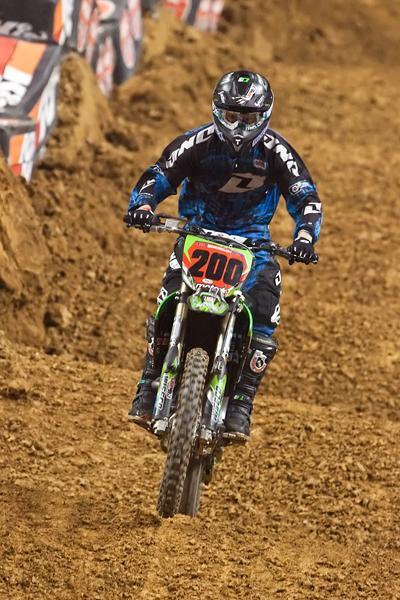 After wrapping up the East title on a Kawasaki, McDade will make the switch to KTM.
Photo: Mark Pearson
You had a pretty successful amateur career at times, and we've seen you appear at random supercross and motocross stops over the years. What caused your hiatus?
I guess you could say I went down a bad path. I did really well in 2006 and it was one of those "should-have-been, could-have-been" kind of things. I won Mini O's against [Trey] Canard and [Austin] Stroupe—twice, it wasn't just once—and that's where I thought it was going to take off. But I just kind of messed up, you know.
I've been on my own since 16 traveling away from home and I always had a lot of money back then. I guess I was young and I didn't really have guidance growing up—let alone being on my own—so I partied and just kind of did whatever. After a while, it started to catch up with me and I was getting hurt a lot and getting tired during races. Everybody started noticing and I think it was Terren O'Dell's mechanic who started calling me "McFade" and it was the truth! Even though I won Mini O's in 2008, I did fade, big time. I had a huge lead and those guys caught me on the last couple laps.
You definitely have raw talent on a dirtbike. What's it going to take to put it all together moving forward?
This year I feel good. I want to say I couldn't do it without my son because that's what really did it. But Shane, and everyone else who has stepped up, have helped me realize it's about getting the right people surrounding you and actually sacrificing things to make it happen. I was always selfish before and always did whatever seemed good for me, but this year it's the opposite. It's already showed, people have been calling me and I've been getting offers, which is something I didn't really even have when I was winning. It's just a Lites Championship, but it was definitely something I needed to go to the next level. I mean, I haven't won anything since Mini O's 2008 and I was out in California for four months before that. This year, I've kind of gotten away from a lot of my friends and I just wanted to win something.
I'm not proud of the way things have been in the past, but I wouldn't change it for anything. I'm glad I got it out of my system before Keegan (my son) was born. I just want to be a good role model for him. I definitely want him to race, but it's whatever he wants to do. That's really what I'm looking forward to the most. I just want to see my kid see me racing. My dad quit before I was old enough to realize he didn't race anymore and he was good! I just want Keegan to see me race and eventually if he does Loretta's maybe I'll go do something down there, like John Dowd and his son (laughs). I hope it works out.
Who do you want to thank for helping you take home the AX Lites East Championship?
Thanks, Jen. I want to thank Motocross Ministries, Motorex, Moto Star, Ohlins, Eleven 10Mods, The Privateer Pal, Four Brothers Urban Bistro, Spastic Designs, DEP Pipes, Wiseco, SCOTT Goggles, ODI, Loudmouth Intakes, and my mechanic Jeff Nelson.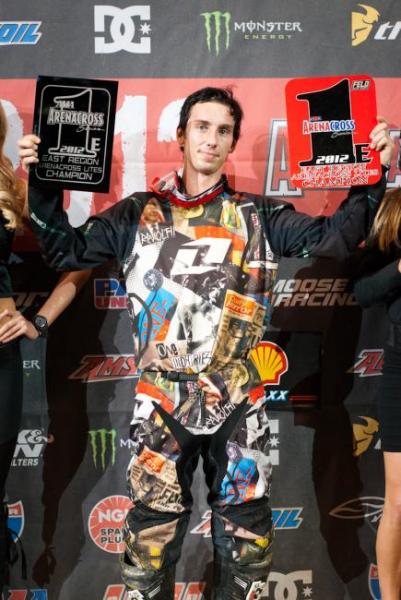 McDade celebrating his East Lites title.
Photo: Anthony Sansotta