Angel Stadium
Anaheim

,

CA
Anaheim II (A2)
Monster Energy AMA Supercross Championship
Hello, everyone and welcome to the Rev Up. Time for a grand weekend, folks. Ho, ho. Everyone knows what "Sunday" this is but I'm here to bring a noise from a different angle, under a different light. As we go through this week's column I ask you to close your eyes and go there, and I'll meet you on the other side. My close friends and the few defenders of the Rev Up faith will know that I'm quoting the Reverend James Maynard Keenan. You see, not only is this Super Bowl Sunday and the return to the Anaheim Supercross, yours truly will be going to church this weekend. My favorite band and one of the most positive muses, Tool, is coming to my town to perform.
It is at a time like this that the day-to-day choas of modern times make a little more sense to me. Weekends like this should make a man realize how special this mudball is, and appreciate the things we can do by just thinking differently, with an open mind. Life is a cruel irony, but the awe-inspiring power of what "we" can do will be on display for the Super Bowl. Two tribes of animals will beat the hell out of each other to see who can move a football the furthest. I think this reality kind of sums us up as a species. Sunday will be the most watched television event in human history. Hey, I'm no hypocrite, I'm going to watch it. But my heart and soul will be with my favorite band and the boys on the starting line in Anaheim this Saturday night.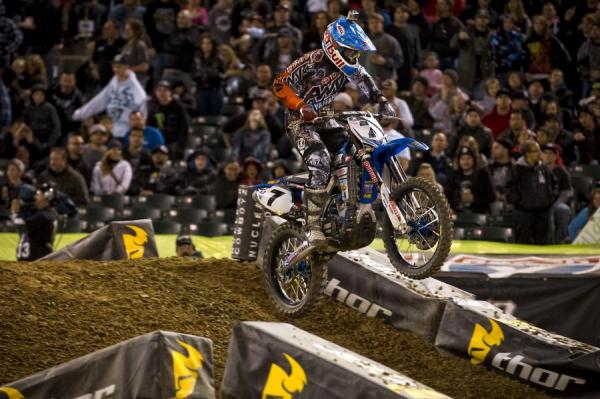 Stewart looks to make it back to back wins this weekend at Anaheim.
Photo: Garth Milan
What a storm the 2012 Monster Energy Supercross Series has manifested herself to become. Holy rusted metal Batman, we've had four winners in four weeks. Ryan Villopoto had us thinking he was going to dominate, then Ryan Dungey reminded us to be vulnerable in our thinking, after which came Reed's sobering victory, and now James Stewart has completed the flood. "Flood" is one of the most underrated Tool songs they've ever produced, I'll have you know. (Listen to it now if you have the means!)
Who is ready for more supercross? No matter your disposition with any of the title favorites, this familiar parable has become vicarious to say it in the slightest. What is the terrafirma going to be like this weekend? If it's hard pan, which it is likely to be, I'm going to go with RV Park and The Dunge. If it's soft you can expect to see The Thunder and Bubba take it to the front. Take heed, this grudge is no reflection of anything we've ever witnessed. We've never seen four riders with so much intolerance for losing.
Such a heavy burden now to claim the distinction as the first repeat winner. To write it down in the history book for all the world to see. Who is going to forget their pen and crap the bed? For the aforementioned heroes anything but victory from here to Vegas is a mere eulogy of a main event.
I'm sure I've left most of you pondering where all of this is going this week, but that is kind of the point. The best thing about our passion for our sport is that it is our own and it is different. Please come embrace my desire to feel the rhythm and feel connected, just enough to step outside. Push the envelope and watch it bend. Like the boys will do this weekend. I mean, seriously, who is ready to see the show again? It's on, son.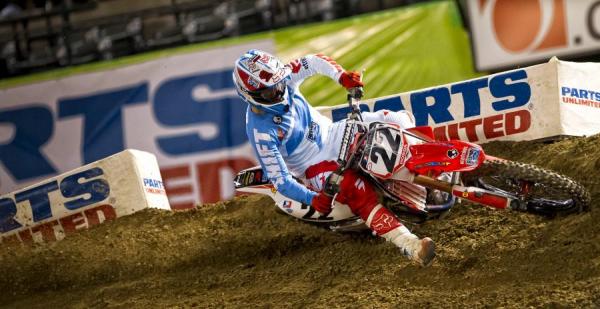 Will Reed leave Anaheim in sole possession of the points lead?
Photo: Garth Milan
In closing, I can only say that I'm so happy to be a part of everything that is going on this weekend. We all are. I've had a great week that saw me enjoy meals with my whole family, and it's the little things that matter the most. When you allow yourself to simply become vulnerable and let yourself go, the noise from the crowd becomes all the more heartfelt. Who is ready to hear the crowd roar again? Who is ready for this weekend in all facets? I can say with a glad heart that I am prepared in full.
We're so lucky to have this diminutive moment to enjoy. Life and racing isn't just about being alive and racing, but rather using the most of both beautiful gifts to their fullest. Every rider on the starting line this weekend in Southern California is ready to expound on that claim. I can't wait to scream and hear others scream for them.
Anaheim 2 is on the board. And so much more.
Thanks for reading, see you next week