Cody Mackie to Fill in For Josh Grant
O.co Coliseum
Oakland

,

CA
Oakland
Monster Energy AMA Supercross Championship
Murrieta, CA (Thursday, Jan. 26, 2012) With DNA Energy Drink / Jeff Ward racing's Josh Grant on the sidelines rehabbing a shoulder injury sustained at Los Angeles SX round 3, Australia's Cody Mackie is poised to step up for the opportunity of his lifetime. Mackie has been in the U.S. since Anaheim 1 contesting in the 450cc class of the AMA Supercross as a privateer aboard a stock bike coming close to qualifying on several occasions but will now get his big break at Oakland on a DNA Energy Drink / Jeff Ward Racing Kawasaki KX450.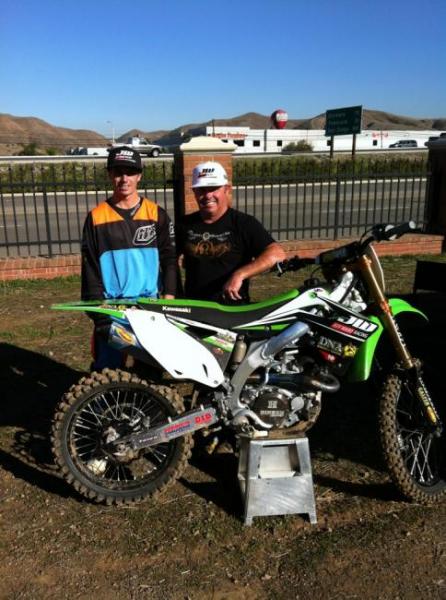 "My partner Lucas (Mirtl) has been telling me about Cody (Mackie) from Australia who has been over here on his own dime, sleeping on couches, trying to make it and after watching him ride the last couple days on our bike I feel like this is a prime opportunity to give someone like Mackie a chance," said Jeff Ward, co-owner of Jeff Ward Racing. "It's unfortunate to have Grant on the sidelines right now but we want to make sure we don't rush him back too soon and that he gets the proper treatment so he can come back strong."
And in an ironic twist of fate, Mackie's number in Australia is No. 33, which mirrors that of Grant's. At Oakland, however, Mackie will be racing the DNA Energy Drink / Jeff Ward Racing / Kawasaki No. 333.
About Jeff Ward Racing:
Jeff Ward, seven-time AMA champion and two-time X Games Gold Medalist, along with Kevin Conway, 2010 NASCAR Sprint Cup Series Rookie-of-the-Year, and Lucas Mirtl, founder of LM Action Sports Management have joined two-time AMA Supercross Champion team owner Mike Kranyak to form Jeff Ward Racing. With support from Kawasaki and DNA Energy Drink, them team is poised to contend for the 2012 AMA Supercross and Motocross Championships. The rider line-up for Jeff Ward Racing in 2012 consists of Josh Grant and Kyle Chisholm.
About DNA BRANDS:
DNA BRANDS Inc. (DNAX), make DNA Energy Drink(R), the award-winning, best-tasting energy drink at the 2010 World Beverage Competition, and DNA Beef Jerky(TM) and DNA Shred Stix(TM). DNA Energy Drink(R) is a proprietary blend of quality ingredients in four flavors Citrus, Lemon Lime, Sugar Free Citrus and Sugar Free Cranrazberry. DNA is a proud sponsor of many action sport teams consisting of top athletes from Motorcross, Surf, Wakeboard and Skateboard has received tremendous TV and media coverage. Independent retailers throughout the United States sell the DNA Brand products as well as the national retailers Walgreens, CVS, Race Trac and Circle K.
True to its sports roots, DNA BRANDS, INC., has earned national recognition through its primary sponsorship of the DNA Energy Drink/Jeff Ward Racing team where it competes on a world-class level in Supercross and Motocross, as well as Kevin Conway, 2010 NASCAR Rookie-of-the-Year, reaching millions of fans. DNA Energy Drink(R) can also be found in other action sports such as Surfing, BMX, Wakeboarding and Skateboarding and its athletes are recognized stars in their own right.
For more information about DNA Energy Drink, its athletes and sponsorships, please visit www.facebook.com/DNAbrands, www.dnaenergydrink.com; www.dnabrandsusa.com.