by
Jason Weigandt
Going for the W: Eli Tomac
Thursday, January 12, 2012 | 4:30 PM
Tweet
After finishing a close second in the title fight last year, GEICO Honda's
Eli Tomac
was a definite championship favorite coming into the 2012 Monster Energy Supercross Lites West tour. But bad luck conspired to very nearly throw his hopes out the window at the very first race, and it took a massive effort on his part to recover. Tomac tells the story:
"I got cleaned out in my heat race by Max Anstie. He's been kinda' dirty his whole life, but whatever. I was laying there on the ground in front of 40,000 people, and everyone was like "Oooooh." It was the most embarrassing moment of my entire career! But I worked my way into qualifying position, and then my bike breaks with three turns to go! So I had to go to the LCQ. And actually, they pulled the tuff block over to uncover the starting gate for that, because they only have 20 riders in the heat race, but they have 22 in the LCQ, so they had to move the haybale over so I could get a gate. But it was a fresh start pad, so I just ripped out of there! My gate pick was so bad for the LCQ that people weren't even allowed to use it in the heat race!"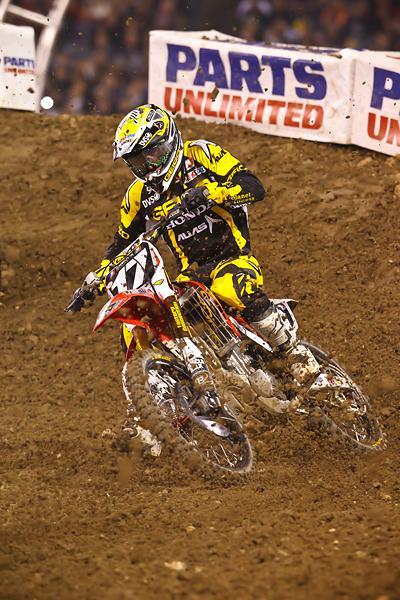 Tomac rebounded to take home third in the main event.
Photo: Simon Cudby
The LCQ race did help Tomac uncover something special, though. "I actually picked up on a triple in that LCQ, out of that corner, so that actually helped me for the main. Once the main came around, we had that crazy thing where the Monster Girl turned the board sideways ten seconds early, so we all just sat there revving. I literally almost looked up to see what was happening. The guy next to me looked up, and I almost did, but I said, "No I'm going to just sit here and look at the gate," and sure enough the thing dropped! I was still late though. So I was coming through the pack, and using that triple helped. Then Wilbur [Hahn] dumped it over, he gave me a spot. On the last lap, I was in fourth, and I was like, "Man I didn't work this hard tonight to not come out of here with a podium!" I came up on Deano, and I revved my bike on the outside to make him think I was going outside, then I cut inside underneath. I think I would have had him even if he didn't crash, because I think I was edging ahead a little bit."
With that, Tomac turned what could have been a horrible night into a routine podium finish, keeping him in the title hunt. Most importantly, overcoming some tough odds has him fired up for another shot at a win. "I felt good," he said after Anaheim. "I felt like one of the fastest guys out there. I'm stoked for Phoenix."
Share this article:
Did you like this article?
Check out MOTO GIFT GUIDE
in our Latest issue of Racer X available now.

Our annual gift guide has something (or maybe even a few somethings) for everyone on your holiday list. Page 146.
Look for the verified symbol
The Conversation