Highlights are easy: It was the year of Ryan Villopoto, Team USA, Dean Wilson, American Motocross, packed SX houses, live TV, Ashley Fiolek.... But what about the lowlights? We left the big, sad tragedies out here. We also left the unfortunate decisions like the "Mini D" class at Loretta Lynn's out. Here are 10 FAILS for '11.
10. Dean Wilson at the Motocross of Nations: For the third straight year in a row, Deano got dealt a bad hand at the MXoN. In '09 while riding for Canada his team did not make the main in Italy. In '10 he got stuck in that spider netting that surrounded the track at Thunder Valley. And then this time he breaks his hand... So no one outside the AMA tour understands just how truly fast this kid is, because while he's the AMA Motocross Champion in the 250 class, he's yet to show his true speed at the MXoN. If they did, they might not be so quick to rate past world champs like Tyla Rattray, Marvin Musquin and Ken Roczen ahead of him!
9. Tony Cairoli at the MXoN: Super Tony almost always finds kryptonite at the 'Nations. Despite all of his success in the GP tour, one moto at the big season finale (or both, in the case of this year) always seems to throw him down hard, and the 2011 event was no exception, as he crashed about 300 feet into the race. When he's on two wheels at this event, he's battled with the likes of Villopoto, Dungey and Reed. But his overall results at the end of the day almost never show it.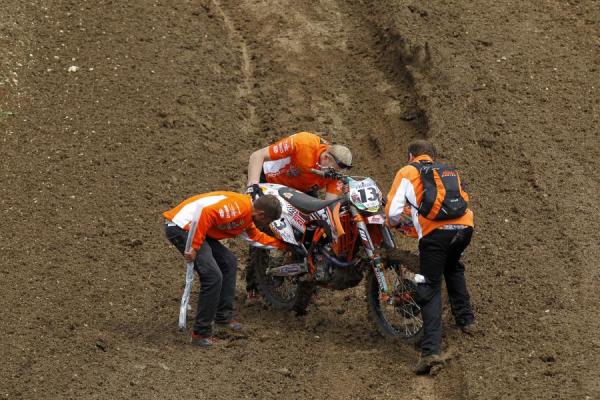 It was another tough year at the MXoN for Cairoli and crew.
Photo: Ray Archer
8. The fastest man at Southwick: Okay, Mike Sotille wasn't supposed to be the fastest in 450 qualifying at Southwick. It took a freak chain of events for it to happen—he's a local who knows the track, his practice was first out when the track was smooth, and seconds after he logged his one glory lap, the rain came down and slowed everyone else. Then he finished 18-28 in the motos, well behind the big dogs that he out-paced in timed qualifying. Next year he'll still be an unknown!
7. Josh Grant at Phoenix, then Red Bud: JG was pumped to be back on Honda, the brand that he built his career on. But he was rarely, actually, on the bike, with a knee injury served up by Jeff Alessi (and/or the universe) at the Phoenix SX, followed by the same injury in the other knee during his summer comeback. Now Grant's off riding a different color again.
6. MotoConcepts' French Connection: The Christophe Pourcel move really, really didn't work out, as he made it to just a couple races for the team before ending it. And while new team manager David Vuillemin sure seemed to work hard, the team went in a new direction at the end of the season, and DV ended up one-and-done as the head man.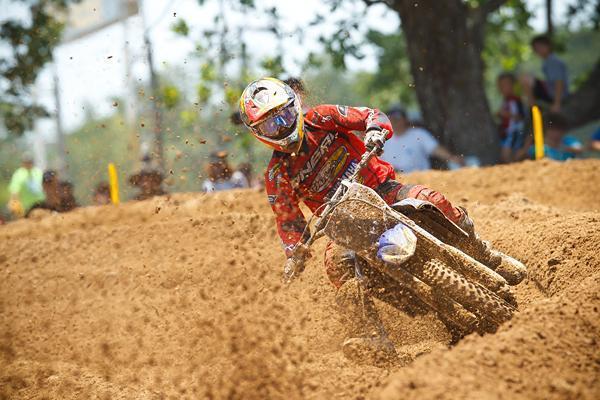 Pourcel signing with MotoConcepts never worked out.
Photo: Simon Cudby
5. KTM 350: It just hasn't work out yet. At least, not here in the U.S. Andrew Short had a tough season on his bike, and while Mike Alessi didn't light things up outdoors on a 450, either, well, he still chose not to race the 350. For the average guy, less displacement in the big-bike class could be more fun. But Shorty is far from average (and the works 350 that Tony Cairoli rides in anything-goes Europe is likely far from average too).
4. Travis at X Games: The worst part here was that Travis Pastrana actually walked away from his first failed attempt at his Rodeo 720 trick. But then like a bad movie ending, seconds later he remounted and tried again, crashing even harder, breaking his leg and ruining his entire debut season in NASCAR Nationwide. His stock car peeps over at Pastrana/Waltrip racing now know what it's like be Roger DeCoster.
3. Ryan Villopoto at Jacksonville: Never before has a supercross points leader straight-up failed to qualify for a race without getting injured. But then again, never before has a rider failed to qualify for a race yet still come back to win a championship!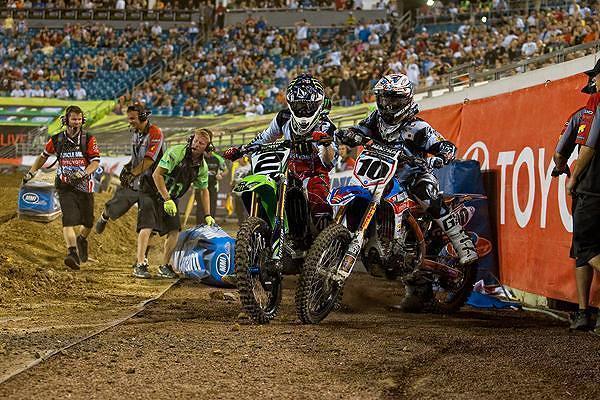 A devestating night for Villopoto in Jacksonville.
Photo: Garth Milan
2. James Stewart and the dirt: Too many gnarly soil samples here for JS7—Daytona, Jacksonville, Las Vegas… you get the idea. And the implosion of his L&M/San Manuel/JS7 team… Let's just move on to 2012.
1. Women's Endurocross: Good for GNCC Women's Champ Maria Forsberg, who won gold and stayed on two wheels the whole time. But this event wasn't headlined by the winners—the mass chaos and carnage all around didn't do much to sway opinion for the better for women's racing in general. It was so bad that the best thing to come out of it was that Elizabeth Bash got a neck brace endorsement!