Win a Helmet from Pants Saggin & On Track School
Win a custom painted helmet from Pants Saggin and On Track School
Have you ever wanted one of those awesome custom painted helmets like the pros and top amateurs wear? Now is your chance! Pants Saggin has teamed up with On Track School to help support their scholarship fund! On Track School is auctioning off the helmet paint job on EBAY and Pants Saggin will create a masterpiece of a helmet to the highest bidder. You can check out the listing here, and place your bids now!!

On Track School is a leader in private virtual education for students in traveling sports and activities throughout the country. The goal of On Track, is to help students achieve their goals in the 'classroom' as well as their sport/activity. On Track School is nationally accredited, with a high quality curriculum, that is adjustable to fit the needs and learning styles of the student. On Track is proud to have watched some of the top athletes in motocross graduate through their program, and go on to be a success on the track as well. Trey Canard, Ashley Fiolek, Blake Wharton, Blake Baggett, and Malcolm Stewart are just a few of the riders that have graduated with a diploma!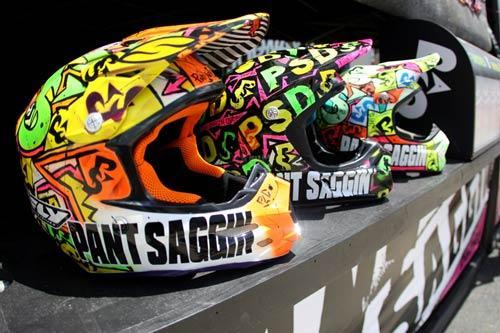 The On Track School scholarship program was established in 2010 to help riders who may not be financially able to attend a private school, take part in an essay contest each year, with the winner(s) being awarded a full year scholarship to the school. So far, riders like Malcolm Stewart, Blake Baggett, Trey Canard, and Blake Wharton have helped by donating towards the scholarship program. For more information on On Track School, and/or the scholarship program, you can email program director Andrea Leib at andrea@stayontrack.net. You can also check out the website at www.ontrackschool.com, and be sure to follow On Track at www.facebook.com/ontrackschool and www.twitter.com/ontrackschool.

The winner of the helmet paint job auction will need to provide a helmet to Pant Saggin for the paint job
Helmet does NOT need to be new or solid white or black.
Turn around time is about three weeks from when the helmet arrives.
Helmets are 100% custom.