Ryan Dungey Rockstar Makita Suzuki 1-7 for 3rd overall in 450 Class
What happened before the second moto?
We had a little electronic problem. I really don't know what it was, I haven't asked much about it. It's funny, the bike was running fine before I was ready to go out. I put my helmet on, took it off the stand, went to start it again and it didn't fire. I ended up going down to the line to pick my gate, and they kicked me out of my gate when the bike didn't show up. So I had to go down to the last gate pick, and I just waited, and then after the parade lap had taken off and everything, it was tough, I was just waiting. The race started, and I started walking back. I didn't know what to think. We've worked so hard for this. Not even just myself, the team, my family, everyone, there's so much that goes into this, and we don't come out just to win races, but to win championships. Looking back on it now, I'm so happy to be able to sit here and say that we're still in this. We've got two races left and we're still right there.
Growing up as a kid, my parents told me don't quit. As much as I wanted to take my helmet off and just chuck it somewhere, my mom said, "No, don't do it." I'm glad I didn't because I was still ready to race when they got me the bike. And I can't take all the credit. The whole team, it was the difference between starting the race and not racing in it at all. The Rockstar Makita Suzuki team, they have a great group of guys. Everyone, they made it work and we salvaged some points. If it wasn't for them I wouldn't have been out there.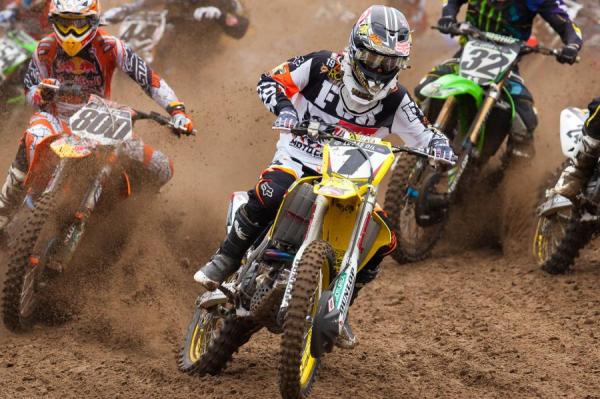 "Looking back on it now, I'm so happy to be able to sit here and say that we're still in this." -Ryan Dugney
Photo: Andrew Fredrickson
Did you feel the officials held the gate long enough?
I don't know. I'm not really a guy who reads the rulebook, so I don't know how it's supposed to work. The toughest part was the fact that my bike wasn't there and I was picking my gate, and I thought as long as I was there that was good enough, but my bike wasn't there so they kicked me out of that gate. So I had to pick the last gate pick. From there I just had to sit and wait. It felt like a half hour went by. I told my mom, when we were walking back, I thought it was over. I was pissed off. I was. I didn't know what to think. I didn't want to lose it like that. One thing, the way I live my life, I like to think of it as a test. From the Man above. I had to believe in what I do, and everything I ever believed in, to believe it wasn't going to end like that.
In the first moto you were out to a good lead early, then Villopoto was starting to come hard.
Yeah he was putting in a good charge, he picked it up late in the moto. I got caught up in a few lappers, and I think I backed my pace down a bit, and I didn't realize it. I did a few 2:04s and he caught me a little bit, but then I did a 2:01, so I think I could have done a little more later in the moto. It was good to get maximum points and win that one.
With all that was going on in the second moto, how were you able to get focused and go race so well once the bike showed up?
That was the toughest part. I didn't want to lose my temper and get riled up, because if my bike showed up I needed to be ready to race. But once the gate dropped, I thought it was over, so I kind of lost it. I admit it. You know, basically I saw Goose come over the hill with the bike. I had to flip the switch. I knew we had lapped up to ninth in the first moto, so I knew if I could just not get lapped I could score some points. Barcia wasn't that far behind me and I knew I had to not get lapped. I was able to get away from him. It was crazy, I would have never thought I could get that far forward having started late. It was a lot to process, but I had to focus on riding. Win or lose this championship, it's not because I didn't give it my best effort.
Gareth Swanepoel DNA Shred Stix Star Racing Yamaha 3rd overall in 250 Class
Today actually marks the one-year anniversary of when I came over here and raced my first race with this team. I was looking forward to finally getting to race the tracks I had ridden before. And I grew up riding in the sand so I was looking forward to this one. Yeah, to go out and win that first moto was very special.
We heard your mechanic can shave his beard now?
(Laughs) I didn't even start that bet. In Texas he had a pretty long beard and I rode pretty good there, almost made the podium. So they told him he can't shave it until I get on the podium. I don't think he thought it would take this long! So now I'm finally on the podium so he gets to shave it.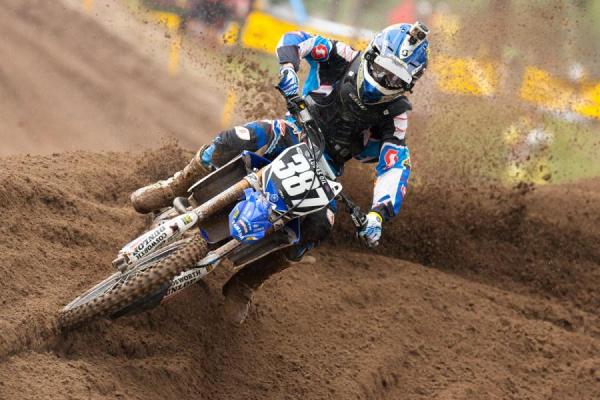 "It's like everyone says, teams want to see you get on the podium or at least show the potential." - Gareth Swanepoel
Photo: Andrew Fredrickson
How about the second moto?
It's always tough to put two motos together. I didn't get quite as good of a start, but things were okay, I was top five and stuff, but then I went down. Once I lost sight of the leaders, it was hard to get it going like that again.
When you came over here a few years ago with Kawasaki in the 450 class, you had a good ride. Did you think it would be easier to get a ride here?
It's always been a dream of mine to race in the U.S., but at that time I had a pretty good ride in Europe.
You were battling back and forth with Tyla in that first moto.
The first moto was pretty interesting. We had been joking all week, and I told him all week I was going to beat him. I had the holeshot, but I had actually overcooked my back brake a little bit, and I was struggling. He got past me, and I picked up on some of his lines and was able to keep him in sight a little bit. Then I don't know what happened, I don't quite know if he made a mistake, or if he had a bike problem, but I was able to get past him. So after that I actually thought it was Wilson behind me, until I saw a pit board that said it was Rattray. And I thought, "There's no way I'm going to let him beat me!" I managed to hold him off. It was fun. We train together a lot during the week and we're good friends.
You got your dream here to ride in the U.S., but you struggled in supercross. You've had some ups and downs here outdoors. Were you feeling some pressure in these last few races to keep this ride for next year?
Oh definitely. It's like everyone says, teams want to see you get on the podium or at least show the potential. And with me not showing too well in supercross, it's important for me to show something outdoors. I really want to stay here and keep racing, and also show that I can ride supercross. This race is definitely is a weight off of my shoulders, but we have two races left and if I can get at least one podium in those two races it will definitely make my situation a little better.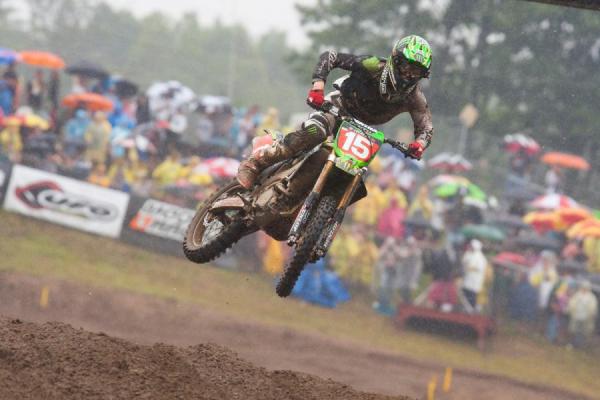 "I got the pitboard that said save the bike, don't rev it. And I was like, "You've got to be kidding me right now." - Dean Wilson
Photo: Andrew Fredrickson
Dean Wilson Monster Energy Pro Circuit Kawasaki 2nd Overall
We saw steam coming out of your bike in the second moto. Where you worried it wasn't going to make it?
Second moto, I thought I had the holeshot and then Tyla snuck on the inside, and then [Alex] Martin got inside of both of us. Then Martin was gone! I don't know what he drank before the moto but he had like eight seconds on us! Tyla rides really fast here and he went on to win. I eventually passed Martin to get into second, and then I got the pitboard that said save the bike, don't rev it. And I was like, "You've got to be kidding me right now." I just rode it at really low RPM and just milked it for like six laps. I was really glad to finish it.
This is a track where you need to think about your bike more than just speed, for sure. Twenty-two points is better than no points. And the PC team has had a bad history at this track for failures, so we finally broke that.
How about the points with just two races to go?
I don't think there's any point for me to settle down and think about that. I really want to win overalls. I definitely want to win more overalls. But I'm just not very good in the sand, so I'm happy with second.
You have said you don't have much sand experience?
Yeah, I don't really race on sand. In California, we have some sand tracks, but it's nothing like here. Last year, I got fifth, and I was only a rookie so I shouldn't be too disappointed, but I struggled a bit. This year I have been down at Chad (Reed's) in Florida and that was one of the main reasons I went there, to learn sand. But we actually didn't get to ride one of the gnarlier sand tracks because of the weather down there, it rained a lot. Riding down there helped a little bit, but I don't really gel with sand, so I'll take it.