RedBud Track 'n Trail
Buchanan

,

MI
Race Center: RedBud Track 'n Trail
Lucas Oil AMA Pro Motocross Championship
Team Monster Energy Pro Circuit Kawasaki's Blake Baggett had been on a bit of an unusual streak coming into round six of the 2011 Lucas Oil AMA Nationals. You see, he won Hangtown, crashed his way back at Texas, won High Point, crashed himself back at Budds Creek and then won last weekend at Lakewood Colorado. So this weekend was scheduled to be a step back for the quiet Southern Californian right?
Well, the up and down streak is broken as Baggett won convincingly at RedBud in a dominating performance. Only his teammate and series points leader Dean Wilson could keep him sight, everyone else- forget about it. With the win, Baggett moved into second in the points and with four wins in six races appears to have the momentum right now. I was in the Pro Circuit truck after the races talking to a frustrated Wilson when Baggett walked in to grab something to eat and I got this from Blake.
Racer X: Blake, great job, a 1-1 and you dominated it out there today.
Blake Baggett: Yeah, I guess (laughs), it's the type of ride you always want. I guess there's no other way to say it.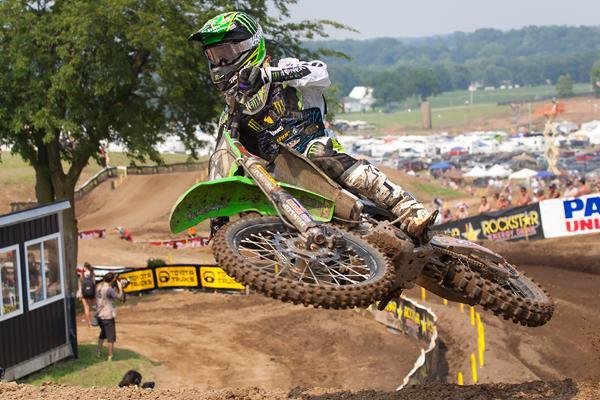 RedBud made it back to back wins for Baggett.
Photo: Andrew Fredrickson
No there isn't really. Looked like you got to about the halfway point in each moto and started laying it down from there to pull away for the win. Can you talk about it?
That's pretty much what happened, first moto I had to work through some guys to get to the front, I threw it down a little bit and dropped the hammer down. I rode hard to the end and was checking them out behind me to make sure they didn't catch me.
Second moto, I rode there in second for a little bit, got into the front. Deano was right on me, (Tyla) Rattray was right there as well. They were too close for comfort for me, right around halfway, I started going hard. It sucks when they are right behind you like that. I just figured I would go right now and leave them. I put in three laps that were really, really fast and I got a gap and rode it out from there. This track was super gnarly and you had to be careful out there. To go 1-1, you can't ask for anything better.
Your first time here, what did you think about the track that is so many other riders' favorite?
Track's really good, I'm a California guy and used to the dry, slick tracks and this is the opposite of that. I'm not really used to it, it's not good, it's not bad or anything like that- it's just different. I guess it worked for me out there, whatever it was- it worked!
This track is a little like two tracks with each side being a little different than the other, was there a side that you liked better?
I liked the starting line section, those off-cambers were…there isn't a word to explain them. Gnarly or hard or something, they just use so much energy to get through them. It looks like you're going slow but you have to ride it in there, the bike wants to go straight and takes work to get in and out of them. They are so deep, also. I don't think I've ridden anything like that ever.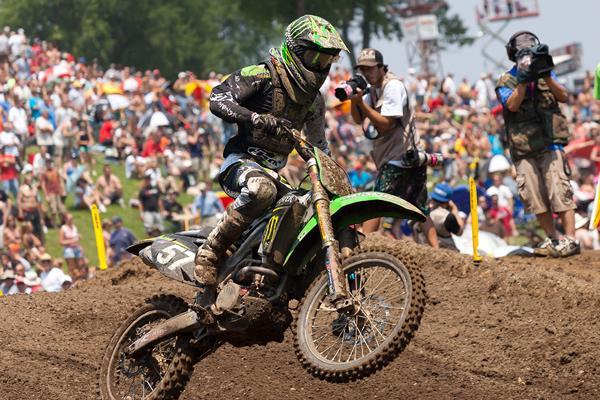 Baggett dominated the field en route to the overall at RedBud.
Photo: Andrew Fredrickson
Last year you rode for Rockstar Suzuki and won a supercross race and went very fast at times but it seems like you've stepped it up this year. Can you talk about the differences over here at Pro Circuit that in your opinion causes so many riders to up their game?
I'm really not sure, last year I trained with Nathan Ramsey and we had a darn good program but this year he went to go run a team so he recommended Aldon Baker to me. And then I got a ride with Mitch so for me-I switched everything up. I got a practice bike mechanic, also, and I've never had one of those before. I guess you could say I scrambled up my program, cooked it and it works better (laughs).
Even if you stayed there, you would be a rider on the rise no doubt about it but I was wondering about this program and the differences you see?
For sure coming here, there is expectation and more pressure. The team is so good, it tightens up that pressure a bit you know? I couldn't ask for anymore from a team, from the practice bike to the race bike, it's a professional race team and it's run that way. They don't do anything on the bike if it's not going to last or make it better. It's a top-notch team.
I've known your mechanic Sean Irwin for a long time, he seems like he's a good fit for you because you guys are both kind of quiet. Obviously, you guys are working well together.
He's a super quiet guy for sure, you could start there. He works hard and he loves to win like all of us. I haven't had any problems at all, knock on wood, I guess. He does his job well, puts in the hard work and it's paying off. I didn't even know he was my mechanic until I went to pick up my bike the first day- actually, I didn't even know he was my guy then!
He just said he was going to track with me when I first got back after breaking my arm and I asked him if he was my mechanic and he said he didn't know. Then four or five weeks after I was on the team, he was like "I guess I'm your mechanic" and I thought that was cool.