Mad Skills Motocross Updated with Real Rhythms 2 Track Pack
We're excited to announce Mad Skills Motocross has been updated with a new track-map IAP, Real Rhythms 2. Created due to popular demand, this new pack has no power-ups -- just highly technical tracks that will definitely take time to master. The pack as ten tracks and costs just 99 cents.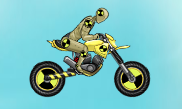 Additionally, the new update includes a number of new rider/bike skins to choose from, including the pictured free rider, "Crash."
If you already have Mad Skills Motocross on your iPhone, iPod Touch, or iPad, simply update and you'll find the new stuff. If you have an iOS device but don't have the game yet, you can pick it up here for only 99 cents.