Freestone Raceway
Wortham

,

TX
Freestone Raceway
Lucas Oil AMA Pro Motocross Championship
Davi Millsaps, Muscle Milk Toyota JGRMX: 2nd overall, 450 Class
I don't think any training program would pay off totally out there. I think everyone was struggling. I was riding in North Carolina the week before this and it was hot there, but nothing like this.
And then those guys who are coming in from California, doesn't matter where you come from, this place is brutal. Brutal, brutal. But I pulled through, it's my first podium after 18 races with this team.
My training program hasn't changed that much since the last four supercrosses, but we've been doing a lot of testing, riding long motos, making the bike better. I've just been riding a lot more and feeling better.
If I could find a reset button on this season I would press it, for sure. But it is what it is. Coming off of the injury that I had, I had twelve different doctors tell me I shouldn't ride dirt bikes anymore. It's taken a long time to figure it all out, with my training program, with how I feel, with the bike and everything.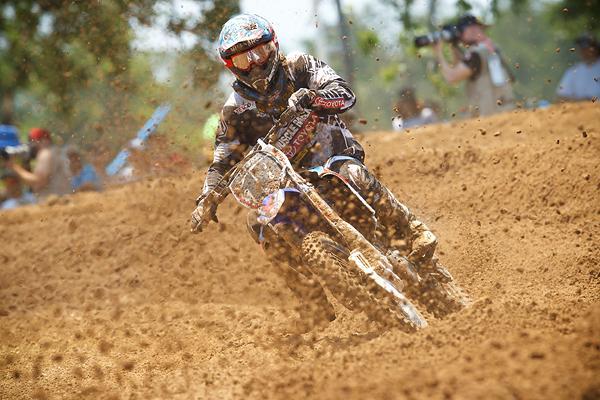 Millsaps is starting to regain his form.
Photo: Simon Cudby
Ryan Villopoto, Monster Energy Kawasaki: 3rd overall, 450 Class
I had a bad start in the first moto, and worked my way up and fell over, and ended up getting third. Second moto I had a better start but I went off the track, then I fell again. The first moto I just got a bad jump, second moto, three of us were going for it, me Dungey and Millsaps, and I just ended up getting squeezed out.
You were fighting an illness last week. Are you better now?
As far I feel good, with the illness and all, but the weather, after riding in California, it's definitely a shocker coming here. It was definitely hot, when I crashed in that second moto, it caught up with me. I'd like to win motos for sure, right now. But we're not quite there yet, and with this weekend off we're going to work on things. We're heading back to Florida now and we'll figure out what we need to work on, I think the speed is there, so we'll do a little bit of searching and we'll find it. We did some testing Thursday before here and definitely found some better settings, but we're not quite there yet. But also, I really just have to get myself where I need to be.
Did all the media and sponsor obligations after winning the supercross title mess with your outdoor program?
It was tough, obviously everyone was wanting stuff, and then I got sick. It's something you have to do, though, you can't just turn your back on the media. It will be good to get back to Florida, it's quiet there and we can get to work.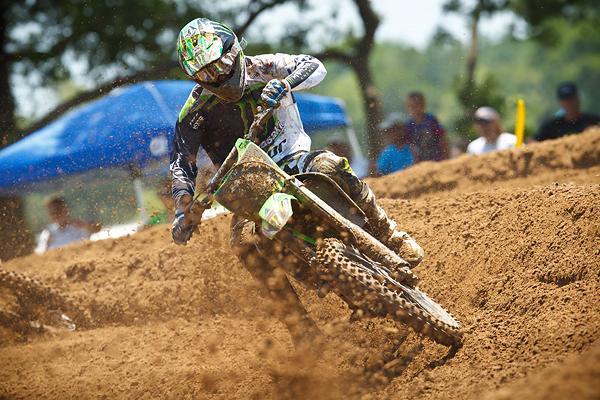 Tickle overcame a bad first moto to salvage a 12th overall on the day.
Photo: Simon Cudby
Broc Tickle, Monster Energy Pro Circuit Kawasaki, 12th overall, 250 class
It was pretty good, I like coming to Texas and I like riding in the heat, I think it's a good separator between the men and the boys, I guess you could say. First moto we had a problem with the bike, so I didn't finish. But we got that figured out, and came out second moto, had last gate pick because of the bad first moto. I was way outside. Started maybe 15th or so, and worked my way to fifth. That was pretty good considering how many guys are going fast right now. At Hangtown I didn't feel that good, I just wasn't hitting my lines like I wanted to. I felt better here. So now, with a start, I think I can get on the podium, so that's my first goal, and from there I want to move on to get some moto wins and by the end of the year have some overalls. I want to build consistently, that's what paid off for me in supercross.
Martin Davalos, Rockstar Suzuki, 6th overall, 250 Class:
I feel okay. First moto I got into a pileup and came from 38th to 10th. It was really tough. Second moto I did my best, I got seventh, definitely a good weekend, but something I can improve on. The first moto definitely took something out of me, I wanted to at least get some points. Second moto, it was even hotter and people were going even faster.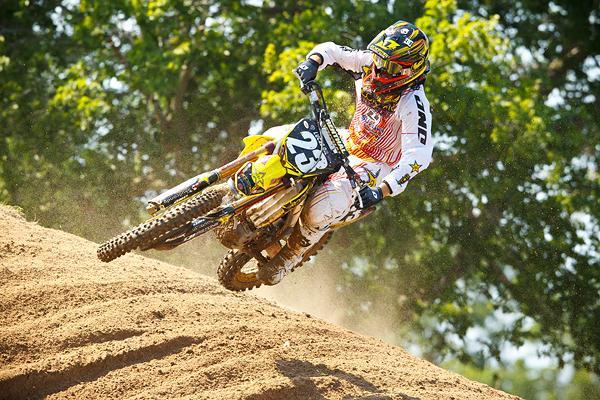 Davalos rode to a solid 6th overall at Freestone.
Photo: Simon Cudby
Jake Weimer, Monster Energy Kawasaki, 6th overall, 450 class:
It wasn't bad. It's always tough coming to Texas and you know it's going to be tough with the heat. And it's not one of my favorite tracks, even outside of the heat. I'm happy as long as I keep improving and getting better. I holeshot the first moto and held on pretty good, maybe dropped off a little at the end. I didn't have much left for the second moto, I had to dig just to keep going. I think I ended up sixth overall, but as long as I see improvement it gives me hope. I was running inside the top five today at different times, so I definitely see some hope that I can be back where I want to be.
Now that you have raced a few 450 races, do you see a different style to the racing compared to the 250s?
Yeah and I think that's something I'm still getting used to. You can use different lines and ride a higher gear, there are some things you can do different to save energy, I'm still learning and getting faster.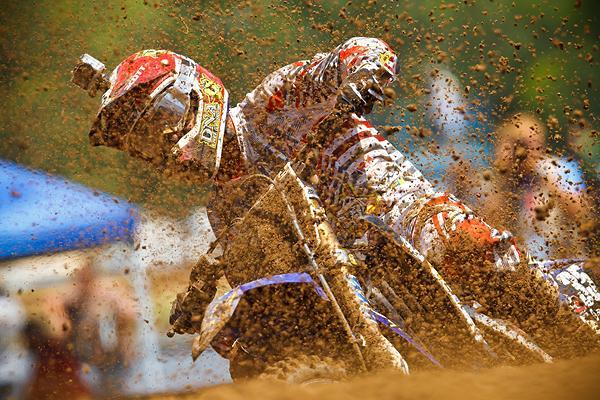 Cunningham got his first podium of the year at Freestone.
Photo: Simon Cudby
Kyle Cunningham, DNA Shred Stix Star Racing Yamaha, 3rd overall, 250 class:
It was tough. The first one I dehydrated.
I didn't know what I was going to have for the second one, but we got off to a good start and I just tried to ride in a comfort zone. I saw my mechanic's board and I saw the 3-4 scores were going to hold up for third overall. That's good. We've had a few ups and downs this year and we keep fighting, we got a couple of podiums, today was a good day. I was really pushing in the first moto, and I was pretty dehydrated. I got as much fluid back into my system as I could, and I went over to Doc Bodnar to talk about it. The heat was pretty bad for all of us.
This is your home race.
Yeah it's nice to race here, a lot of these people support me. Back in '08, when I was on my own, they even did a little fund raiser to support me. The Miller family here, and Tom Shields, all of those people from the track really help me, so what better place to get on the podium than here.
Dean Wilson, Monster Energy Pro Circuit Kawasaki, 2nd overall, 250 class:
First moto was good, second moto, I was just looking for my way past Barcia. I just wish I could rewind that race and be a little more patient. I had a really good line before the finish, it was saving me a lot of time. When I went to pass him, my front end hit a big hole and I ended up crashing. I was just giving it 100 percent. This track still owes me one, I really felt like it could have been a good one, maybe a 1-1, but I threw it away. So I'll really be wanting to win here next year, for sure.
Did you know you could still win the overall?
Not really, I was so focused I wasn't reading my pitboard. I actually thought I got fourth in the moto but I got third, so I'm pretty happy to salvage that, I was as far back as seventh after I crashed.
You're now the points leader, but you're battling teammates. Is that a problem.
No, Tyla is experienced, he's a world champion, and he's married and has a kid. He's not all crazy like us kids! So I don't think we'll have a problem.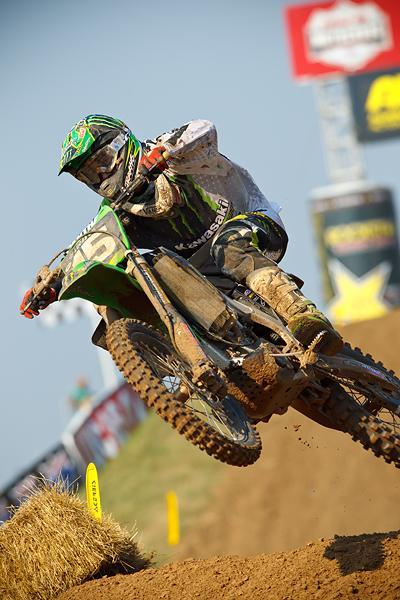 Wilson took the win in moto 1, but it was his teammate Tyla Rattray that would take home the overall.
Photo: Simon Cudby
Tyla Rattray, Monster Energy Pro Circuit Kawasaki, Winner, 250 Class:
I felt pretty good. It's been a long time since I felt this good on the bike. The conditions were good for me, it was pretty rough, but we were pretty lucky that it was windy. The track was good, the organizers did a good job. I think a lot of the sand got pushed off to the sides, but some of the turns were really good, it was even better than it was last year.
Overall it was a pretty good day I tried to keep my lap times the same the whole moto, but that was tough because I knew the track was going to get rougher. I managed to do it and I was able to get Barcia in the second moto to get the overall. This is probably the best I've ever felt in my racing career. I've been working hard with Aldon (Baker) and Ryan (Villopoto). It's definitely not easy, but it makes it easier when you get here on the weekend. I feel like I was in good shape last year, but we've just fine tuned it.
Did you know you were in contention for the overall?
With Barcia, I knew I was going to catch him because I was going a few seconds a lap faster. Then once I started to see him, I knew I could win the race. When I got by him I wanted to put a sprint in so he wouldn't be able to run it back inside on me.
What's it like battling teammates for wins and potentially a championship?
I get along with everyone on the team. We have a good relationship, and I'm a little older than those guys. But I respect them, and I think that's the good thing about the Pro Circuit team, we all have respect for each other. I think that's the thing about being a professional sportsman, you have to have respect for your competitors. And I do. My teammates, even though they're so young, they do a good job.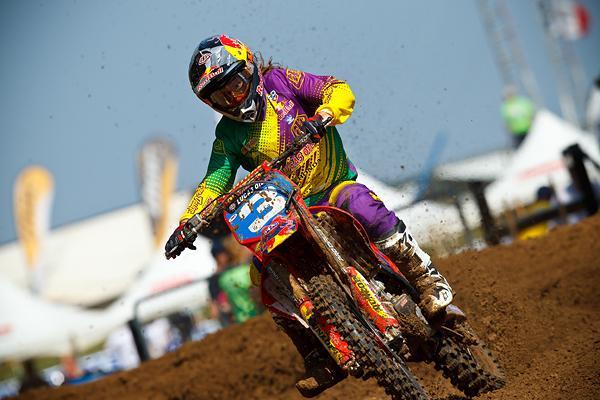 Tara Gieger finished 2nd overall in the WMX class.
Photo: Simon Cudby
Ashley Fiolek, American Honda Racing, Winner, WMX class:
Today was pretty crazy for me. I had a pretty bad crash in practice, and I thought I would be out for the weekend there. I had some pain in my back and tore up my fingers. I put my head down and got ready. In the first moto I got the holeshot, but I stalled it and JP ran into the back of me. I was lucky that my bike started up pretty quick and I was able to win the moto. Second moto I had a pretty good start, and I was just trying to ride smart for the overall. And JP rode pretty good. Last week, Hangtown was pretty tough for me, that track was really rough. I wanted to put my head down and do better this week, so I actually flew into Houston a little early so I could get used to the conditions. I was happy they put sand out there, I love sand. It was an awesome track, even though it was hot, I was happy to get through the day.
The last few years here you have ridden so hard that you threw up. So did you get through it this time?
Well, my goal was pretty much not to throw up or get an IV. So I'm happy I was able to avoid that!
Tarah Gieger, Lucas Oil Troy Lee Honda, 2nd overall, WMX class:
I had really good starts today, I was really excited about that. First moto I ran out of tearoffs and had some problems seeing, but that was okay, until I just got too tired and actually threw up in my helmet a little bit. I kind of got heat exhaustion, so I just tried to bring it home. I didn't know how much I would have left for the second moto, but I got off to a good start again and I was able to stay with them (leaders). Last week I didn't get good starts and I wasn't able to see Jessica and Ashley and stuff, so this week I did. My pace was good. It was just tough this week, I had a little bit of the flu, so this was a tough one to race considering I was sick. I was feeling good until about 12 minutes into the first moto, and all of a sudden I hit the wall and I was like "oh no!" I just tried to bring it home, and then I went straight back to the pits and sat in an ice bucket to try to cool down.