Welcome back to the 40-Day Countdown to the 40
th
Annual Lucas Oil AMA Pro Motocross Championship. Racer X Online is counting down the years day-by-day, starting way back in 1972 and rolling up on 1992 today. If you're on Facebook be sure to Like
Facebook.com/americanmotocross
—there's plenty more on this series there. But for today, let's focus on 1992.
(If you missed any of our previous years, please click here)
Jean-Michel Bayle's takeover of American motocross in 1991 was a shocker, but his motivation for the 1992 season was just as surprising. At about the same time JMB was getting the #1 plates bolted onto his 1992 Honda CRs, he announced he would quit motocross and supercross at the end of the season and embark on a road racing career for 1993. Even for the enigmatic Bayle, this was crazy!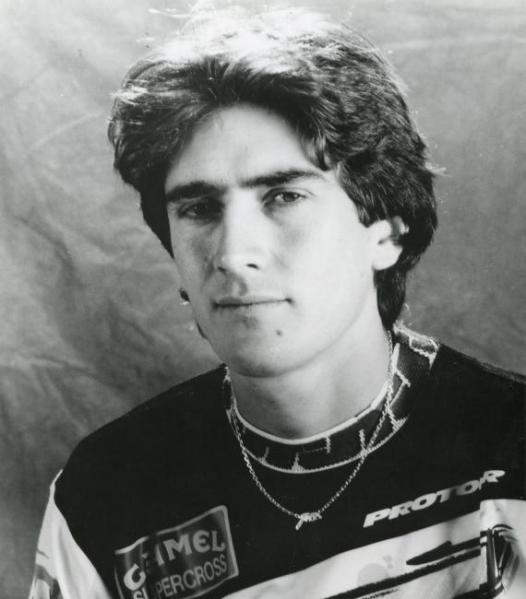 After dominating the sport in 1991, Jean-Michel Bayle began to lose focus on motocross and set his sights on a road racing career.
Indeed, JMB did not have the same motivation for dirt bike racing in 1992, while his Honda teammate Stanton showed up leaner, meaner, and determined to regain the titles he'd lost in '91. But both of them would soon have to take a back seat to Team Yamaha's Damon Bradshaw, who was coming of age in his third year in the 250 class. Bradshaw won five SX races in a row early in the '92 Camel Supercross campaign, while Stanton and Bayle were struggling on their new Hondas, which were totally revamped from the previous year's models. But Bradshaw crashed away his entire points lead at Indianapolis and let the Honda boys back in the hunt. What followed was a nip-and-tuck battle for the supercross points lead between the three, with Bayle showing occasional, inspired glimpses of his '91 form, Bradshaw riding aggressively (which was good at times and bad at others), and Stanton staying in the hunt in his typical workmanlike form.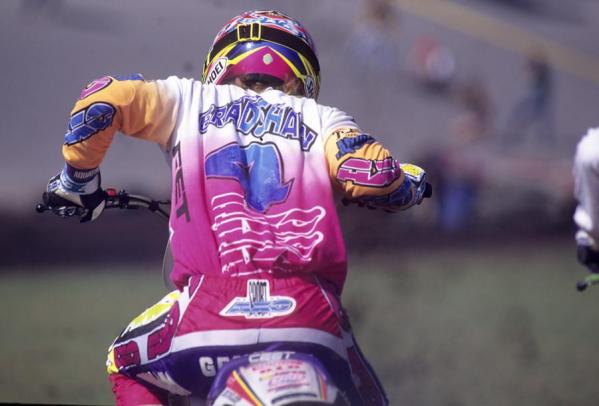 Damon Bradshaw may have been the fastest man of 1992--but the season ended up crushing his spirits and ending his career far too soon.
Back then, the supercross and motocross tours overlapped, whereas today the outdoor tour does not start until supercross is finished. Stanton and Bradshaw battled hard at the early national rounds with the supercross title hanging in the backdrop. Then things got crazier when the Rodney King riots led to a virtual shutdown of the Los Angeles Coliseum area, which was scheduled to host the supercross finale. The race had to be delayed a month, from June to July, and it would take place the weekend after the fifth AMA National round at Red Bud—and during the day.
Coming into Red Bud, Stanton and Bradshaw had each won two 250 nationals each. But Bradshaw crashed at Red Bud and tore his ACL—a complete disaster, considering the SX finale was coming up in Los Angeles the very next weekend! In one of the most memorable supercross races ever, Bradshaw locked up under the pressure in L.A. Stanton won the race; Bradshaw fell back through the field and lost the points lead and the championship—although he never blamed the knee injury. Stanton won the title for Honda, while Bradshaw and Team Yamaha were crushed. Bradshaw then took the rest of the year off for ACL surgery, and when he returned to racing the next year, he was not the same.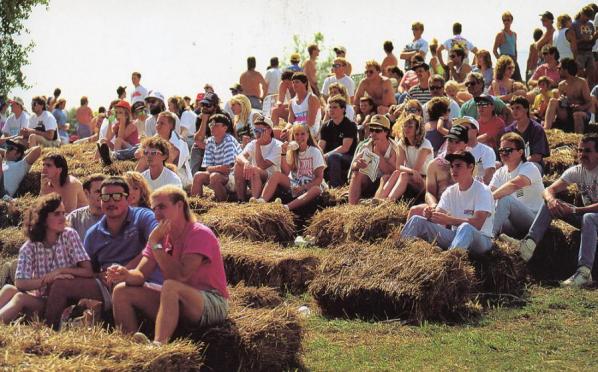 Red Bud crowds--big then, big now.
A few weeks after his dramatic supercross championship victory, Stanton polished off the 250 National Motocross title in Troy, Ohio. But all was not well within the Honda camp. By this point, Bayle and Stanton had grown to totally dislike each other. At the San Jose SX they collided and Bayle crashed out of the supercross title chase. Bayle was unhappy, even though he said he wasn't that interested in winning it anyway, and at the supercross final in L.A. actually tried to help push Bradshaw in order to help Damon win the title—over his own Honda teammate Stanton! Bayle was also going to Europe between races to do road race testing. Today, Dave Arnold, the Team Honda manager at the time, claims that all the stress of Stanton and Bayle fighting against each other probably led to each other's premature retirement. The Bayle-Stanton-Bradshaw trio completely owned the sport in 1992, but by 1993, they were all either retired or heading into retirement. These were gnarly mental battles!
With the 250 Supercross and 250 National Championships in his pocket, Stanton was looking to match Bayle's '91 feat of winning three titles in one year by taking the 500 National crown. But Mike Kiedrowski, the 1991 125 AMA National Champion, was game in his first crack at the 500 title. It was close, but the MX Kied out-dueled Stanton by a mere three points to land the big-bike title. It's amazing that Stanton broke into the pro ranks as a big-bore specialist but was never able to win the 500 championship.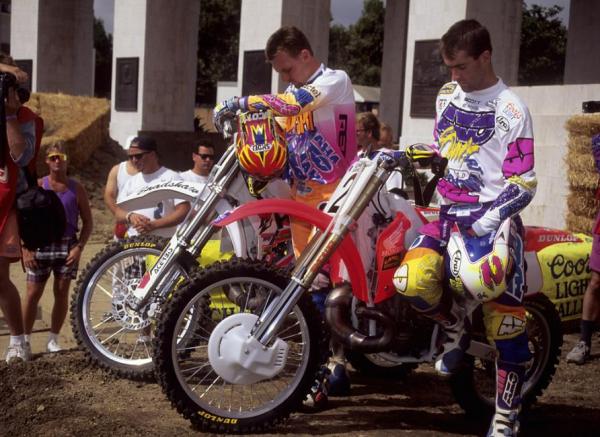 Adversaries Bradshaw and Stanton await their destiny at the LA Supercross finale.
Meanwhile, the legendary Jeff Ward, the '90 and '91 500 champ, won the last national of his career at Steel City and took third in the 500 Championship, one spot ahead of Bayle. Like Bayle, Ward retired at the end of the season. Another retirement! Are you getting the feeling that the sport was ripe for a fresh young star?
In the 125 class, Kawasaki hired Mike LaRocco and bumped him down to the 125 class to take Kiedrowski's place. The move worked, as LaRocco won two of the first three 125 Nationals and immediately opened up a massive points lead. At midseason, Yamaha's Jeff Emig caught fire and started winning races, but LaRocco was running in points lead protection mode and seemed to have the title in hand—until he suffered through one of the worst days of bad luck in racing history. At the next-to-last round at Steel City, LaRocco's bike broke in both motos, due to two completely unrelated mechanical problems. Emig made up 47 points in one day, then dominated the Budds Creek finale with 1-1 scores while LaRocco ran into trouble again via a bent shifter. Emig won six of the last seven races while LaRocco had mechanical trouble in three of the last four motos. In dramatic fashion, Emig won his first National Championship, a good ending to the season for Yamaha considering the disappointment of Bradshaw in supercross.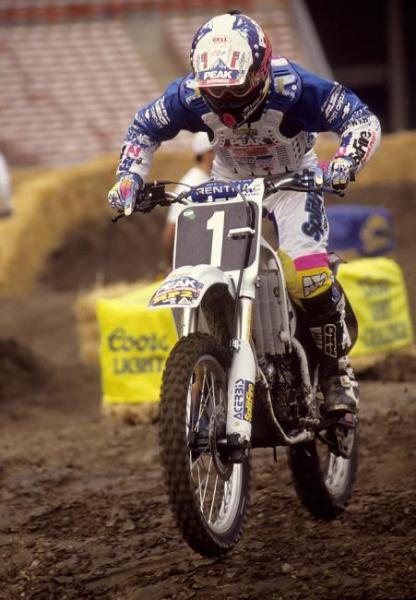 With Bayle moving on, Honda tapped 125 West SX Champ McGrath as their future.
The pressure and stress was coming from all angles in this season. With Team USA's massive Motocross des Nations win streak building and building, Stanton, Kiedrowski, Bradshaw, and Ward all turned down the team invite—no one wanted to be part of the team that finally lost the Chamberlain Trophy! A so-called B Team was put into action, with American 500 GP contender Billy Liles teaming with LaRocco (on a 250) and Emig in Manjimup, Australia. And the B Team won it! To this day, Stanton says turning down the invite to race for Team USA that September is his biggest regret as a racer.
And over in Europe, an American won a world title for the fourth year in a row as Chesterfield Yamaha's Donny Schmit won his second title, holding back the likes of fellow Americans Trampas Parker, Mike Healey, Bob Moore, and Bader Manneh. This was the pinnacle of American involvement on the FIM World Championship circuit.
The winds of change were blowing through the sport. Who would step into the spotlight about to be vacated by the Stanton, Bradshaw, and Bayle? The next year would provide a big hint. See you back here tomorrow!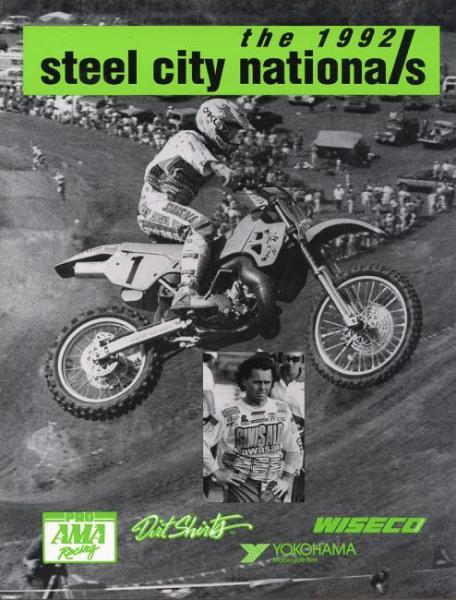 Jeff Ward won the next-to-last National of his illustrious career, taking the Steel City 500 National.
1992 250cc AMA Motocross Championship
3/1 Gainesville, FL Jeff Stanton, Sherwood, MI Hon
5/17 Southwick, MA Jeff Stanton, Sherwood, MI Hon
5/24 Mt. Morris, PA Damon Bradshaw, Mooresville, NC Yam
6/14 Sacramento, CA Damon Bradshaw, Moorseville, NC Yam
7/5 Buchanan, MI Mike Kiedrowski, Canyon Country, CA Kaw
7/26 Troy, OH Jean-Michel Bayle, France Hon
1992 250cc National Point Standings
1.) Jeff Stanton, Sherwood, MI 270
2.) Mike Kiedrowski, Acton, CA 214
3.) Jean-Michel Bayle, France 187
4.) Damon Bradshaw, Mooresville, NC 167
5.) Larry Brooks, El Cajon, CA 157
6.) Jeff Ward, San Juan Capistrano, CA 145
7.) Doug Dubach, Costa Mesa, CA 142
8.) Phil Lawrence, Cherry Valley, CA 127
9.) Cliff Palmer, Del City, OK 121
10.) Jeff Matiasevich, La Habra Heights, CA 118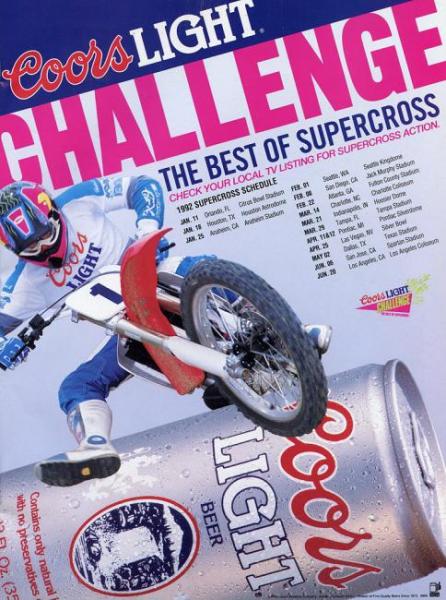 The 1992 SX tour could give this season's battle a good run in terms of drama and excitement.
1992 500cc AMA Motocross Championships
8/2 Washougal, WA Mike Kiedrowski, Acton, CA Kaw
8/16 Millville, MN Jeff Stanton, Sherwood, MI Hon
8/30 Binghamton, NY Mike Kiedrowski, Canyon Country, CA Kaw
9/27 Delmont, PA Jeff Ward, San Juan Capistrano, CA Kaw
10/4 Budds Creek, MD Jeff Stanton, Sherwood, MI Hon

1992 500cc AMA Motocross Point Standings
1.) Mike Kiedrowski, Acton, CA 229
2.) Jeff Stanton, Sherwood, MI 226
3.) Jeff Ward, San Juan Capistrano, CA 195
4.) Jean-Michel Bayle, France 158
5.) John Dowd, Chicopee, MA 114
6.) Jeff Matiasevich, La Habra Heights, CA 103
7.) Lance Smail, Castaic, CA 97
8.) Ray Sommo, Capistrano Beach, CA 92
9.) Brian Manley, Placentia, CA 89
10.) Willie Surratt, Corona, CA 84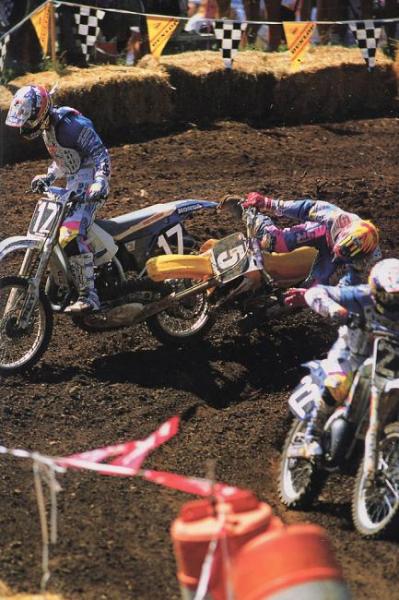 Veteran Guy Cooper and new kid Jeremy McGrath collide--in a way, this photo sums up the sport at this time!
1992 125cc AMA Motocross Championship
3/1 Gainesville, FL Mike LaRocco, South Bend, IN Kaw
5/17 Southwick, MA Larry Ward, Society Hill, SC Suz
5/24 Mt. Morris, PA Mike LaRocco, South Bend, IN Kaw
6/14 Sacramento, CA Steve Lamson, Pollock Pines, CA Hon
7/5 Buchanan, MI Jeff Emig, Highland, CA Yam
7/26 Troy, OH Jeff Emig, Highland, CA Yam
8/2 Washougal, WA Jeff Emig, Highland, CA Yam
8/16 Millville, MN Mike LaRocco, South Bend, IN Kaw
8/30 Binghamton, NY Jeff Emig, Highland, CA Yam
9/27 Delmont, PA Jeff Emig, Highland, CA Yam
10/4 Budds Creek, MD Jeff Emig, Highland, CA Yam

1992 125cc AMA Motocross Point Standings
1.) Jeff Emig, Highland, CA 430
2.) Mike LaRocco, South Bend, IN 411
3.) Ron Tichenor, Palm Harbor, FL 348
4.) Doug Henry, Oxford, CT 316
5.) Larry Ward, Society Hill, SC 297
6.) Ryan Hughes, Escondido, CA 296
7.) Guy Cooper, Stillwater, OK 260
8.) Jeremy McGrath, Murrieta, CA 259
9.) Steve Lamson, Pollock Pines, CA 213
10.) Brian Swink, Linden, MI 173