Over the years, professional motocross and supercross teams have come to rely on outside sponsorship more and more. Sponsors like Canidae All Natural Pet Foods, San Manuel Band of Mission Indians, energy drinks and many more are great examples of how companies that exist outside of the racing world became or have become heavily involved in our sport. One of the latest companies to invest in supercross is National Switchgear, which sponsors the Violation1.com/Shea Racing/National Switchgear supercross team. We got in touch with Adam Tappe, National Switchgear's sales manager, to get his take on how sponsoring a supercross team has affected the company.
Racer X Online: Why don't you start off by telling us a little bit about National Switchgear, and how you came to be involved in racing.
Adam Tappe: Well, the company started in 1986, and we're celebrating our 25th anniversary. We service high-voltage power distribution equipment and offer new and remanufactured electrical switchgear products and equipment reliability testing services. We also provide a variety of electrical power system engineering services such as arc flash studies and mediation services. One of our goals this year is to go green, too. We got involved with racing last year a little bit, but Doug Powell, the president of the company, decided to jump in with both feet this year and we teamed up with Tim Shea of Shea Racing, and Violation goggles.
Obviously, you wouldn't be involved in the sport if there wasn't some type of return on your investment. In what ways do you see supercross benefiting your company?
A few different ways, actually. One thing we do, is we take customers out to the races and give them an interactive experience. They get pit shirts, passes, dinner, and they can come out and actually be part of the team, instead of just going to a football game and sitting in a seat. They're able to meet the riders, go on the track walk, things like that. As far as the business side, we're actually giving away a KX250F that we've done a custom design on and taken around to all of the different trade shows in our industry. It's totally different than anything out there, and has created quite a buzz in our industry. It's a good way for us to introduce customers to a new sport, and a good way to draw attention to our company. It's a good way to bring in a new customer base and get face time with our existing customers. It's been really good for us, and our customers really enjoy the atmosphere at the supercross races. It's been really fun.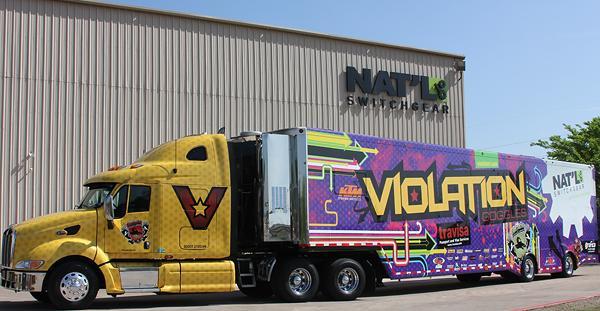 The Violation1.com/Shea Racing/National Switchgear supercross team big rig.
What kind of reaction do supercross newcomers have?
It's rather amazing, to be honest with you. They'll go down and do the track walk, and once they see what these guys are really riding on, the incline of the triples, how deep the whoops are, and so on, it's a whole new perspective for these guys. They realize that these guys are actually athletes, and it's not just as simple as twisting the throttle and going. It really makes an impression on them when they stand in whoops up to their hips, then see guys skimming them in fourth gear. Some of the customers that we take, you would never think they would be supercross fans, are they are now calling themselves supercross super fans! It gives them good insight into the sport, and once they get out there, they realize it's really a family event.
What kind of an impact has sponsoring a supercross team had on National Switchgear?
It's a little intangible, to tell you the truth. I really can't say that we've sold this or that because of our team, but it's a great opportunity to give our customers the VIP treatment by not just attending the race, but by getting to be a part of the team as well. Our customers get to have a very interactive experience that isn't soon forgotten. We have a younger generation of engineers coming in, and not everyone is a stick and ball fan.
What riders are on the team?
On the west coast, we have Austin Howell and Casey Hinson, but Austin got injured and isn't doing any more supercross this year. On the east, we have Ricky Renner and Vernon McKiddie. We had Tevin Tapia lined up for the east coast, but he got hurt the weekend before Houston and switched over and just rode Seattle on the west coast. He's going to do Salt Lake and Vegas, too.
Other than the injuries, how has the season gone so far?
It's going really well. So far we've made six out of seven mains on the west coast, and on the east coast, it's been a little tougher for us; we've made two out of eight mains. We've worked through injuries on both coasts. McKiddie has been real banged up, I don't think he's going to make Vegas, he's got some broken ribs right now. I really wish Tevin hadn't of gotten hurt, I believe he would have been a top-ten guy. Hinson's been carrying the banner for sure. He missed the first one at Anaheim, then he got knocked out in Seattle and they wouldn't let him ride, but he made all the others.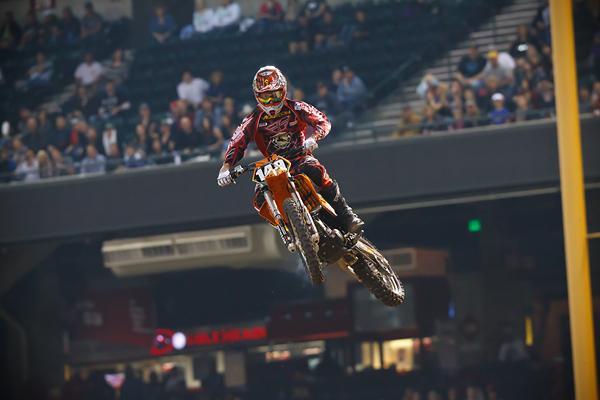 Casey Hinson has been a major spark for the team this year.
Photo: Simon Cudby
Will the team be competing in the Lucas Oil AMA Pro Motocross Championship as well?
No, we probably won't be doing the outdoors unless something off the wall comes up. We'll probably do one or two rounds. I'm sure we'll probably do Freestone because it's here in Texas, but we just don't have the funding for the outdoors, it's a whole different ballgame. I love the outdoors, it's where it all started, but it just doesn't get the exposure that supercross does. We can take a customer to a supercross, bring them up to the press box, and it's a nice clean environment and there's a clear-cut winner. That, vs. Freestone, where it's 110 degrees out, and you can see two corners. Then try to explain why a guy with a fourth and a second took first overall.
You sure picked a great season to become heavily involved in the supercross!
That is very true, the timing couldn't have been any better for us. The racing in the Lites and the supercross classes has been unbelievable. It's been a great year; it's good when one guy doesn't just run away with it. I believe we have plans to get even bigger for next year, too. And before we end this I'd like to thank my good friend Jim Holley. He's been instrumental in helping us get this thing put together. He's a great guy, and he's helped us a lot.