The team was different in many ways. Their bikes were blue, not red. They had backing from an outside sponsor in PEAK antifreeze. The riders all wore the same AXO gear, giving them a unified look. It was all so different.

And so successful. Team PEAK won the first race it entered, as Brian Swink passed Kawasaki's Ryan Hughes in the final turn in Orlando to steal the victory. Since then, the squad has never stopped.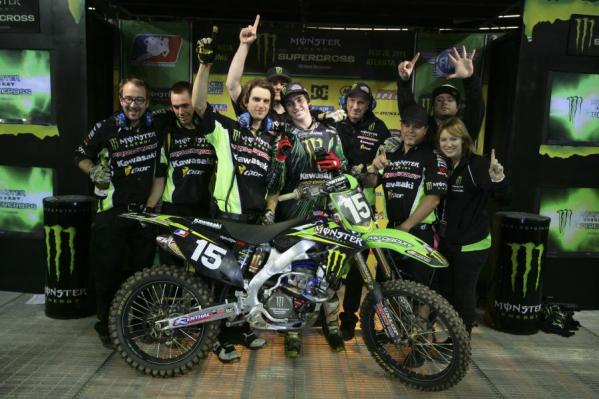 Wilson's first SX victory would mark number 200 overall for Pro Circuit.
Photo: Andrew Fredrickson
The team switched from Honda to Kawasaki in 1993, as Honda brought their 125 factory program back. But they kept winning on green bikes, still the team to beat today.
Dean Wilson was born in December of 1991, nearly a year after Swink scored the team's first win. Now, at age 19, he delivered the team's 200th victory in AMA competition with his Saturday night victory in Atlanta.

What does 20 years of dominance look like? Here's the list of Pro Circuit wins from every season, adding up to 199, and the culminating in Dean's 200th from the weekend.

Big thanks to Sharon Richards at Pro Circuit for the stats!