Between The Motos: Kevin Crowther
Wednesday, January 12, 2011 | 10:55 AM Tweet

By: Nick McCabe

Anaheim 1 is about the new. It's a new year, a new season, new bikes, new teams and new riders – it's all updated. This includes the actual racing program, and the sometimes not so glamorous world of race administration. Although AMA Pro Racing was sold to the DMG a few years ago, the AMA still manages the Feld Motorsports Monster Energy Supercross events. The AMA is involved in mostly behind the scenes stuff, ranging from handling rider entries and credentials to the publishing and enforcement of rules. Adding a layer of complexity to this is the fact that Supercross enjoys a dual AMA and FIM sanction, which means more global oversight and exposure. We cornered the AMA's point man, Kevin Crowther, who holds the title of Director of AMA Supercross, to explain some of the operational updates for the 2011 Supercross season.


Racer X Online: Kevin, it's a new season, and that means you have had a busy fall planning a new rules package and getting the book signed off and published. What are some of things that have changed and that not everyone might realize or see?
Kevin Crowther: Well, before we talk about this event, it's important to note there were several changes that we made last fall. First off we changed the numbering system a few months ago with two tweaks. Basically, if a rider had a career number, then he must earn at least 25 points to keep it. Previously, it was only one point, and we could make certain exceptions, like if a guy got hurt or something. This was something that we did to ensure that the riders were active on the circuit. The other thing is actually running the number that each rider earned. With the exception of three career triple digit numbers, if a rider earns a two-digit number, he must wear it.  We are simply trying to limit the amount of three digit numbers that are out there. And then we also revised the age limit for obtaining a riders license. We went back to the age of 16, and that was a matter of what was best for the sport. The Florida insurance issue blew over, and our sport is a young man's sport, so we were able to revise this for the better of the sport.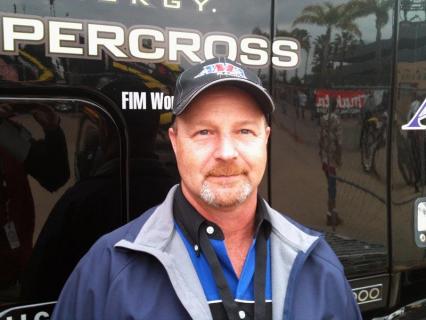 Kevin Crowther.
McCabe photo
What about changes onsite and for the Supercross series? I understand the program itself has had a few operational tweaks that fans will see down on the stadium floor?
That's correct, each season we work with the FIM and Feld and address certain issues that popped up from the previous season. For example, last year we would take the "fast 40" into the night program. If a rider got hurt and decided to sit out for the night, we would leave that spot open for the night. For 2011, we will be telling the guys who finished timed practice from 41st-45th to stand by down in the tunnel as we load the gates for the heat races. They will therefore be considered as alternatives for the heat races. The goal is to always have 40 guys on the gate. The guys that get that close certainly deserve to be in the show, and in the event someone ahead of them decides to sit out.

Also, another thing we did was change how things work down at the gate. Our starting gate holds 22 riders, but with the exception of the two LCQ's, we only use 20 spots. For 2011, we painted the outside gate on each side black, and riders in the heats and Mains will not be able to use those black gates. Typically those gates are really bad picks, and this tightens up the field for a better presentation. The black gates will certainly be visible to fans and to those watching the races at home.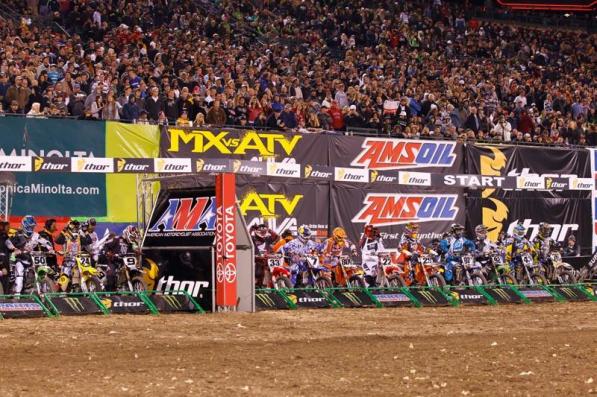 Riders must now choose from the twenty gates in the middle of the start during the main events and heat races. The additional gates are only used in the LCQs.
Cudby photo
There has been a lot of talk about drug testing. I hear that you guys have expanded your program?
That's correct. We use the WADA Program (World Anti-Doping Association), and we have expanded our coverage to both the Supercross and the Lites class. Last year, WADA only applied to the Supercross class. The program is administered by an independent third party company and has nothing to do with us or our employees. Basically, we support it fully, but have nothing to do with the nuts and bolts of it. We never know which event they will come to, or who they will test. We leave six event passes and parking passes at Will Call and Feld sets aside a drug testing room for them in case they show up. Last year I think they came to two events. It's a really good program, and it covers both the Supercross class and the Lites class for 2011. On the FIM site, there is a ton of information on there if anyone wants to get more information.

I remember seeing Travis Pastrana using an iPod at the X Games a few years ago, and those old React radios from back in the day. What is the official stance on riders using iPods and musical listening devices while they ride?
Well, in the past, we never allowed personal broadcasting or musical devices to be used. But, we never really addressed that in our rulebooks. With technology and music devices the way they are now, we had to make a change. The old technology didn't apply with the big walkmans, and it kinda governed itself. But last year, we had a situation with a rider who got hurt wearing an iPod, which was strapped in his pants. He crashed and the thing broke, and caused him to be injured. Same thing with GoPro helmet cameras – those are not allowed as well, with the exception of a few sponsored GoPro riders.

Speaking of that, I understand you have a few safety-related trackside changes as well?
We have new yellow flashing lights on the whoops. That is new this year as year. Same thing as the red lights that are on the triples – but instead we have placed them in an area where normally officials will be standing, so now we don't have to have a body in the way. We are always integrating more technology into the program, as well, as certain things are really changing quickly. We also changed the lights on the triples to LED, which are brighter and more attention grabbing.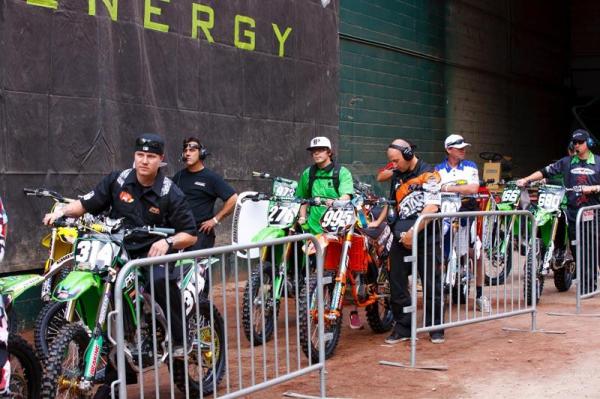 Riders outside of the fast 40 in qualifying may still be able to make the show as alternates.
Cudby photo
Well, thanks for the update Kevin. Is there anything else you want to add?
The goal of Feld, FIM, and AMA is working together to see what we can do to grow the sport. A lot of these items mentioned are short-term stuff, but we also do a lot of long-term planning as well. Sometimes it takes a few years to make a change. For example, one of the things we talked about is making the Lites class a national championship – like it is in the outdoors. This is a process of evolution. But I should note that we are not even close to making a decision yet, but it is something that we have been looking at and having a dialog about with all the stakeholders. Also, I should mention that for the first time in many years, the AMA has a booth here in the pits at the Supercross events. We are selling memberships and investing in the future, and we hope that our members and fans will stop by and say hello. We have some swag and giveaway items for everyone, and we are working toward engaging our members more. The AMA is the force behind protecting your right to ride, and never before has the threat been as big.


Share this article:
Did you like this article?
Check out MONSTERBALL
in our Latest issue of Racer X available now.

Playing soccer on 250cc motorcycles might sound like a strange form of riding, but in Russia they do it with great passion—and for very little reward. Page 112.
Look for the verified symbol
The Conversation