Kevin Windham won his second main of the year. Check the breath coming from his helmet. It was cold.
Steve Cox Photo
If someone had told you before the season started that Ryan Dungey would romp home as Monster Energy Supercross Champion, and even clinch the title with two races left, you'd probably think that someone is crazy. And if that someone had told you Kevin Windham would be running second in the series and ending the tour on a win streak, you would know for sure that person is crazy.

GEICO Powersports' Windham is indeed on a roll, matching his dominant performance last week in Seattle with another big win in Salt Lake City. And like Seattle, the track was treacherous, with last week's ruts replaced by this week's mud. Rain and snow early in the week left the track soaked when the crew took the tarps off on Saturday afternoon, but then a ton of track work made it shape up pretty good, outside of one really tough set of whoops.

But then the rain (and even a bit of snow!) came back during the night show, making the track super slick. Eventually the track crew knocked down most of the whoops to make things easier in the rain. But while it's tempting to just chalk these Windham wins up to his superior skills in tough terrain, it's pretty clear from his riding and attitude that he could probably win on any type of track right now. And next week he'll have the chance to prove it in Las Vegas.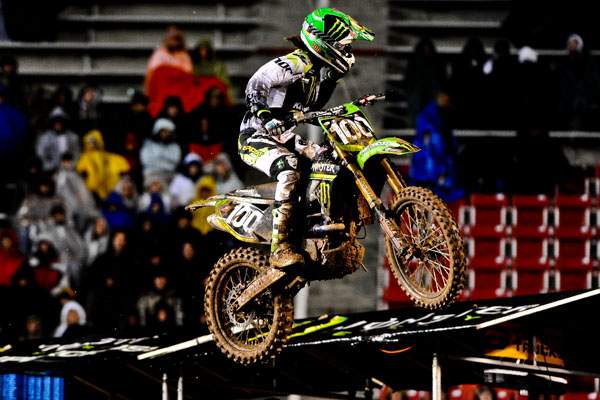 Josh Hansen broke through to win his first main event of the year.

Steve Cox Photo

There will be no pressure at all for Jake Weimer next weekend, because he just clinched his first SX Title with a triumph in the Western Region Lites class. Weimer rode steady in the rain to finish fifth, easily clinching the title and adding another plate to the door of the Monster Energy Pro Circuit Kawasaki team.



Josh Hansen won the main event for his first win of the year. Hansen and Lucas Oil/Troy Lee Honda's Wil Hahn fought for the lead early in the main. Hahn was riding with a separated shoulder thanks to a practice crash on Thursday, but he rode as hard as he could for as long as he could in hopes of getting his first career win. Halfway through, though, he was struggling, and Hansen pulled away for an easy win. Trey Canard came through the pack to take second, and Hahn held on for third, which was enough to give him second in the series behind Weimer.

The Lites class ran their scheduled 15 laps, and the 20-lap SX Class main was cut to 15 as well since the rain kept coming. Most of the jumps were still jumpable in the rain, but riders were still going down all over the place in the slop. No one was complaining about cutting the laps.

The only rider who appeared to have a chance of beating Windham was Davi Millsaps, who shared heat race wins with KW. They battled for the holeshot and then fought hard for the lead on the first lap, diving inside and outside of each other in every corner. Finally Windham put an end to it by getting aggressive and squeezing Millsaps out on some tuff blox, and from there he pulled away. Millsaps was a solid second, with his Honda Red Bull Racing teammate Andrew Short rolling through the pack to take third—a Honda podium sweep.

Rockstar Makita Suzuki's Dungey didn't look aggressive at any point during the day and spent most of the main hovering around the top five. He ended up fourth, ahead of Motoconcepts Yamaha rider Kyle Chisholm.
Michael Byrne started the race up front and rode in third for a long way, but then succumbed to reported rear brake troubles and dropped back to sixth. His teammate Justin Brayton came in seventh. Rockstar Suzuki's Tommy Hahn crashed and fell back to 18th at one point before mounting a huge charge and coming back to eighth. Nick Wey also had a crash but recovered for ninth on his Monster Energy Kawasaki, with Rockstar Hart and Huntington's Chris Blose rounding out the top ten.

The results listed below were released by Feld Motorsports after the event. Look for full results and analysis all week on Racer X Online.com

The AMA Supercross class will air on CBS Sunday, May 2 at 12:00 p.m. EST. The Western Regional AMA Supercross Lites class will air on SPEED Sunday, May 2 at 6:00 p.m. EST.

The 2010 Monster Energy AMA Supercross season concludes next weekend at Las Vegas' Sam Boyd Stadium.

AMA Supercross Class Results: Salt Lake City
1. Kevin Windham, Centerville, Miss., Honda
2. Davi Millsaps, Murrieta, Calif., Honda
3. Andrew Short, Smithville, Texas, Honda
4. Ryan Dungey, Belle Plaine, Minn., Suzuki
5. Kyle Chisholm, Valrico, Fla., Yamaha
6. Michael Byrne, Newnan, Ga., Yamaha
7. Justin Brayton, Murrieta, Calif., Yamaha
8. Tommy Hahn, Alvord, Texas, Suzuki
9. Nick Wey, Murrieta, Calif., Kawasaki
10. Chris Blose, Phoenix, Ariz., Honda

AMA Supercross Class Season Standings
1. Ryan Dungey, Belle Plaine, Minn., Suzuki, 338
2. Kevin Windham, Centerville, Miss., Honda, 273
3. Ryan Villopoto, Poulsbo, Wash., Kawasaki, 266
4. Davi Millsaps, Murrieta, Calif., Honda, 253
5. Josh Hill, Carlsbad, Calif., Yamaha, 229
6. Justin Brayton, Murrieta, Calif., Yamaha, 225
7. Nick Wey, Murrieta, Calif., Kawasaki, 186
8. Ivan Tedesco, Murrieta, Calif., Yamaha, 183
9. Tommy Hahn, Alvord, Texas, Suzuki, 174
10. Kyle Chisholm, Valrico, Fla., Yamaha, 163

Western Regional AMA Supercross Lites Class Results: Salt Lake City
1. Josh Hansen, Elbert, Colo., Kawasaki
2. Trey Canard, Shawnee, Okla., Honda
3. Wil Hahn, Decatur, Texas, Honda
4. Ryan Morais, Murrieta, Calif., Suzuki
5. Jake Weimer, Rupert, Idaho, Kawasaki
6. Broc Tickle, Holly, Mich., Yamaha
7. Phil Nicoletti, Bethel, N.Y., KTM
8. Hunter Hewitt, Pilot Point, Texas, Suzuki
9. Travis Baker, Temecula, Calif., Yamaha
10. Jeff Alessi, Murrieta, Calif., Yamaha

Western Regional AMA Supercross Lites Class Season Standings
1. Jake Weimer, Rupert, Idaho, Kawasaki, 171
2. Wil Hahn, Decatur, Texas, Honda, 156
3. Trey Canard, Shawnee, Okla., Honda, 153
4. Broc Tickle, Holly, Mich., Yamaha, 140
5. Blake Wharton, Pilot Point, Texas, Honda, 116
6. Josh Hansen, Elbert Colo., Kawasaki, 100
7. Cole Seely, Newbury Park, Calif., Honda, 100
8. Phillip Nicoletti, Bethel, N.Y., KTM 83
9. Max Anstie, Hemet, Calif., Yamaha, 82
10. Ryan Morais, Murrieta, Calif., Suzuki, 76