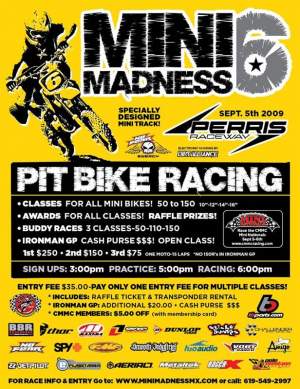 Former factory rider Ron "The Dogger" Lechien has confirmed he will be riding Mini Madness 6, coming up September 5th at Perris Raceway. "I don't race many events, but when it's Mini Madness time, I'm soooo there! It's one of the funnest events of the year for minis!

Dogger will be riding his Maxima/BBR/Troy Lee backed CRF150f in a couple classes on the specially designed Mini course within the Perris race track.

Bring your pit bikes out and join the "Dogger" at Mini Madness Sept. 5th at Perris Raceway. There are classes for all 4-stroke minis up to 150 size.

$35.00 Entry Fee for as many classes as you want! Includes transponder rental.

For more info. on Mini Madness 6, go to: www.minimadnessmx.com or call 619-549-2997.