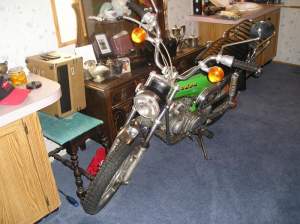 My name is Carol Lafollette and this is "MY" bike. My boyfriend used to work at HSKS in Ocala Florida in 1994 and a customer brought this bike in with a 1974 50. The 90 had 550 miles on it and he said he used it for his motor home. He was a 80 year old Doctor from St. Petersburg who just didn't need them anymore and wanted to unload them. Well, John was his mechanic and he calls me on the phone and tells me about these two bikes and how he needs "GET THIS" $435 for both these bikes. I just couldn't understand why he had to have these bikes as he was always spending his paycheck on something involving dirt bikes. So we scraped the money up and he brought them home. They even still had the warning labels on the gas tanks.

It was Christmas time so that's what John gave me. The little 50 was bought by a lady who in one day bought seven bikes from us. It came to a sad end as the child did not appreciate it and crashed it and tore it apart in two days. We kicked ourselves that week as we saw a article as it was the 30th Anniversary of the 50. OUCH!

I love my ST90 and every once in a while I drive it to work and everyone laughs at how little it is. I guess it's not their Harley, but we all know this was the bike of the day and all riders will say, yeah, I had one of those.

I wanted to sell it because the kids don't want me to put mileage on it. It now has 3500 miles. Our shed is full of dirt bikes, so since I have plenty of room in that special room in the house, there it sits.