Surfing and Motocross: Indo Board Balance Training
Thursday, November 6, 2008 | 4:23 PM Tweet

By Tim Crytser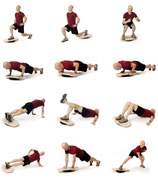 Surfing, Wakeboarding, skating and motocross all share one thing in common; they are all very cool sports. Now with the Indo Board balance trainer they have at least one more thing in common. A very cool method of training while out of the water, away from the boat, or off the bike. Balance training is an often overlooked yet highly integral part of a complete training program. And unlike a lot of other forms of training that are boring and un-motivating, the Indo Board is fun and challenging. In this article I will give an overview of the Indo Board and explain how to incorporate it into all phases of your motocross training program.
>> Read More

Also new this week on
Virtual Trainer
Fuel Clothing has again supplied us with another photo that is sure to
Fuel Your Inspiration
. Remember...Training Amplifies Talent!
Previous Articles

Worst Breakfast Foods
Trainer Talk with....JGR's Cody Cooper and trainer Tim Gearhart
Diet Confusion
7 Tips for Successful Training
Trainer Talk with .... Tim Ferry
Product Review: The TRX Suspension Trainer
Share this article:
Did you like this article?
Check out MY LIFE IN MOTORCYCLE RACING
in our Latest issue of Racer X available now.

Jean-Michel Bayle, the iconic superstar of yesteryear, raced motocross for the first time in twenty-one years at the Vets MXdN in England. Page 126.