Online Sticker Giveaway
September 18, 2008 10:32am
|
by: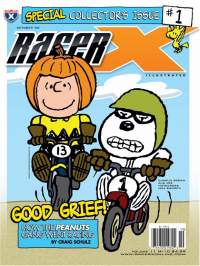 We hope you liked our first-ever special Collector's Issue of
Racer X
, which featured Charlie Brown and Joe Motocross (AKA Snoopy) on the cover. We went ahead and got a limited supply of stickers made of this cover, and we want to share them with you.
So if you want to add this one to your collection, all you have to do is send a
self-addressed stamped envelope
to the address below and we'll hook you up.
Send your self-addressed stamped envelope to:
Racer X Illustrated
Attn: Peanuts Cover
122 Vista Del Rio Drive
Morgantown, WV 26508