109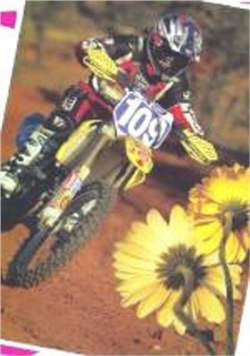 Ashley Wheat

Hi Andy, here is one for the Women motocrossers out there. Ashley Wheat is in the WMA and rides with the national #109. She is from Picayune, MS, and rides for American Suzuki.

Thanks,
Joe

Ashley also won the Women 80-105cc (12-15) class at the Loretta Lynn's Amateur National Championship Finals.


Hey Andy,

German motocross legend Adolph Weil ran the number 109 on his factory Maico during the 1976 Trans-AMA series. There's a cool picture of him at the St. Peters, Missouri round here.

Keep up the good work, and thanks.

Michael Magada
Chicago, Illinois

48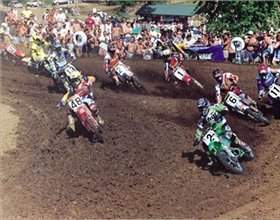 Rich Taylor (48) nearly grabs the holeshot over Jeff Emig (2).

One of the cooler e-mails we've gotten back came from Idaho's Rich Taylor. Rich was one of the fastest privateers throughout the 1990s and was famous for pulling holeshots on his Boswell-carbureted CR250.

Andy, how are ya?

Just wanted to say I was 48 in '96. It was a very memorable year for me.... That was the year I had a super-fast CR250 with a crazy Boswell carb on it. That bike was soooo flipping fast.... I had a mechanic from Canada named Andy Calver who had the Boswell figured out. I would line up next to McGrath or Emig or Albee on their full works bikes and I knew I could beat them to the first turn. I wish they had the holeshot award that year. That was also the year I holeshot and led Washougal. I whipped it as hard as I could on the first lap off the Chuck Sun jump while leading. A couple laps later I crashed in a turn and knocked myself out. To this day I can introduce myself to people and someone will say, I remember you, you were the guy who led Washougal and knocked yourself out!

I hope all is well.
Rich Taylor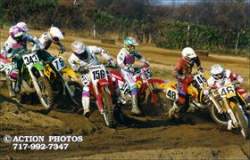 Brian Carroll

Hey Andy,

An old friend Brian Carroll I grew up racing with ran National number 48 in 1993. I remember him well but the only shot I have of him was at a local New Jersey race at Powerline Park in 1993 in his Gear Racewaer. Just ahead of him is #46 Barry Carsten and yeah that's me, #156, on the inside of both of them and national #65 Jim Kapitan is in there also. We all butted heads (on the track) for many years racing each other. What a blast.

Marc Tiesler
Holland, PA

I raced the 1998 GNC Texas series and I remember Josh Demuth wearing #48 for that and for the whole '98 season. Jeff Willoh also raced with the 48 number for the '99 season. Jeff Gibson wore 48 for the 2006 season.

Greetings from Mexico, keep up the good work!

-Guillermo Munoz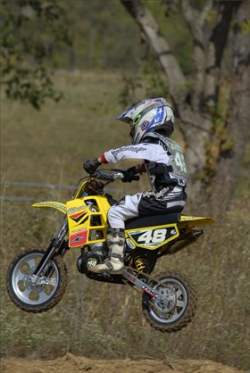 Blake Green

Sean Hilbert from Cobra sent us this picture of Riverside, California's Blake Green.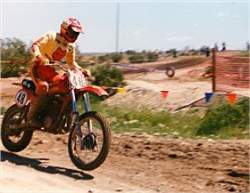 Carlos Serrano

Regular Number Cruncher contributor and moto historian Josh Heintz sent us this old-school shot of Carlos Serrano charging on an old air-hammer.

So, who is going to be the big number this weekend? Maybe Andrew Short will become the sixth man to win this year and we'll throw out a big #29 Cruncher? Maybe a little known three-digit Canuck will show up and blow up and we'll dedicate it to him. Until then, keep sending us your own versions of the number of the week. More than likely, you'll end up in the Redux!