Success did not seem likely just after the start of his first moto when he ended up the ground and he faced the same challenge Carmichael faced the moto before--a charge from the back to keep Team USA's hopes alive. He charged the whole moto and made it to fourth. In his second moto he battled with FIM World MX1 Champion Steve Ramon of Belgium, and he waited for him to get tired and got past.
2007 was Ferry's second time on Team USA. The first was 2003 when he, Ryan Hughes and RC went to Zolder, Belgium. He hurt his thumb that weekend and the U.S. lost to Belgium. This time Ferry was part of one of the greatest U.S. wins at this historic race.

Racer X: Was winning this overall the coolest thing that ever happened to you?
Tim Ferry: As a single event, for sure. As far as racing goes, it's unbelievable to win it, and in your own country! The fans pretty much absolutely go crazy for two days. It was awesome.

Going back through your day, in reverse order, in your last moto you beat the world champion and the new AMA champion.
Yeah, Ramon was riding really well. He was really good in the turns and that was where I wanted to get him so that was kind of tough to do. I figured I could crack him. Watching the motos I saw him in yesterday and today, I was expecting him to get tired. Once I got by I just put the hammer down. I wanted to pass him sooner but he put up more of a fight than I was expecting. He rode good. I had to put some thought into it.

You said he turned good? Cairoli said he didn't get the soft U.S. ground at all and needed some practice time on a track like this. Ramon didn't have trouble?
No he didn't. I think Ramon is a better in turns than Cairoli. He is smooth because he learned to ride in sand. He definitely impressed me. I got right behind him and couldn't do anything with him, so I dropped back and had to rethink my strategy and went back after him. When I got back to him I had to get by him so I made it happen.

In the other moto, your first one, what did you think when you hit the ground and it left you in last at such an important race?
At first, believe it or not I was pretty calm. I thought, "Get up as fast as you can" and try not to burn too much energy getting off the ground. Ricky said early on that, "You have to stay on two wheels and score points no matter what happens." I wanted to do the best that I could, and I got to fourth. I was happy about it. That was awesome. I got worst gate pick at each start and in that one, unfortunately guys went down.

Did the qualifying race give you confidence that you could win the MX3 overall?
After Saturday I think I was a little more relaxed. I knew we had a strong team, quite a bit stronger than the other guys. I'm not just saying it, but that was probably one of the easiest races I have ever done. I wasn't being pressured and was riding bad in a few spots, making mistakes. When I got off I said, "Man if this were a local pro race, I would have to go faster to win it."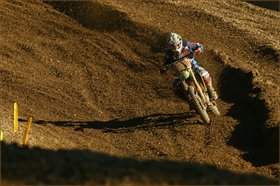 Ferry caught and passed the MX1 World champion in the third moto.

Of all your accomplishments, where does this one sit?
I think this is the highest, as one event, it's the highest. It's cool to win nationals and to beat the best in the world, to be selected to be on this team. Not very many riders have that opportunity. I got to be the MX3 winner, and I am amazed how Ryan rode. Ricky rode good, no matter what he says. He was in unfortunate crashes but he was solid.

How was the teamwork?
We talked between every ride, every practice. It was good because Ricky is very smart. Ryan is very smart. There were a few things before that last moto that I told Ricky about and it helped for sure. The track was gnarly and they did a good job prepping it.
Thanks for your time, Timmy.
Thank you, and thanks to all of the fans, and anyone who was here knows how big this event really was. It was special for me, for sure.