by
Bryan Stealey
Yamaha's Monday Wake-up Call
Monday, August 13, 2007 | 5:53 AM
Tweet
In this article…
Riders
Races
AMA Toyota Motocross Championship presented by FMF
Spring Creek Motocross Park - Millville, MN
August 11-12, 2007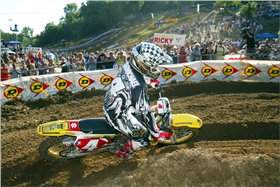 RC won his 150th, and last moto at Millville.
TFS photo


Motocross Moto 1
1. 4 Ricky Carmichael Havana, FL Suzuki RMZ450
2. 8 Grant Langston Clermont, FL Yamaha YZ450F
3. 29 Andrew T Short Smithville, TX Honda CRF450R
4. 800 Mike A Alessi Victorville, CA KTM 450SX
5. 14 Kevin W Windham Centreville, MS Honda CRF450R
6. 12 David Vuillemin Murrieta, CA Honda CRF450R
7. 26 Michael Byrne Newnan, GA Suzuki RM-Z450
8. 15 Timmy M Ferry Largo, FL Kawasaki KX450F
9. 36 Joshua Summey Stanley, NC Honda CRF450R
10. 273 Gavin L Gracyk Blissfield, OH Honda CRF450R
11. 9 Ivan Tedesco Montgomery, TX Suzuki RM-Z450
12. 965 Antonio Balbi Riverside, CA Honda CRF450R
13. 801 Jeff Alessi Victorville, CA KTM 450SX
14. 23 Kyle Lewis Henderson, NV Honda CRF450R
15. 31 Jason W Thomas Melrose, FL Honda CRF450R
16. 32 Ryan D Clark Waddell, AZ Honda CRF450R
17. 66 Shaun J Skinner Stuart, FL Honda CRF450R
18. 90 Cole T Siebler Emmett, ID Honda CRF450R
19. 138 Michael J Lapaglia Murrieta, CA Yamaha YZ450F
20. 712 Yoshitaka Atsuta Japan, Honda CRF450R
Motocross Moto 2
1. 4 Ricky Carmichael Havana, FL Suzuki RMZ450
2. 8 Grant Langston Clermont, FL Yamaha YZ450F
3. 800 Mike A Alessi Victorville, CA KTM 450SX
4. 9 Ivan Tedesco Montgomery, TX Suzuki RM-Z450
5. 29 Andrew T Short Smithville, TX Honda CRF450R
6. 15 Timmy M Ferry Largo, FL Kawasaki KX450F
7. 712 Yoshitaka Atsuta Japan, Honda CRF450R
8. 36 Joshua Summey Stanley, NC Honda CRF450R
9. 34 Troy K Adams Homosassa, FL Suzuki RM-Z450
10. 32 Ryan D Clark Waddell, AZ Honda CRF450R
11. 23 Kyle Lewis Henderson, NV Honda CRF450R
12. 31 Jason W Thomas Melrose, FL Honda CRF450R
13. 501 Kyle D Keylon Brooksville, FL Honda CRF450R
14. 138 Michael J Lapaglia Murrieta, CA Yamaha YZ450F
15. 26 Michael Byrne Newnan, GA Suzuki RM-Z450
16. 801 Jeff Alessi Victorville, CA KTM 450SX
17. 96 Christopher R Whitcraft Pickerington, OH Honda CRF450R
18. 256 Bryan K Johnson Cairo, GA Honda CRF450R
19. 357 Cale A Wallace Walnut, CA Honda CRF450R
20. 99 Kyle J Mace Hesperia, CA Kawasaki KX450F
Motocross Event Points
Pos. Pts. Moto 1 Moto 2 No. Rider name
1. 50 25 (1) 25 (1) 4 R. Carmichael
2. 44 22 (2) 22 (2) 8 G. Langston
3. 38 18 (4) 20 (3) 800 M. Alessi
4. 36 20 (3) 16 (5) 29 A. Short
5. 28 10 (11) 18 (4) 9 I. Tedesco
6. 28 13 (8) 15 (6) 15 T. Ferry
7. 25 12 (9) 13 (8) 36 J. Summey
8. 20 14 (7) 6 (15) 26 M. Byrne
9. 17 7 (14) 10 (11) 23 K. Lewis
10. 16 5 (16) 11 (10) 32 R. Clark
11. 16 16 (5) 0 (35) 14 K. Windham
12. 15 1 (20) 14 (7) 712 Y. Atsuta
13. 15 6 (15) 9 (12) 31 J. Thomas
14. 15 15 (6) 0 (38) 12 D. Vuillemin
15. 13 8 (13) 5 (16) 801 J. Alessi
16. 12 0 (38) 12 (9) 34 T. Adams
17. 11 11 (10) 0 (34) 273 G. Gracyk
18. 9 2 (19) 7 (14) 138 M. Lapaglia
19. 9 9 (12) 0 (32) 965 A. Balbi
20. 8 0 (29) 8 (13) 501 K. Keylon
21. 4 0 (31) 4 (17) 96 C. Whitcraft
22. 4 4 (17) 0 (27) 66 S. Skinner
23. 3 0 (30) 3 (18) 256 B. Johnson
24. 3 3 (18) 0 (29) 90 C. Siebler
25. 2 0 (32) 2 (19) 357 C. Wallace
26. 1 0 (21) 1 (20) 99 K. Mace
Motocross Standings
1. 311 T. Ferry
2. 311 A. Short
3. 300 G. Langston
4. 292 M. Alessi
5. 291 R. Carmichael
6. 290 J. Stewart
7. 254 K. Windham
8. 207 D. Vuillemin
9. 186 D. Millsaps
10. 168 M. Byrne
11. 151 G. Gracyk
12. 138 I. Tedesco
13. 128 J. Summey
14. 105 J. Thomas
15. 92 K. Lewis
16. 86 J. Alessi
17. 84 T. Adams
18. 77 R. Clark
19. 64 A. Balbi
20. 59 S. Skinner
21. 41 J. Dowd
22. 38 C. Reed
23. 34 R. Mills
24. 34 A. Chatfield
25. 29 N. Wey
26. 27 C. Siebler
27. 23 B. Garrison
28. 18 Y. Atsuta
29. 13 C. Whitcraft
30. 13 K. Mace
31. 12 K. Summers
32. 12 J. Sipes
33. 10 D. Dehaan
34. 9 A. Narita
35. 9 M. Lapaglia
36. 8 K. Keylon
37. 7 R. Dietrich
38. 7 T. Hadsell
39. 6 B. Johnson
40. 6 C. Blose
41. 5 K. Partridge
42. 4 B. Carsten
43. 4 T. Lorusso
44. 3 C. Charbonneau
45. 3 J. Morrison
46. 2 Y. Fukudome
47. 2 C. Wallace
48. 2 J. Hazel
49. 1 M. Sleeter
50. 1 J. Povolny
51. 1 V. Mckiddie
Lites Moto 1
1. 101 Ben Townley Tallahassee, FL Kawasaki KX250F
2. 1 Ryan D Villopoto Poulsbo, WA Kawasaki KX250F
3. 123 Brett Metcalfe Murrieta, CA Kawasaki KX250F
4. 52 Thomas K Hahn Decatur, TX Honda CRF250R
5. 60 Broc D Hepler Kittanning, PA Yamaha YZ250F
6. 24 Joshua M Grant Riverside, CA Honda CRF250R
7. 577 Martin Davalos Cairo, GA KTM 250SXF
8. 341 Nico A Izzi Saint Clair, MI Suzuki RM-Z250
9. 75 Broc Oneal Tickle Cary, NC Yamaha YZ250F
10. 73 Jake T Weimer Rupert, ID Honda CRF250R
11. 33 Matthew C Goerke Lake Helen, FL Yamaha YZ250F
12. 622 Kyle B Cunningham Springtown, TX Yamaha YZ250F
13. 55 Ryan Sipes Vine Grove, KY Honda CRF250R
14. 48 Kyle P Chisholm Seminole, FL Kawasaki KX250F
15. 108 Joaquim Rodrigues Temecula, CA KTM 250SXF
16. 58 Joshua R Hill Yoncalla, OR Yamaha YZ250F
17. 630 Matthew J Lemoine Pilot Point, TX Yamaha YZ250F
18. 102 Christopher Gosselaar Victorville, CA Kawasaki KX250F
19. 30 Andrew Mcfarlane Newport Beach, CA Suzuki RM-Z250
20. 50 Billy R Laninovich Lake Elsinore, CA Honda CRF250R
Lites Moto 2
1. 1 Ryan D Villopoto Poulsbo, WA Kawasaki KX250F
2. 101 Ben Townley Tallahassee, FL Kawasaki KX250F
3. 123 Brett Metcalfe Murrieta, CA Kawasaki KX250F
4. 140 Trey G Canard Elk City, OK Honda CRF250R
5. 577 Martin Davalos Cairo, GA KTM 250SXF
6. 73 Jake T Weimer Rupert, ID Honda CRF250R
7. 60 Broc D Hepler Kittanning, PA Yamaha YZ250F
8. 62 Ryan M Dungey Belle Plaine, MN Suzuki RM-Z250
9. 622 Kyle B Cunningham Springtown, TX Yamaha YZ250F
10. 24 Joshua M Grant Riverside, CA Honda CRF250R
11. 48 Kyle P Chisholm Seminole, FL Kawasaki KX250F
12. 75 Broc Oneal Tickle Cary, NC Yamaha YZ250F
13. 341 Nico A Izzi Saint Clair, MI Suzuki RM-Z250
14. 76 Tucker J Hibbert Goodridge, MN Kawasaki KX250F
15. 630 Matthew J Lemoine Pilot Point, TX Yamaha YZ250F
16. 108 Joaquim Rodrigues Temecula, CA KTM 250SXF
17. 33 Matthew C Goerke Lake Helen, FL Yamaha YZ250F
18. 55 Ryan Sipes Vine Grove, KY Honda CRF250R
19. 56 Daniel Sani Clovis, CA Yamaha YZ250F
20. 30 Andrew Mcfarlane Newport Beach, CA Suzuki RM-Z250
Lites Event Points
Pos. Pts. Moto 1 Moto 2 No. Rider name
1. 47 22 (2) 25 (1) 1 R. Villopoto
2. 47 25 (1) 22 (2) 101 B. Townley
3. 40 20 (3) 20 (3) 123 B. Metcalfe
4. 30 14 (7) 16 (5) 577 M. Davalos
5. 30 16 (5) 14 (7) 60 B. Hepler
6. 26 11 (10) 15 (6) 73 J. Weimer
7. 26 15 (6) 11 (10) 24 J. Grant
8. 21 9 (12) 12 (9) 622 K. Cunningham
9. 21 12 (9) 9 (12) 75 B. Tickle
10. 21 13 (8) 8 (13) 341 N. Izzi
11. 18 0 (39) 18 (4) 140 T. Canard
12. 18 18 (4) 0 (34) 52 T. Hahn
13. 17 7 (14) 10 (11) 48 K. Chisholm
14. 14 10 (11) 4 (17) 33 M. Goerke
15. 13 0 (35) 13 (8) 62 R. Dungey
16. 11 6 (15) 5 (16) 108 J. Rodrigues
17. 11 8 (13) 3 (18) 55 R. Sipes
18. 10 4 (17) 6 (15) 630 M. Lemoine
19. 7 0 (40) 7 (14) 76 T. Hibbert
20. 5 5 (16) 0 (21) 58 J. Hill
21. 3 2 (19) 1 (20) 30 A. Mcfarlane
22. 3 3 (18) 0 (41) 102 C. Gosselaar
23. 2 0 (21) 2 (19) 56 D. Sani
24. 1 1 (20) 0 (32) 50 B. Laninovich
Lites Standings
1. 404 B. Townley
2. 402 R. Villopoto
3. 312 J. Grant
4. 267 R. Dungey
5. 258 J. Lawrence
6. 188 J. Weimer
7. 159 T. Hahn
8. 148 B. Tickle
9. 142 K. Chisholm
10. 136 B. Metcalfe
11. 135 A. Mcfarlane
12. 133 J. Hill
13. 120 M. Davalos
14. 119 M. Goerke
15. 110 R. Kiniry
16. 93 B. Hepler
17. 93 C. Gosselaar
18. 83 J. Rodrigues
19. 75 S. Boniface
20. 71 M. Lemoine
21. 57 D. Sani
22. 53 D. Klatt
23. 52 B. Laninovich
24. 44 R. Morais
25. 42 R. Sipes
26. 41 K. Cunningham
27. 35 K. Smith
28. 29 B. Jesseman
29. 25 R. Renner
30. 22 M. Boni
31. 21 N. Izzi
32. 20 B. Ainsworth
33. 19 T. Hibbert
34. 18 T. Canard
35. 15 R. Marshall
36. 8 C. Dube
37. 6 T. Medaglia
38. 4 M. Willard
39. 4 M. Pugrab
40. 3 J. Albertson
41. 3 T. Tiffany
42. 3 Z. Osborne
43. 2 T. Sherman
44. 2 S. Sewell
45. 1 T. Bright
46. 1 M. Lapaglia
---
Monster Energy Canadian Motocross Nationals
San Del Lee, Richmond, ON
August 12, 2007
MX1
1. JSR (Yam) 1-4
2. Paul Carpenter (Kaw) 4-2
3. Jeff Gibson (Kaw) 3-3
4. Colton Facciotti (Yam) 2-5
5. Simon Homans (Yam) 10-1
6. Kyle Keast (Hon) 5-8
7. Marco Dube (KTM) 8-6
8. Jeff Northrop (Kaw) 6-9
9. Gray Davenport (Suz) 7-11
10. Ryan Lockhart (Suz) 9-14
MX1 Points (8 of 9 Rounds)
1. Paul Carpenter 318 pts
2. Jeff Gibson 237
3. Colton Facciotti 232
4. Marco Dube 221
5. JSR 211
MX2
1. Michael Willard (KTM) 1-3
2. Tyler Medaglia (Suz) 3-2
3. Billy Ainsworth 4-9
4. Jeremy Medaglia (Hon) 6-8
5. Freddy Karrle (Suz) 12-4
6. Trever Hall (Yam) 5-11
7. Jacob Saylor (Yam) 40-1
8. Kaven Benoit (Kaw) 9-10
9. Ryan Blizzard 7-12
10. Nick Evennou (Yam) 2-DNF
MX2 East Championship Final Standings
1. Michael Willard 179 pts
2. Tim Tremblay 128
3. Tyler Medaglia 124
4. Freddy Karrle 116
5. Jacob Saylor 109
---
Maxxis British Motocross Championship
Brampton
August 12, 2007
MX1 Race 1
1. 1 Ken De Dycker
2. 2 Brad Anderson
3. 211 Billy MacKenzie
4. 179 Wayne Smith
5. 74 Neville Bradshaw
6. 8 Mark Eastwood
7. 121 Bryan MacKenzie
8. 16 James Noble
9. 11 Richard Lawson
10. 10 Jody Smyth
11. 5 Jordan Rose
12. 127 Neil Flockhart
13. 33 Aston Bird
14. 7 Danny Smyth
15. 49 Dorren Coutts
16. 15 Jamie Lewis
17. 133 Wayne Garrett
18. 365 Oliver Sandiford-Smith
19. 35 Brett Hillman
20. 162 Stuart Edmonds
MX1 Race 2
1. 1 Ken De Dycker
2. 211 Billy MacKenzie
3. 2 Brad Anderson
4. 16 James Noble
5. 179 Wayne Smith
6. 121 Bryan MacKenzie
7. 74 Neville Bradshaw
8. 34 Mark Jones
9. 8 Mark Eastwood
10. 15 Jamie Lewis
11. 10 Jody Smyth
12. 53 Richard McKeown
13. 125 Glen Phillips
14. 7 Danny Smyth
15. 55 Jamie Smith
16. 33 Aston Bird
17. 35 Brett Hillman
18. 84 Ross Rutherford
19. 49 Dorren Coutts
20. 103 Chad Yarranton
MX1 Overall
1. 1 Ken De Dycker 60
2. 211 Billy MacKenzie 52
3. 2 Brad Anderson 52
4. 179 Wayne Smith 44
5. 16 James Noble 38
6. 74 Neville Bradshaw 38
7. 121 Bryan MacKenzie 36
8. 8 Mark Eastwood 32
9. 10 Jody Smyth 21
10. 15 Jamie Lewis 16
11. 34 Mark Jones 15
12. 7 Danny Smyth 14
13. 33 Aston Bird 13
14. 11 Richard Lawson 13
15. 5 Jordan Rose 10
16. 127 Neil Flockhart 9
17. 53 Richard McKeown 9
18. 125 Glen Phillips 8
19. 49 Dorren Coutts 8
20. 55 Jamie Smith 6
21. 35 Brett Hillman 6
22. 133 Wayne Garrett 4
23. 84 Ross Rutherford 3
24. 365 Oliver Sandiford-Smith 3
25. 103 Chad Yarranton 1
26. 162 Stuart Edmonds 1
MX1 Championship Points
1. 211 Billy MacKenzie 342
2. 1 Ken De Dycker 334
3. 2 Brad Anderson 292
4. 16 James Noble 291
5. 13 Gordon Crockard 251
6. 8 Mark Eastwood 207
7. 5 Jordan Rose 144
8. 10 Jody Smyth 132
9. 7 Danny Smyth 131
10. 74 Neville Bradshaw 127
11. 125 Glen Phillips 115
12. 121 Bryan MacKenzie 103
13. 3 Mark Hucklebridge 82
14. 15 Jamie Lewis 78
15. 179 Wayne Smith 61
16. 33 Aston Bird 60
17. 39 Sid Bales 52
18. 11 Richard Lawson 50
19. 49 Dorren Coutts 49
20. 19 Alex Rach 46
21. 66 Jussi Vehvelainen 40
22. 92 Scott Columb 40
23. 221 Lauris Freibergs 36
24. 110 David Yelland 33
25. 26 Marco Kaivalainen 30
26. 55 Jamie Smith 26
27. 316 Stuart Flockhart 24
28. 127 Neil Flockhart 22
29. 34 Mark Jones 15
30. 333 Tony Craig 13
31. 183 George Davis 10
32. 53 Richard McKeown 9
33. 35 Brett Hillman 9
34. 103 Chad Yarranton 9
35. 365 Oliver Sandiford - Smith 8
36. 131 Tommy Merton 7
37. 21 Ben Lambert-Williams 7
38. 107 Craig Trew 7
39. 411 Andrew Gillett 6
40. 30 John May 5
41. 162 Stuart Edmonds 5
42. 133 Wayne Garrett 4
43. 51 Dan Johnson 4
44. 894 Jason Higgs 3
45. 84 Ross Rutherford 3
46. 63 David Williams 3
47. 600 Jamie Skuse 2
48. 111 Nathan Parker 1
MX2 Race 1
1. 3 Mike Brown
2. 46 Jason Dougan
3. 33 Ashley Greedy
4. 101 Tommy Searle
5. 24 Tom Church
6. 99 Sean Hamblin
7. 45 Jake Nichols
8. 14 Gareth Swanepoel
9. 111 Ray Rowson
10. 26 Alex Snow
11. 50 Martin Barr
12. 27 Lewis Gregory
13. 56 Luke Remmer
14. 38 Joe Dark
15. 15 Carlos Campano
16. 40 James Dodd
17. 232 James Lassu
18. 711 James Cottrell
19. 44 Luke Mellows
20. 185 Lewis Rose
MX2 Race 2
1. 3 Mike Brown
2. 101 Tommy Searle
3. 1 Carl Nunn
4. 14 Gareth Swanepoel
5. 46 Jason Dougan
6. 24 Tom Church
7. 34 Shaun Simpson
8. 27 Lewis Gregory
9. 50 Martin Barr
10. 111 Ray Rowson
11. 33 Ashley Greedy
12. 45 Jake Nichols
13. 15 Carlos Campano
14. 74 Elliot Banks - Browne
15. 6 Scott Probert
16. 38 Joe Dark
17. 16 David Willett
18. 25 Jamie Law
19. 18 Kristian Whatley
20. 56 Luke Remmer
MX2 Overall
1. 3 Mike Brown 60
2. 101 Tommy Searle 50
3. 46 Jason Dougan 48
4. 24 Tom Church 40
5. 14 Gareth Swanepoel 38
6. 33 Ashley Greedy 35
7. 45 Jake Nichols 26
8. 1 Carl Nunn 25
9. 27 Lewis Gregory 24
10. 111 Ray Rowson 24
11. 50 Martin Barr 23
12. 99 Sean Hamblin 19
13. 34 Shaun Simpson 17
14. 15 Carlos Campano 14
15. 38 Joe Dark 12
16. 26 Alex Snow 11
17. 56 Luke Remmer 9
18. 74 Elliot Banks - Browne 7
19. 6 Scott Probert 6
20. 40 James Dodd 5
21. 16 David Willett 4
22. 232 James Lassu 4
23. 25 Jamie Law 3
24. 711 James Cottrell 3
25. 18 Kristian Whatley 2
26. 44 Luke Mellows 2
27. 185 Lewis Rose 1
MX2 Championship Points
1. 3 Mike Brown 328
2. 101 Tommy Searle 316
3. 14 Gareth Swanepoel 305
4. 24 Tom Church 281
5. 34 Shaun Simpson 264
6. 46 Jason Dougan 232
7. 50 Martin Barr 214
8. 1 Carl Nunn 204
9. 99 Sean Hamblin 178
10. 27 Lewis Gregory 154
11. 111 Ray Rowson 147
12. 45 Jake Nichols 133
13. 74 Elliot Banks - Browne 91
14. 33 Ashley Greedy 87
15. 73 Wayne Smith 83
16. 15 Carlos Campano 67
17. 16 David Willett 59
18. 26 Alex Snow 58
19. 4 Stephen Sword 52
20. 25 Jamie Law 46
21. 38 Joe Dark 36
22. 18 Kristian Whatley 32
23. 57 Adam Chatfield 30
24. 6 Scott Probert 29
25. 116 Martin Kohut 23
26. 36 Alex Butler 21
27. 133 Wayne Garratt 21
28. 12 Jim Murro 19
29. 40 James Dodd 13
30. 56 Luke Remmer 13
31. 212 Kristjan Ratsep 8
32. 232 James Lassu 7
33. 178 Ben Taylor 5
34. 532 Robert Hamilton 5
35. 76 Chris Bastick 5
36. 771 Luke Wilde 3
37. 30 John May 3
38. 711 James Cottrell 3
39. 78 Ashley Thomas 2
40. 44 Luke Mellows 2
41. 334 Ricky Mair 1
42. 808 Brad Turner 1
43. 52 Andrew Wilson 1
44. 28 Alan Keet 1
45. 185 Lewis Rose 1
---
2007 Australian Motocross Championship
Round 10: Coolum
August 12, 2007
Pro Open Race 1
1. C Cooper (Honda) 33m06s
2. D Hurley (Suzuki) 33m23s
3. T Carrol (Suzuki) 33m35s
4. C Boyd (Yamaha) 33m40s
5. K Mosig (Honda) 34m05s
Race 2
1. D Reardon (Kawasaki) 33m32s
2. C Boyd (Yamaha) 33m35s
3. J Marmont (KTM) 33m45s
4. L Ellis (Honda) 33m55s
5. D Hurley (Suzuki) 34m18s
Pro Open Standings
1. D Reardon 426
2. D Hurley 367
3. C Cooper 356
4. J Marmont 350
5. T Carroll 260
Pro Lites Race 1
1. J Moss (Yamaha) 32m02s
2. P Boyle (Honda) 32m07s
3. L Stewart (Honda) 32m09s
4. A Monea (KTM) 32m11s
5. L George (Yamaha) 32m14s
Pro Lites Race 2
1. J Moss (Yamaha) 32m24s
2. M Phillips (Yamaha) 32m31s
3. M Addison (KTM) 32m35s
4. M Hoad (Kawasaki) 32m37s
5. L George (Yamaha) 32m37s
Pro Lites Standings
1. J Moss 434
2. M Hoad 321
3. D Anderson 285
4. K Tobin 281
5. M Phillips 271
Under 19 Race 1
1. L Bopping (Suzuki) 23m18s
2. D Ferris (D Ferris) 23m23s
3. T Waters (KTM) 23.26
4. B Harrison (Yamaha) 23m47s
5. K Gibbs (Yamaha) 23m48s 5
Under 19 Race 2
1. T Waters (KTM) 23m19s
2. L Bopping (Suzuki) 23m26s
3. K Gibbs (Yamaha) 23m29s
4. B Harrison (Yamaha) 23m53s
5. J Ringwood (KTM) 24m15s
Under 19 Standings
1. B Harrison 293
2. T Waters 291
3. K Gibbs 254
4. 3, D Ferris 239
5. L Bopping 231


---
WORCS
Round 8: Straddleline ORV
August 12, 2007

1. Nathan Woods
2. Kurt Caselli
3. Bobby Bonds
4. Ricky Dietrich
5. Robby Bell
6. Ty Davis
7. Lance Smail
8. Mike Kiedrowski
9. Jason Raines
10. Eric Rhoten

For road racing results visit www.roadracerx.com.

If you are a race promoter and would like to see results from your event on Yamaha's Monday Wake-Up Call, please contact Gregg Lowley at [email protected].
Share this article:
Did you like this article?
Check out MONSTERBALL
in our Latest issue of Racer X available now.

Playing soccer on 250cc motorcycles might sound like a strange form of riding, but in Russia they do it with great passion—and for very little reward. Page 112.