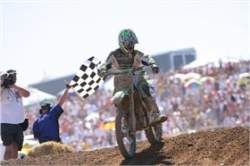 Langston broke his ankle winning this moto

photo: Simon Cudby

This year's outdoor series has the juice to be the best ever, and not just from a racing standpoint. One of the emerging elements of the outdoor series is how much fun they have been to attend. As I glance over to weather.com and see that this weekend's event is set to take place under a blanket of gorgeous 85 degree California sunshine, this year's Hangtown Classic should see one of the largest contingent of fans in its rich history. They will have quite a show waiting for them when they get there, so let's get Revved Up for the inception of a new quest for another AMA title.

Lites

This has been the class to watch for the better part of the last decade. Although the criteria for making the class so exciting has changed. About five years ago it was the battle of veterans vs. the new kids. As the 2007 series comes into focus, the face of the class has changed. Those veterans are either racing James and Ricky now or moved on, while the young cubs that are still in the class are now battle-hardened bears of handlebar banging abandon. I think we will see no fewer than six different moto winners over the course of the season in this division. And while it is a pretty staggering fact that three of them will be on the Monster Enery/Pro Circuit team—Villopoto, Townley and Brett Metcalfe—the other guys that will win motos and races stand a good chance of chopping down the Jolly Green Giant's beanstock.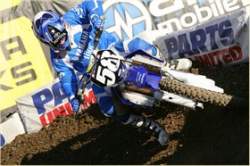 Will Hill make some noise outdoors?

Yamaha of Troy's Jason Lawrence has been waiting for the outdoors for months. This is his year to shine. He has an excellent bike and the speed to get the job done. Does he have the head and the lungs? The first drop of the gate will tell.

Beyond Team Pro Circuit and the Fifth Dragon stable of J-Law, Morais, Matt Goerke and Kyle Cunningham, comes the Big Red brigade. This two-headed monster consisting of Factory Connection and factory Honda should shake the class up quite a bit. Tommy Hahn is expected to win races and if he can stay healthy and start in the top 20 he will do just that. Josh Grant might prove to be the biggest revelation among these boys. Last year he was just barely missing the mark and I think the three years he has spent burning 30 minutes plus 2 are going to play into his favor. And the newest rider with a wing and a prayer, Jake Weimer, will also be bringing the heat.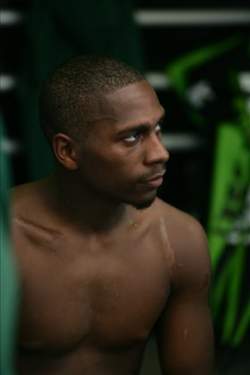 Is James ready for the outdoors?

But Josh Hill is my pick to be the biggest surprise. I saw him ride to the podium last year at Broome-Tioga like he had been doing it for years and he was pouring it on during the second half of the supercross season after his hands healed up. And, I don't know, with that long blond hair flailing out the back of his helmet – he kind of reminds me of another young, hard charging Yamaha racer from years back… Hill may be the west coast version of the original youth gone wild, Damon Bradshaw!

And how fast does Makita Suzuki's Ryan Dungey ride outdoor motocross? We'll see!

There is a lot of juice in this division. When the gate drops for the first points paying moto this Sunday, there will be 40 different versions of the same dream grabbing gears into the first turn.

Motocross

I've been reading a lot of old school sports writing recently. It just seems like the heroes are all gone now days. Those who covered motorsports in the '60s and '70s were fortunate to enjoy these amazing, larger-than-life personalities that enthralled millions. Legends like Muhammad Ali, Joe Dimaggio, Joe Namath, Junior Johnson, AJ Foyt, and Richard Petty were superstars with reputations that made them seem larger than life.

Well, we've been standing in the midst of our own hero all this time, perhaps not realizing the significance of what we were so fortunate to see. We're running out of chances to write about Ricky Carmichael's motocross efforts. All that remain are these last handful of golden opportunities to see The Greatest Motocross Racer of all-time race outdoor motocross. The conditions will be perfect and he will be racing the most incredible talent the sport has ever seen in James Stewart.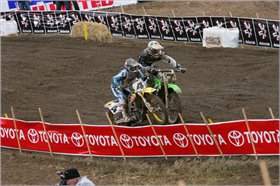 Will we see this kind of battle again this year?

Hangtown has produced some monumental battles and played host to some of the most intense, bottom of the gut, performances in outdoor motocross history. Remember Bobby Bonds trying to hold off Grant Langston? Remember Grant Langston making up four seconds in the final lap to catch Mike Alessi? Remember last year when Carmichael and Stewart cut through the rain, teeth grit, swapping positions all the way through the pack?

Get ready to see something special this weekend. There will never be another Hangtown like this one. When the 30-second board goes sideways for the first moto of the Motocross class, put your hands together and scream. And if you're not there, pull up a chair next to internet and listen to the live Racer X webcast on www.motocross.com. It's going to be really cool!
Thanks for reading, see you next week.