Number Cruncher: Rare Digits
Welcome to the Shift Number Cruncher. Okay, you will be hard pressed to find more variety than the Cruncher as of late. We are switching things up once again and will be coming at you with yet another fresh approach to looking at motocross numbers. This time we have uncovered some numbers that most of you have either forgotten about or never heard of in the first place. All the same, these are some very important motocross numbers and are symbols of very important dates in the sport. This is the first installment of this "Rare Digits" angle of the Shift Number Cruncher. Let's just call it Volume 1x.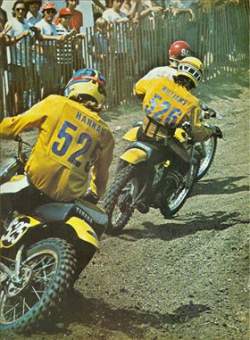 Bob Hannah
photo: Dick Miller Archives
When a Mototalk conversation brought up the question as to what
Bob Hannah
's first AMA Pro number was, we had to use an extra heavy sinker on our line to get to the bottom of the archive pool, but we found this nugget clinging around the bottom. No way those fans along the fence line could have fathomed the scrawny rookie running the #525 would eventually become the "Hurricane" himself. Most people's memories of Hannah begin with his #39 at the '76 Florida Winter-AMA Series, where he blew in like a storm… Hence the nickname that Jimmy "the Greek" Gianatsis came up with for the Yamaha legend-in-the-making. (Also make note of the extra gnarly kidney belt on Williams.)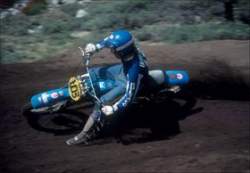 Rich Eierstadt
photo: Dick Miller Archives
This is way, way, before the Yamaha blue or the #103 Tortelli era. Check out
Rich Eierstadt
's form as he fillets this loamy Mammoth berm. What a cool shot! Left boot slicing through the mulch, open-faced helmet, no crossbar bad, and a blue Bultaco… Sweet. The reason he doesn't have a finger on the clutch is probably because it would take all four to pull it in!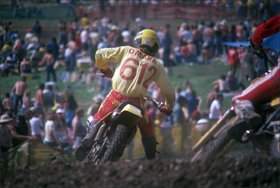 Johnny O'Mara
photo: Dick Miller Archives
Johnny O'Mara
was known as a consummate style king throughout his career. Obviously this took some work, because he was certainly hurting during his rookie year as he ran a not-so-ominous-looking citrus ensemble. To his credit, the riding style is already looking sano flush. Everyone that knew #612 was Johnny's rookie number and not the more recognizable #101, raise your hand – that's what I thought!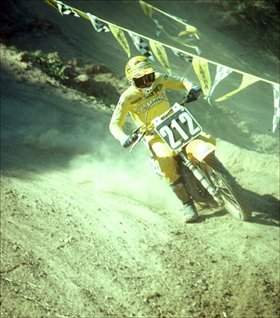 Ricky Johnson
photo: Dick Miller Archives
Not sure what is more odd in this shot of
Ricky Johnson
: the extra wide handlebars or the gargantuan number plate with #212 adorning it. No chest protector, no cross bar pad, and an open face were sure signs that RJ was a bad dude… Did you know he won the last moto of the 1981 AMA 125cc National MX Series at Carlsbad?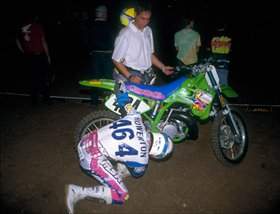 Kent Howerton
photo: Dick Miller Archives
Kent Howerton
won two Trans AMA titles in '79 and '80, the 500cc title in '76, and two AMA 250cc championships in '80 and '81. One would think that we would have been used up by the time the grand 1980s came to an end. No way, "The Rhinestone Cowboy" came back for more…. Here he runs #464 in 1993, the year he tried to qualify for the Houston SX, a full decade past his prime.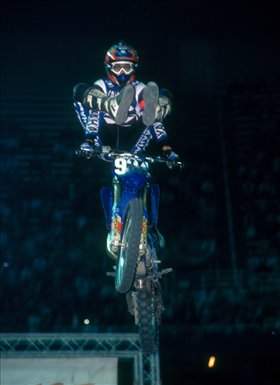 David Vuillemin
photo: Simon Cudby
When
David Vuillemin
crossed the pond to join the American circuit he was something an oddball. He ran his levers way high, he was about 6'3", had weird "First" gear, wore #934, and had that "Cobra" style. Since then, things have smoothed out considerably for DV12. He ended up marrying an all-America hottie, has compiled 10 AMA wins, and is one of the coolest riders on the starting gate.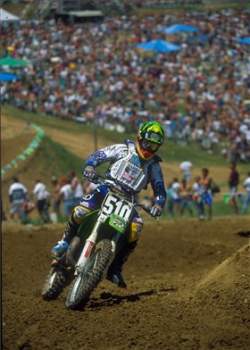 photo: DC
It was a hot and sunny afternoon near the Mason Dixon line in 1994 when
Kevin Windham
used #510 to shock the world. He holeshot and led the first moto of the
High Point
National to the white flag. While Doug Henry ended up passing him for the moto win, Kevin went on to tally 27 wins in his very impressive career. He still has the juice to win some more too. By the way, he wanted to wear his amateur number--#511—but someone else had it that year. Wonder who and where that man is now?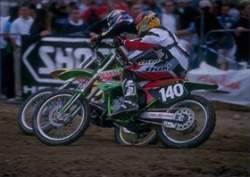 photo: Simon Cudby
In 1997,
Ryan Clark
teamed up with Phil Lawrence, Shae Bentley, and Pedro Gonzalez on the Team Tecate Beer-sponsored squad. He didn't make much noise there but has gone on to own his own privateer team and puts out a very entertaining column in
Racer X Illustrated
every month. He's also about to become a father of two!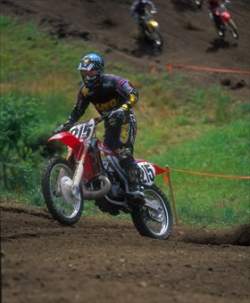 Stefan Everts
photo: Jim Sanderson
There have been a few times that
Stefan Everts
has raced in The States. You may recall him giving supercross a try wearing #111 wearing Bieffe gear on a Suzuki—and looking exactly like Greg Albertyn would three years later—but not very many of you probably remember him showing up at
Unadilla
several summers later. "The King of Motocross" took to the hills of
Unadilla
wearing #215 and put in a top five ride against Albertyn, Emig, Dowd and more. Had he not crashed right at the top of Screw-U, he might have won that day!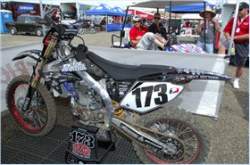 Brian Deegan
photo: Steve Bruhn
The General of the Metal Mulisha used to be a really, really fast Team Green racer that ran #273 (and a pink hair scrunchie) during his amateur days. After an astonishing career in FMX
Deegan
decided to give pro motocross another shot at
Hangtown
last year. He ran #173 and only lasted one lap of practice, but he is still one of the baddest dudes to ever throw a leg over. Check out his DVD, "
Disposable Hero
" to see why.
That's all we have this week and we hope you enjoyed it. Stay tuned for Volume 2 in the weeks to come.