Juha Salminen won another close one in Kentucky.

Ray Gundy photo.

The days of Juha Salminen completely dominating Suzuki Grand National Cross Country races appears to be on hold for the moment. But even though the competition is getting closer, Salminen is still getting the wins, and that's all that really matters.

"I was sure we would have the challenge this year, but it looks like I'm ready for the challenge," said Salminen after winning the Tire Balls Spartan GNCC over the weekend, the eighth round of the series. And the challenge was there, as the Am Pro Yamaha duo of veteran Barry Hawk and rookie sensation Charlie Mullins once again pushed Salminen to the end. Juha topped Mullins by just two seconds at the end of three hours of racing, with Hawk just inches behind them in third in a near photo finish.

It's a big contrast from the first four rounds of the series, where Salminen led every lap of and won by margins of well over one minute. The last four rounds of the series have been nail biters, as Mullins and Hawk have provided a challenge at every turn. Hawk, in fact, busted through to win the previous round of the series at the Wiseco John Penton GNCC in Millfield, Ohio. Many expected Salminen to come to Kentucky fired up and read to dominate, but once again he found himself facing a stiff challenge from the Yamaha boys.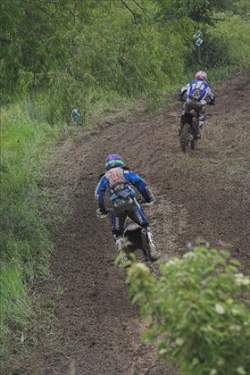 Charlie Mullins chased Salminen to the finish, but came up two seconds short after three hours of racing.

David Scearce photo

Right from the start, Mullins grabbed the $100 Racer X Holeshot Award and Hawk soon filed in behind him. "I got the holeshot," said Mullins. "We got into the single track, and it was tough. It wasn't rode in yet. It was tough and I wanted to wait for the next lap when you could read the trail. You wanted to be careful, because of the rocks and stuff. I made a mistake and Barry got by me. Then Juha caught us and we went back and forth all day. It was fun. It was probably the most fun I had all year."

"I got a pretty good start and I was out there battling with Mullins," said Hawk. "It seemed like I was a little faster in the tight stuff, but when we would get to the open stuff he was faster. I wanted to get ahead of him in the tight stuff so we could hold that lead over Juha. But he caught us. Once he did I think we picked up the pace a little bit. We went back and forth."

Salminen had to work hard to catch them, because he got a horrible start and entered the woods nearly last. "I'm not sure what happened, I think maybe my foot slipped off the kick starter," said Salminen. "From the start I was dead last. I had to do a lot of work in the first two laps to pass all of those guys. It was hard. I had to use a lot of energy."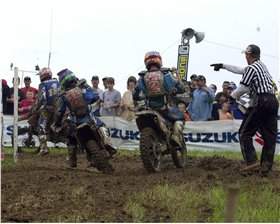 It was this close between the top three at the finish.
David Scearce photo

After three half-hour laps of racing, Salminen had finally worked his way to the leaders. After coming from so far back, it seemed like he would simply pull away, but this time Hawk and Mullins were able to stay on his fender and push him to the end. All three came charging toward the finish line at the same time, but Juha held his ground and took the win in the closest race of the year.

"It was a good race, it was probably the best race we had all year," said the Finnish-born Salminen. "I'm satisfied."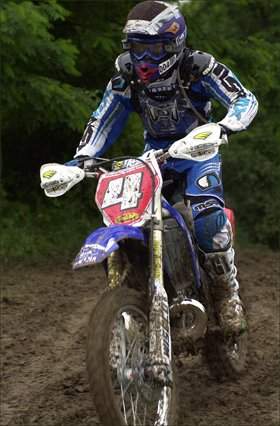 The 20-year-old Mullins is getting close to that first GNCC win.

David Scearce photo


"I wasn't as nervous on the last lap," said Mullins, who lives close to the track just over the Ohio border. "I was trying to stay calm. I had a couple of spots picked out. There were some uphills and stuff, but it was hard to pass. There was a lot of single track. I tried, but Juha rode a great race. I just want to thank the fans. I had a lot of fans out here and they really helped keep me motivated today."

"I'm sure this makes it good for the spectators and TV and stuff, but I'm not happy with third," said Hawk. "With two laps to go, a lapper stopped in front of me. He made me fall over and I fell into Mullins, too. I thought, 'Well there goes Juha.' But we ended up running him down again. It was fun."

"Some parts were really soft, but other parts were just hard lines," said Salminen of the muddy track. "It was really difficult at parts. On the single track, I would look back and they were stuck right on me. There was no way on a track like this that you could build a big gap. I just tried not to make mistakes. The funny part was, the last uphill on was the hardest part. You could take the best line and lappers could be there and you could get stuck. So you had to wait with the lappers to make sure you could get through it."

"I've said it before, but it's like the draft in NASCAR," said Hawk. "You have to be at the right place at the right time. On the last lap, there was a section before we got out into the open. I had passed Juha there before. But on the last lap a lapper kind of cut me off. I just couldn't get the drive. I know he wasn't going to let off there at all. None of us were going to let off! I tried to run the inside on Mullins right at the finish, but he got me."

While just seconds separated the front three, another big battle loomed for fourth, and it was ultimately won by Paul Whilbley, the New Zealander who is living in Kentucky to train with five-time GNCC Champion Scott Summers. Whibley took his Parts Unlimited/Moose Honda to fourth while Summers himself came out and raced, finishing 12th overall and winning the Vet A class.

KTM's Robbie Jenks finished fifth, with Andrews Suzuki's Jimmy Jarrett in sixth and Justin Williamson in seventh. FMF Suzuki's Glenn Kearney finished eighth, and amateur riders Jesse Robinson and Thad DuVall rounded out the top ten overall.

The Spartan GNCC track was soaked with overnight rain, and that led to one of the toughest races in years for the Youth and Morning race competitors. Many riders struggled to complete just one lap of the slick course. The Racer Productions crew added in seven miles of new single-track trail for the afternoon race, and by then the track had dried out just enough to lead to great racing.

The Suzuki GNCC Series continues in two weeks with the Parts Unlimited Wisp GNCC in Deep Creek, MD. For more information, log on to GNCCRacing.com.


Results:
Suzuki Grand National Cross Country Series - Round 8
The Tire Balls Spartan GNCC
June 11, 2006

Bike Top Twenty Overall
1. Juha Salminen Finland, KTM 02:47:41
2. Charles Mullins Hamilton, OH YAM 02:47:43
3. Barry Hawk, Jr Smithfield, PA YAM 02:47:46
4. Paul Whibley New Zealand, HON 02:50:28
5. Robbie Jenks New Straitsville, OH KTM 02:51:18
6. Jimmy Jarrett Beloit, OH SUZ 02:51:27
7. Justin Williamson Sanford, FL YAM 02:51:43
8. Glenn Kearney Australia, SUZ 02:58:04
9. Jesse Robinson Connellys Spg, NC KAW 02:59:31
10. Thaddeus Duvall Williamstown, WV YAM 03:00:07
11. Travis Green Vinton, OH KAW 03:05:04
12. Scott Summers Petersburg, KY HON 03:05:08
13. Scott Watkins Leetonia, OH KAW 03:06:24
14. Garrett Edmisten Vero Beach, FL KAW 03:07:19
15. Joseph Scherer Renfrew, PA YAM 03:08:55
16. Nathan Kanney High Falls, NY YAM 03:09:03
17. Bryan Henson Landrum, SC KTM 03:09:53
18. Chris Gallt Eagle, MI KAW 03:10:13
19. Brian Guenther Grove City, PA YAM 03:10:31
20. Tony Hall Alexandria, OH KTM 03:10:37


Suzuki GNCC Points Standings (After 8 of 13 rounds)

1. Juha Salminen (235/7 wins)
2. Barry Hawk (148/1 win)
3. Charles Mullins (142)
4. Glenn Kearney (121)
5. Paul Whibley (107)
6. Jimmy Jarrett (92)
7. Fred Andrews (91)
8. Mike Lafferty (90)
9. Shane Watts (79)
10. Robbie Jenks (71)