BTO Sports is your number one source for all of your motocross parts, gear, accessories and apparel. BTOSports.com is a motocross company that is truly dedicated to the sport and to the customer. Proud sponsor of your Racer X Podcasts and the BTO Sports race team.
I've been on the road for what seems like weeks and weeks, and two weeks off in the last six months caused most of the moto industry to grab onto last week's off-weekend like Tom Hanks to that volleyball. There wasn't much of a chance that anyone who follows the grind was heading any further than the corner store on Saturday or Sunday. But oh no, not me. I have something wrong with me. My wife thinks I'm allergic to her but on the next off-weekend for the Nationals she's heading to Nebraska for the weekend so clearly, we're not fans of spending time with each other. It's almost like we had to get married just so I could get a green card. (Insert uneasy laugh here). For me, I saw the break as a chance to head to Canada and check out a round of the CMRC Nationals! Canada? Hells yeah!
So off to Calgary I went for round three of the series that suffered a big body blow last week with the injury to Red Bull KTM's Colton Facciotti. With Brett Metcalfe heading up to Canada to race it was expected to be a Battle Royale with Facciotti and Metcalfe. Colton's a three-time MX1 champion and in my opinion, a world-class talent. Although besieged by injuries the last two years, he's still the best rider Canada has and is someone that could pose a challenge to Metcalfe's expected romp to the title.
At round one, on a track Faccioti goes very fast on, he went 1-1 in two dominating rides. It was all set for a great title battle for the now departed Matt Goerke's MX1 number one plate. And in the third moto of the year Metcalfe and Facciotti were 1-2 with about a 10-second lead when a perfect storm of crap came together to put Colton on the sideline for the year. I wasn't there but in talking to a bunch of people who saw it, it seems that a little bit of blame could be assigned to everyone.
First, Facciotti went down on the backside of a blind jump and instead of running to the top of the jump waving his hands or running off to the side of the track (like I've seen many other riders do over the years) he slowly picked his bike up, pulled a tear-off and adjusted his levers. That's mistake number one. The flagger didn't do his job, not effectively directing the oncoming riders away from Colton's side of the jump (shocking I know, a flagger not really doing the right thing. Let me steady myself here, the room is spinning), which is mistake number two. Then the next group of riders seemed to ignore the flag, delivering a one-two blow to Colton. First Tyler Medaglia clipped Colton in the air and knocked him down. Then Teddy Maier landed right on him, which was the crushing blow. It broke Facciotti's leg, hand and God knows what else.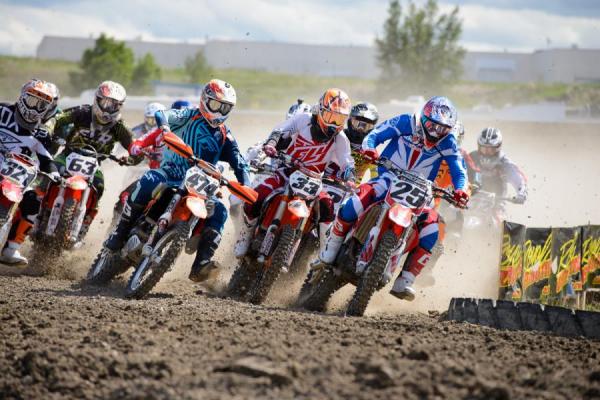 The Canadian Nationals returned to Calgary for round three.
James Lissimore photo
Like I said, Colton should have been more alarmed and more in a state of panic to get going, the flagger should have walked out on the jump and waved the flag like he was having a seizure and the riders should have, you know, slowed down a bit. It's a real shame, and it marks three straight years of devastating injuries to Colton and three straight years in which he could've added to his Canadian legacy.
The CMRC instituted a rule over the weekend where if you get air with a red cross flag out, you're docked ten spots. That was it, no discussion at all. Good on them for doing this (although Facciotti is probably thinking it's a week too late). The rule was tested this weekend when a rider went down hard in the first MX1 moto in a blind spot and looked to be out cold. The flaggers did their jobs and the riders did theirs as they stayed on the ground and rolled the tabletop.
The Calgary track is something that any promoter anywhere in the world would probably sell their soul for. It's located right there in the middle of Calgary and its location and geography are a dream for anyone looking to get a race going. It's government land that is in no real danger of being developed and it's granted to the Wild Rose MX club to have open riding so riders and families can come out after work and putter around. It's got hills, decent soil, nice jumps, an over-under bridge (you have no idea how excited this made me) and it's right in the middle of the city! Seriously, look at the pictures. It's right there man! That sound you hear is MX Sports holding meetings to see if they can somehow invade Calgary, declare it U.S. land and immediately hold a Lucas Oil Pro Motocross National there. It's that good. Well, it's not all good. They still have a concrete start there. Hey, Wild Rose, 2001 called- they want their start pad back. Hey, you can't have everything perfect!
Brett Metcalfe should be bitter and pissed off that he's racing in Canada. Of course, being the nice guy that he is, he's probably not. Metty has won an AMA 450 National, he's a consistent top-five guy outdoors and top-ten indoors and he couldn't get anyone to pay him an actual wage to race in America this year. It's amazing, right? Think of all these guys that are making good money to race supercross and motocross in the United States and then think about how many of these guys Metcalfe beat down on the track nine times out of ten. Yeah, I agree, it's whacked. I know he was injured and maybe not ready for A1, but c'mon people, stop hiring these guys cause they're at your after-party, or because some dude from your outside sponsor who knows nothing about racing likes to party with them. Meanwhile Metcalfe just sits there, a nice guy, a professional through and through and he's got nothing? Ridiculous.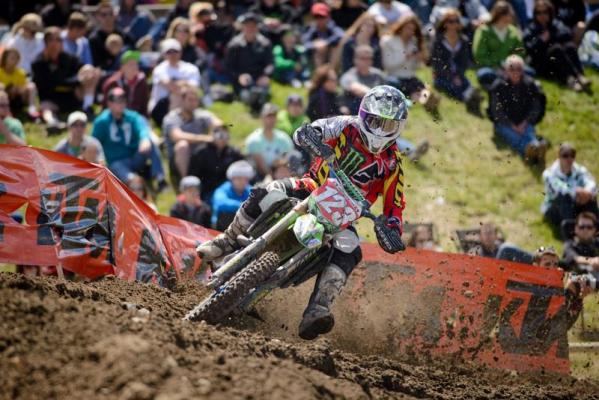 Brett Metcalfe rode to perfect 1-1 scores and is in command of the points lead.
James Lissimore photo
Anyway, Metcalfe swept Calgary with 1-1 scores and looked great in doing it. He's the heavy favorite to win this MX1 title and like Matt Goerke did last year, he's looking to use this year in Canada to get back down south and get back to his old level. Maybe he can, maybe he can't, but one thing's for sure: he seems to be enjoying his time up north. In the second moto he had Tyler Medaglia crash right in front of him and was around fifteenth or so on the first lap. I really thought it'd be tough for him to win the moto and I even Tweeted that. Bobby Kiniry was out front and pushing hard to break away, and at one point Bobby's lead on Metty was over ten seconds and eight riders. And of course, Kiniry being Kiniry, he was pushing hard.
But Metcalfe showed what a world-class rider does, which is making things happen. On a narrow track that was rutty and rough, Metcalfe used superior lines and sliced through his main competitors to get into the lead at around halfway. It was stunning, really. I figured he'd be hard pressed to get into the lead at all and if he did manage to do it, it surely wouldn't be until late in the moto. But he made it look easy, and it looked like he would pull away for another cakewalk win. The word "cakewalk" is a buzz word right now in Canada, by the way.
Except that Kiniry, no doubt not very happy about this development, picked up on some of Metcalfe's lines and started catching back up a bit. It was awesome and amazing all at the same time. Metcalfe ended up winning but it wasn't without a fight from Kiniry and third place Teddy Maier. It was a great race to the end with all three guys avoiding lappers and pushing hard. One mistake by any of them would've changed the outcome of that moto.
Kiniry went 3-2 on the day (he came from around tenth in the first moto to that third) for second overall. There's a feeling that Bobby could be someone that could try and push Metcalfe. He's got to get a start to make that happen because if Metty gets out front early and you're not right there to see where he's going and trying to push him, forget it. Metcalfe's speed, skill and fitness are all on point and he's also got three straight weeks of sand tracks (where he really shines) coming up. Still, Bobby's a veteran of racing in Canada, he's not going to let this fight be easy for Metcalfe.
I did pre-season podcast with some other guys making predictions on the Canadian Nationals. I mentioned that I thought Jeremy Medaglia's decision to ride MX1 on Yamahas as being a bad idea. I thought this for a couple of reasons. The first is that he's a very talented guy who could win the MX2 title, and winning a title is better than riding around in fifth or sixth in the MX1 Class. The second is that I thought that his riding style wouldn't fit a 450 that well. He's an aggressive rider with a pin-it-to-win-it style, which often leaves you on the ground on a 450.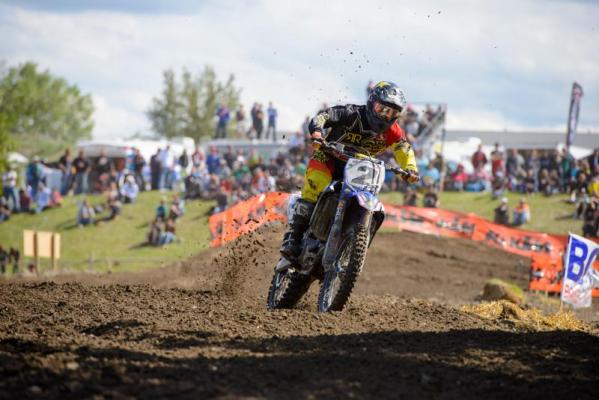 Bobby Kiniry led early in moto 2, but was unable to hold off Metcalfe.
James Lissimore photo
But Jer-Bear is proving me wrong with some great rides. He finished second in the first moto, and in the second moto he was right there in third when he went down. That knocked out of the Metcalfe/Kiniry/Maier battle in that moto, but he still rode great to get third overall on the day with 2-4 scores. His battle with brother Tyler in the first moto was epic, as in epically awesome to watch, but probably also epically bad for any sort of decent sibling relationship. This just in, Jeremy Medaglia is fast and a real surprise three rounds in. This just in, I was wrong (shocking I know) about Medaglia and his decision to ride a 450.
So far this season Leading Edge Kawasaki's Austin Politelli has won five out of the six MX2 motos and to me, that's a real surprise. The soft-spoken kid from Southern California doesn't strike me as an outdoor warrior type of guy, but he's in terrific shape and is laying a beat-down on the other MX2 guys. He crashed while leading on lap one or two of the first moto and was probably ten seconds down on the leader before just getting on it and getting into the lead. He's been a real surprise to everyone. When he was up there racing in 2011 he was fast, but not this fast.
The supercross season went well for Austin. Up until some races late in the season, he was in the mix for a top ten overall in the series as a privateer. He's also a bit big for a 250F. He's got a real smooth style and doesn't look to be really pushing it out there. As I said, I'm surprised and impressed by Politelli. If you're a USA team manager looking for an up-and-coming kid, get this guy's number.
Red Bull KTM came into the season loaded with Facciotti, Dusty Klatt (a past MX1 champion and a perennial podium rider) and MX2 rider Kaven Benoit. They picked up the Blackfoot Yamaha riders last year when that team folded, but the old-school 450SXF wasn't the best bike for the guys. Last year, the suspension didn't fit the riders and Klatt struggled while Facciotti got hurt and Jeremy Medaglia, while fast, didn't do as expected and win in the MX2 Class. So it was a tough 2012 for the guys and this year, on the new Dungey-replica KTM and with a new suspension guy, the thought was KTM was going to be on top in Canada.
But Klatt blew out his ACL and won't be back until the East Coast. Facciotti now has a broken leg, fill-in rider Tyler Medaglia got a late start with the team and has been up and down (he was down in Calgary) and Benoit, well he's been okay, but from what I saw in Calgary, he's got a lot of work to do to catch Politelli. In short, it's looking like another long year for the KTM guys, as the pre-season promise has once again faded to the harsh reality of racing dirt bikes. The old adage of crap happens, does indeed happen.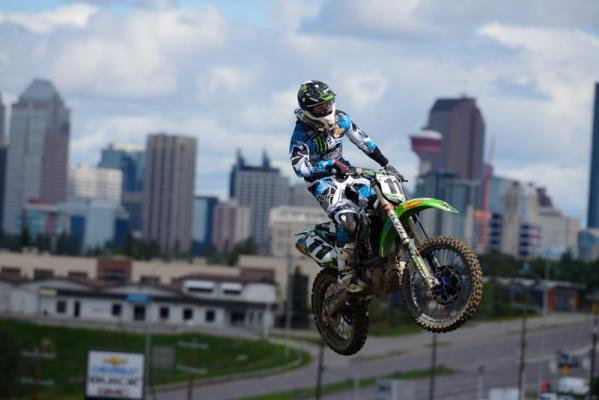 It was a tough day for Teddy Maier in Calgary.
James Lissimore photo
Interesting paths that the two leading teams in Canada take. The Red Bull KTM team, while mimicking the exact look of KTM motocross teams worldwide, chooses to employ only Canadian riders to boost that brand's image with Canadian fans. The Leading Edge Monster Kawasaki team has the approach of "We don't care where you're from as long as you can win races" strategy. They employ all Americans and one Australian (Metcalfe, Teddy Maier, Politelli and Tyler Villopoto). I'm not saying that one team has a better way of doing it than another, it's just different thinking, that's all. So far, the Leading Edge guys have to be happy with what they're doing, as they won both titles last year and have both point leaders so far this year.
Benoit works closely with Jean-Sebastian Roy (the second-best Canadian rider ever by the way, only behind the mighty Rollerball) and he'll be a lot better when the series heads east, but he's already forty points down to Politelli and needs to get on it. Of course if you're KTM head honcho Andy White you're pretty much banking on the fact that Politelli could go out with a DNF at any time. The Leading Edge Kawi guys have had a lot of failures in the past two years, and two just on Sunday.
Going up to Canada has been a real boon for MX2 riders like Topher Ingalls, Josh Clark and Brad Nauditt. All three guys are Americans and are top five in the points with small independent shop teams helping them out along the way. They're all fast and are doing well with the support they have. Instead of struggling in America, they get to come up north, make a little bit of money (key word, little) and run up front. It's a good deal for them.
Speaking of little money, years ago the CMRC switched the MX2 Class from a regional series to be a single nine race series that goes alongside the MX1 guys. But they didn't change the purse money or time of the motos to reflect the MX2 Class being a real legitimate class. The purse money that these guys make is laughable, as is the fact they are still racing only twenty-five minutes plus two laps. This is a big-time, grown man class with factory efforts (or as much as factory gets in Canada) from Kawasaki, Yamaha and KTM and its time the length of motos and pay is equal to the MX1 Class. There's no reason to not do this and every year it's a slap in the face to the MX2 guys that they aren't equal to the MX1 guys.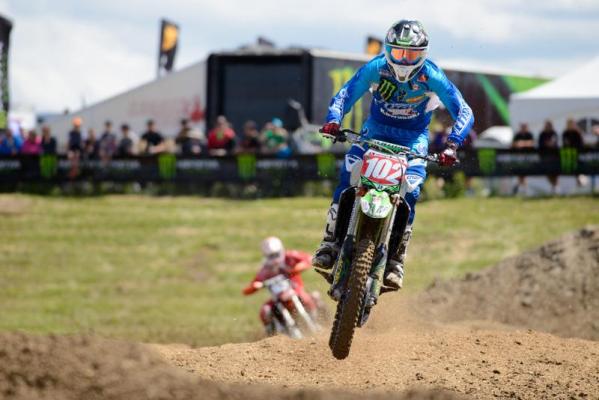 Austin Politelli has dominated the MX2 Class so far this season.
James Lissimore photo
Over the years the CMRC has seen fading entries as it becomes tougher and tougher to race motocross professionally (we've seen the same down here but it's at least holding steady now the last few years) and they've resorted to letting B riders race the MX2 Class and this year, allowing 250 two-strokes into the MX2 Class despite three of its partners not making two-strokes anymore (how they agreed to this is beyond me). It's nothing more than gimmicks to get entries but hey, whatever works, I suppose. I was looking forward to seeing how a top-flight rider like Shawn Maffenbeier could do on his OTSFF YZ250 but then he went out and broke his collarbone in the first timed practice of the year. As it was, there were a few 250 two-strokes out there in Calgary and Jared Stock did the best of them with a twelfth overall, although he got a great start in the first moto.
One rider that impressed me was Morgan "I need a" Burger. The kid from Idaho popped up last year and he was pretty good, but truthfully his name made me giggle more than anything else. Well, Morgan went out and with the help of Sewer Rat Racing (seriously) Burger'd himself a ride on a Yamaha YZF450 and he looked great at Calgary. He's a tick off the very top guys but he's the best of the rest right now and his fitness looks to be on point. Morgan came from fifteenth to a career best (I believe) fourth in moto one. In the second moto he was a consistent fifth for fourth overall on the day in the big bike class. Nice ride by Burger and congrats to Sewer Rat Racing for climbing out of the sewer and getting a great result. The only thing I can really complain about with Burger (and I can't complain about anything when it comes to real burgers) was that I think he needs much bigger numbers on his bike than what he's got now. The '70s called and they need their skinny numbers back, Morgan.
I feel for "Terrible" Teddy Maier. He always goes good at Calgary and the two-time MX2 champion is on a 450 this year and looking to make a mark. He's a quiet guy and his riding isn't flashy, so sometimes he gets overlooked. He was the fastest qualifier in practice and was catching Metcalfe in the first moto (from about five seconds down) before a hose clamp broke/came loose and he was forced to pull it in. Major bummer for him and the team. In the second moto he somehow pulled a good start from the far outside and rode great for a third. Don't sleep on Teddy getting a win before this series is over.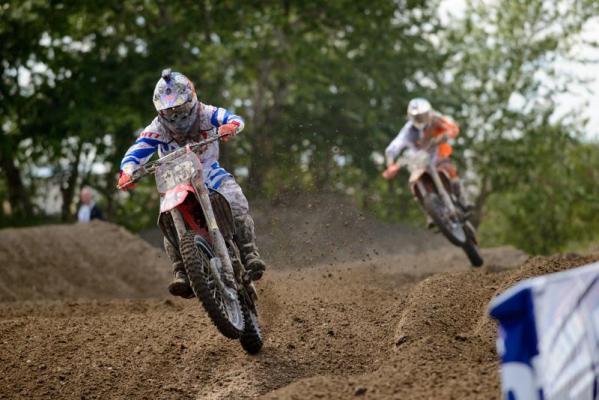 Topher Ingalls has had a good season up north.
James Lissimore photo
Tyler Villopoto was sick and his riding reflected it out there as he went 15-14 on the day (and seriously, he must have been really, really sick to go 15-14 because one thing that Canadian motocross isn't, is deep with talent. More on that later). As great as Politelli's season is going, Tyler's is trending downward on the 250F. He's off to a rough start.
Speaking about depth, the lappers in Canada are scary for the top guys. It adds another problem for the guys. Seriously, they're hazardous. I must have seen four or five really bad blatant incidents where lappers effed up a leader. It's not their fault, those guys are out there trying their hardest, but after the top fifteen or so it's really local guys just racing for fun. They're nowhere near the world-class caliber of Metcalfe, Kiniry or whoever. I'm sure they see the blue flags but it's like when I rode at Glen Helen on Thursdays; you see the fast guy coming but it's really an eye-opening experience to see just HOW fast they come up on you. I think that's it, no devious intentions by these guys but holy crap, they're moving obstacles for the top guys!
That's it for Canadian Observations. I had fun up there and I'm happy I went. Thanks to the Wild Rose MX people (Dustin and Krystal) for the pass and for being so friendly. It was a good time and if you want to talk Canadian MX, email me at matthes@racerxonline.com