Oakland, CA
Oakland
Monster Energy AMA Supercross Championship
BTO Sports is your number one source for all of your motocross parts, gear, accessories and apparel. BTOSports.com is a motocross company who is truly dedicated to the sport and to the customer. Proud sponsor of your Racer X Podcasts and the BTO Sports race team.
Round four of 2013 Monster Energy Supercross was in some ways, totally predictable and in some ways, a complete and utter mess. We're not any closer to figuring anything, but we do know that Ryan Villopoto is on a roll and that Eli Tomac, James Stewart and Justin Barcia now have a lot of work cut out for them if they want to win their respective titles. Never mind the commitment to excellence that the Oakland Raiders inscribe on this building. The Oakland supercross was a commitment to chaos.
First, the track. I thought it was pretty good except for the sand section, which had a berm built in the middle that made everyone follow each other on the inside. You'd have to be drunk or high to go to the outside berm. They fixed this somewhat before the night show but then the track guys went and added lips to the tabletop section that followed the sand. And I've said this a few times, you shouldn't radically change the track like this in between the timed sessions. Almost every single rider but James Stewart had a better time in the third practice because the section got much, much faster after the changes. What if you try a different tire or suspension setting and it doesn't work? Or worse yet, what if your mechanic screws up and you don't even make the third practice and all you have is your second session time on a track that was slower?
You can't do this fellas! If you're going to make track changes, do them after the first untimed session and then leave them until the night show where you can go out and groom and perhaps fix something. You shouldn't alter the qualifying track from one session to another. Anyways, the rest of the track was fine with some cool rhythms and corners that allowed some passing. Yes, there were whoops after the first turn that perhaps contributed to a huge wreck, but you have to put something after the first turn and it definitely shouldn't be a triple.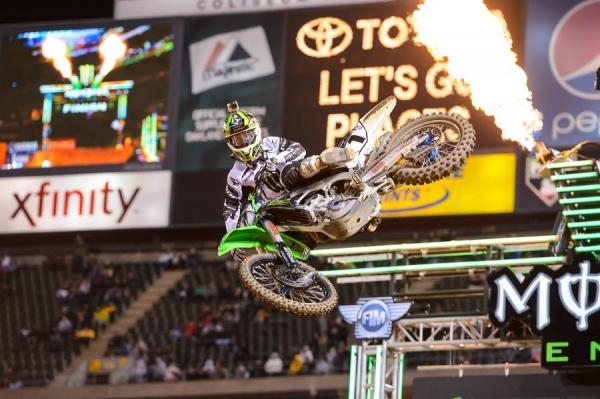 Ryan Villopoto won. That was simple. Everything else was pure chaos.
Simon Cudby photo
Speaking of the wreck, wow. The 450SX main event comes roaring out of the first turn and into a set of pretty easy rutted-out whoops. From there Chad Reed attempts to change his line and accidentally swerves from one side to another and cleans out six or seven riders. It was carnage man, looked like 'Nam or something out there. And to top it off, on the left side, a little bit away from Reed lay Justin Barcia, who hit the back of Ryan Dungey and KO'd himself. Reed, Josh Grant, James Stewart, Dungey, Barcia, Trey Canard and Bobby Kiniry all went down and the combined salaries that lay there in that turn were probably equal to everyone in the stands.
Stewart was out of the race with a busted up bike, Barcia was out with a busted up body, Reed and Grant were buried and the crash basically eliminated Canard and Dungey from winning (although a case could be made that Ryan Villopoto's actual riding eliminated Canard and Dungey from winning, but more on that later). It was a crazy, crazy crash.
If there was a percentage blame pie chart thingy, there's no doubt that Reed would get the lion's share of the blame for what appears to be trying to change his line down a whoop section (for more on this click over on Pulpmx.com, check out Swizcorner where he breaks the crash down frame by frame), but Reed's been too good of a rider for too long for me to just skewer him over a mistake. He was trying to set himself up for a move into second (I imagine his thinking was "Oh man, Villopoto is in the lead and this dude is going to be GONE unless I get there RIGHT NOW") and it didn't work. Reed himself got up and worked up to a twelfth but he definitely didn't look very Reed-like out there.
Air fork problems? What air fork problems? Remember those days where the TV show went back to RV's recent string of crashes and even though it looked to me like it had nothing to do with his new forks, they talked about how his new forks weren't working? Yeah, exactly. All he needed was some time to figure things out with a bit of testing and he's now gone 2-1-1 in the last three races to move closer to the points lead. RV was on fire all day, just like he was last week and even though Stewart had a faster practice time most people thought that Villopoto looked unstoppable. And he was. When he's at his best, he's using his rear wheel to control his cornering, he's riding aggressively and he's angry at the track. In Oakland, he was all of the above. A storm is brewing for every other rider in the 450 class and its name is Villopoto.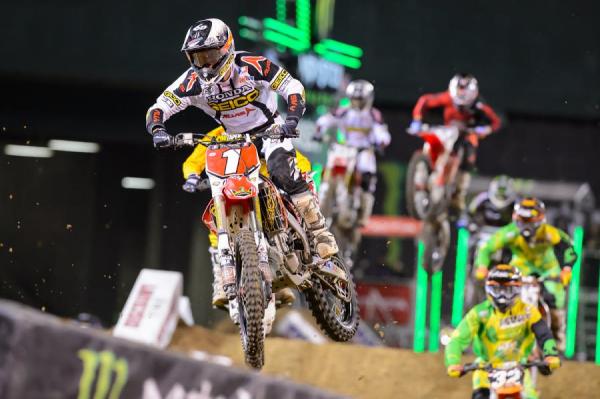 Not a good night for Eli Tomac.
Simon Cudby photo
I suppose that if we weren't taking Davi Millsaps seriously before this weekend, it's definitely time to start. The sign of a guy riding well is that nothing fazes him, last week he goes to the LCQ because of a mechanical problem but still pulls a start and almost makes the podium. This week he wasn't that good in practice, he only qualified sixth, and he didn't stand out like he has at other races. But yet, when the gate dropped he grabbed a start, stayed out of the carnage and finished second thereby keeping the red plate another week. I remember two years ago sitting with his coach Ezra Lusk and JGR team manager Coy Gibbs underneath the JGR tent while eating Wahoo tacos. Coy was furious with Davi and his lack of desire while Lusk seemed to agree but mentioned that he was getting better and was encouraged by what he was seeing. Smash cut to January 2013 and Davi's a new guy and is riding very, very well.
The 250SX class was turned right upside down this weekend when Kenny Roczen won and series points leader (and winner of three races in a row) Eli Tomac crashed out. It was a day that started with Roczen looking amazing every time he got on the bike (his scrubs on the first triple before the sand were ree-donk-ulous) and Eli looking fast but not superhuman like he has been. Roczen is now in the points lead with his win and Tomac, like last year, has his work cut out for him.
I was talking to KTM Head of Motorsports Pit Beirer last week in Anaheim and he mentioned that last year, he didn't see the fun loving Kenny Roczen for whatever reason. He said that Roczen has to be happy with everything that's going on with his life to ride well, which isn't unlike any other rider out there. But maybe Kenny being younger, this kind of stuff affects him more. I know that he didn't like the travel to the East Coast races last year and he seemed to wear down a bit as the National season went on before getting a second wind. Roczen's gone 2-2-2-1 this year and in Oakland, there was no doubt about him winning from the very first lap of the very first practice.
Last season Tomac had a big points lead that he lost when he crashed out of San Diego. He was two points down with three races to go and this year, his lead was only nine and he's fifteen points down with five races left so it's kind of the same and kind of not. The one bad thing about this year is it's the Roczen, Seely and Tomac show. He needs to get some people in between him and the German if he wants to repeat as champion because right now, Roczen and Seely are the only guys to challenge Eli. All that talk of an undefeated season had gone away, so now we watch to see if Tomac can come back and win the title at all. What a series!
We got a double dose of bad news for the sport this week with the announcements that the JDR J-Star KTM team is folding up after supercross and the Chaparral Honda team is folding up right now (by the way, did you see the press release from the Chaparral Honda team saying that they're announcing that they're "commencing" operations immediately? So are they folding or are they starting or perhaps starting the process to folding up? ) which leaves Andrew Short, one of the very best 450SX riders, without a ride. It's been a rough road for the team for a long time now and Short's been the one trying to put his best foot forward and just focus on racing under trying times. Unfortunately it all fell apart, so Andrew got a stock Honda (just a tad worse than the factory Honda he was on, as in "King Kong is a tad bigger than a zoo monkey") and was housed with the old Larry Brooks-managed team that's now called Kranyak Racing. Well we think they're called that, but we never saw a release before the supercross season that they were helping out Josh Hansen (who wasn't at the race due to what the team was calling an illness) and they have a blank semi-truck.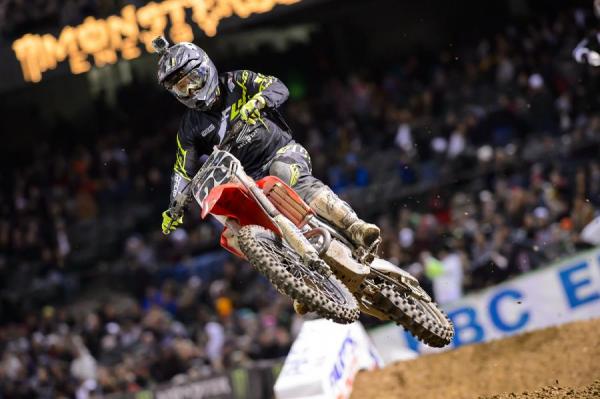 Andrew Short riding a Honda for a team that hasn't even given us an official name.
Simon Cudby photo
So yeah, uhhh, we're not really sure what is going on but I do know that Kawasaki, which supplied the team with support first for Dean Wilson when it was Jeff Ward Racing and then kept it when Hanny came aboard, is wondering if they can get Short on a green bike. Anyway, as it is, Short did pretty well on the bike, considering the lack of time in getting the bike ready to go. In fact, he rode great to tie a season best with a sixth. Is this a permanent home for Andrew? Will he stay on Honda? No one, including Andrew or team manager Paul Delaurier seems to know but I do know this – Andrew will find a positive spin to all of it and try his hardest in every which way to do the best he can.
Why wouldn't Honda just let Andrew keep the bike? Why wouldn't GEICO Honda just give Short Windham's Honda? The people on Twitter and on the message boards have all the answers right? It's just not that simple people. As Mike Genova, owner of the MotoConcepts team, said on the Pulpmx show it's 250K to just have a rider on the road, and GEICO appears to still be using Windham. I would imagine they're paying him as well. Then, of course, they can't take his bike away from him right? And Honda, well their contract was with Chaparral Honda and it was broken so they want their bike back. Totally understandable and there is a lot of liability if you're Honda with just giving out your bike to a guy that's sort of without a team. I was told that if Short puts together a proposal on his team and sort of reapplies for the bike, he could get it. Every single person at Honda loves Andrew Short and all that he's done for them and this fact is something that would help him. Let's just wait and see.
Let's take a look at the results shall we?
250SX
1. Ken Roczen Murrieta, CA KTM 250 SX-F
2. Cole Seely Murrieta, CA Honda CRF 250- Out of the possible 30 laps led in the last two races (two main events) Seely has led 21 of them but has a pair of seconds to show for his work which is a good/bad type of scenario. There's no doubt that there are three elite guys in the 250SX west series and Cole is one of them.
3. Jason Anderson Edgewood, NM Suzuki RM-Z250- Anderson got his second career podium in a great ride throughout the day. Bummer for him for missing the main in Phoenix, but he was awesome this weekend.
4. Martin Davalos Cairo, GA Kawasaki KX 250F- On paper, Davalos' finish looks okay but team owner Mitch Payton wasn't happy at all. He was frustrated as I've ever seen him after the race and he feels Martin and Tyla should be much better.
5. Malcolm Stewart Haines City, FL KTM 250 SX-F- Mookie had his best ride of the year and looked very fast. Like we discussed on the wrap-up podcast, he doesn't look as dynamic as he did in his rookie year when we all had Mookie fever but it's probably better for his health that he stays calm.
6. Joey Savatgy Thomasville, GA KTM 250 SX-F- With the news his team is folding up at the end of supercross Savatgy puts in another great ride and showed his speed. The only downside to this kids career is I had to unfollow him on Twitter, too much clogging of my timeline. Other than that, I'm on the Savatgy team!
7. Kyle Cunningham Aledo, TX Yamaha YZ250F- Having a quiet season, Kyle had his best race of the year in Oakland, going from sixteenth after one lap to seventh. And of course with Kyle there were a lot of close moments out there, but that's when he's at his best- that fine line between going really, really fast and eating crap bad.
8. Austin Politelli CA, Honda CRF 250- Politelli scored a career-best finish (he was ninth last year at New Orleans) on the HRT Honda. He's a big kid, but looks to have good style out there. Jason Thomas has been on this guy's bandwagon for a year or two.
9. Christian Craig Wildomar, CA Honda CRF 250- Craig's girlfriend did not deliver me another hot dog in the press box thereby ending her streak at two and I have nothing good to say about Christian. So there.
10. Zach Osborne Lake Elsinore, CA Honda CRF 250- Osborne was on the move up in the main when he developed clutch problems and had to sort of hold the fort. His shoulder is finally strong enough from his crash at Phoenix to allow him to ride during the week.
11. Tyla Rattray Durban, South Africa Kawasaki KX 250F- Does anyone know what's going on over here? Rattray tested this week to make his bike better and by all accounts was happy with the progress. But then he pooped the bed big time with this result. I thought Rattray could win races before the start of this year. I really did.
12. Travis Baker Romoland, CA Yamaha YZ250F- Baker was in eighth, Baker was in fourteenth and eventually Baker finished twelfth. An up and down main event for Travis in an up and down season.
13. Jessy  Nelson Paso Robles, CA Honda CRF 250- Nelson almost had yet another holeshot (all three of the TLD guys were in the top five in their haz-mat orange and green gear- it looked pretty sweet) and was looking good for yet another good finish. But he went down right around the time that his teammate Craig went splat.
14. Chris Plouffe Castaic, CA Honda CRF 250
15. Jean Ramos Corona, CA Kawasaki KX 250F- Jean Carlos Ramos stars in…THE MAIN EVENT!
16. Josh Cachia Murrieta, CA KTM 250 SX-F – Do you wonder if Cachia is out there wondering how it's possible that he flew 7000-some miles from Australia to the USA and he ends up battling with Kade Mosig who's also from Australia?
17. Kade Mosig Australia Kawasaki KX 250F- See above.
18. Killian Rusk Aztec, NM Honda CRF 250
19. Jake Canada Sun City, CA Honda CRF 250- Canada, coming off a fifth last week, had a strong heat race and then was dead last after a crash in the first turn. He got up to around the top ten but crashed again and DNF'd. Bad night for Jake and Canada. Wait? He's not Canadian?
20 1 Eli Tomac Cortez, CO Honda CRF 250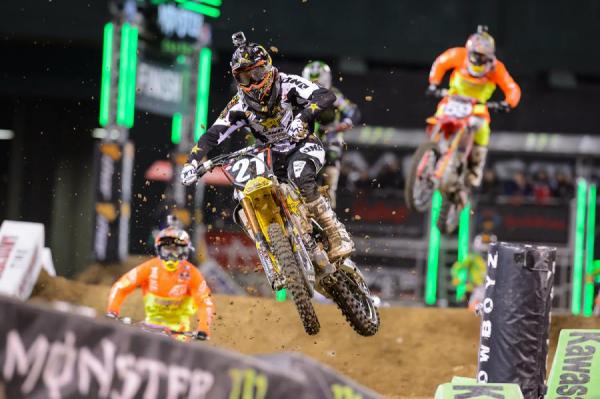 Jason Anderson was flying all day in Oakland. Roczen, Seely and Tomac are the big guns of this class, but Anderson is making a case for the future.
Simon Cudby photo
450SX
1. Ryan Villopoto Poulsbo, WA Kawasaki KX 450F
2. David Millsaps Murrieta, CA Suzuki RM-Z450
3. Ryan Dungey Belle Plaine, MN KTM 450 SX-F- Ryan's best ride of the year coming through some guys to get a third. He got caught up in that crash and his twelfth to third was impressive but again, his starts have disappeared this year. I really want to see what he can do if he is top three into the first turn.
4. Trey Canard Shawnee, OK Honda CRF 450- Trey followed Dungey through the pack until he fell again. Otherwise he would've been a lot closer to Dungey at the finish, as he was a little quicker than the KTM rider. Still, a fourth is nothing to sneeze at, all things considered.
5. Mike Alessi Hilliard, FL Suzuki RM-Z450- Mike's had a horrible start to his season, there's no doubt about that but in Oakland, he was great. A fifth is a terrific finish for him and the MotoConcepts team and guess what, it all started because of his, wait for it, starts. I was speaking to Tony Alessi and he's been mystified why Mike can't get the start in the main event. He told me, "It's either bike, mechanic or Mike and I'm trying to eliminate every one until I get to the one that's left," which is so Tony. If you ask me, I think it's between the rider's ears. Starts come and go with confidence and comfort and Mike will get back to his happy place, maybe from here on out.
6. Andrew Short Smithville, TX Honda CRF 450- Golf claps here.
7. Matthew Goerke Daytona KTM 450 SX-F- C'mon, it's Matt Georke! He's seventh! He's tenth in points! If I had told you before the season started that Matt would be ahead of James Stewart in the points after four races, you'd have called the cops on me and reported a 5150 (great disc by the way).  Matt's been great. It just took going to Canada and rebuilding his career to get to this point. I'm pretty much the only guy that subscribes to this theory but I'm running it away.
8. Broc Tickle Holly, MI Suzuki RM-Z450- Tickle is pretty much doing the exact same thing he did last year on the PC450. He's riding well, he's a tick off the top guys and his starts are crap.
9. Vince Friese Cape Girardeau, MO Honda CRF 250- Friese and Weston Peick got together in the heat and Peick ended up on the ground. This isn't good for either of these guys but this is good for our upcoming entertainment value at the races.
10. Justin Brayton Cornelius, NC Yamaha YZ450F- Brayton deserved better than this tenth. He was on it all night with good rides and good starts, but contact with Dungey left him on the ground. Could'a, should'a, would'a.
11. Jimmy Albertson San Diego, CA Honda CRF 250- Nice ride for Top Jimmy to get his career best. As he said in our post-race interview, 20 laps, not 19, is the goal.
12. Chad Reed Dade City, FL Honda CRF 450- He wasn't himself out there after the crash and then yesterday he tweets an MRI machine meaning something is up with him. Hopefully he's ok and considering what a disaster this race was, he's still fifth in the points after four rounds.
13. Kyle Chisholm Clearwater, FL Yamaha YZ450F- In a strange supercross world, Chisholm has gone 13-13-11-13 in the four races held so far this year.
14. Les Smith York, SC KTM 450 SX-F- I have no idea why but right from the start of the day Les (I wonder if his full name is Lester? You don't see that anymore do you? Probably because as a kid it rhymes with 'molester' and that would be tough to take.) was on it and looking great. And he made his first main so whatever the heck he did before Oakland and at Oakland, he should do it again.
15. Robert Kiniry Syracuse Yamaha YZ450F- Bobby went down in that second turn chaos and was pretty much screwed after that.
16. Joshua Grant Corona, CA Yamaha YZ450F- Ditto for JG.
17. Cedric Soubeyras Berre L'Etang, France Honda CRF 450- First main event of the year for a guy I thought would be closer to making them or in them. But this was also his last race before he goes back to France. Tough to build on the momentum when you're leaving the country.
18. Matthew Lemoine Baton Rouge, Louisiana Kawasaki KX 450F- Matt was thirteenth at one point and he's made every main this year (which is good) but in the mains, he has been stalling a bit and hasn't been able to get going. It's definitely a good news/bad news type of deal.
19. James Stewart Haines City, FL Suzuki RM-Z450- The good news for James was that in the home of the silver and black, he wore some all black Seven gear that was looking pretty good out there. Too bad we never got to see it up front as Stewart was on point at Oakland in a way he hadn't been all year.
20. Justin Barcia Pinetta, FL Honda CRF 450- If you're Honda and Justin Barcia, do you sit a race out to just relax and reset yourself? What a swing we saw, from a winner and title contender at Phoenix to two consecutive DNF's with pretty bad crashes. Welcome to 450 supercross, Justin.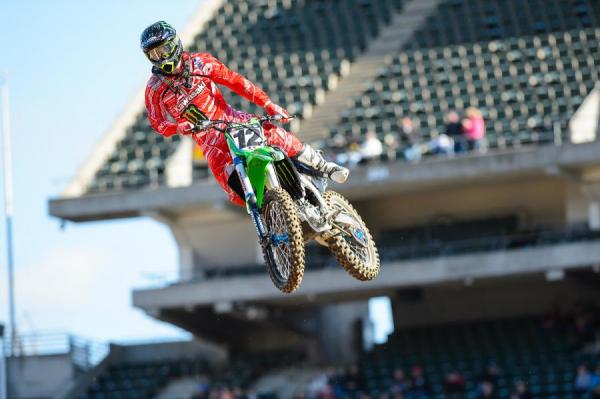 No Jake the Snake in Oakland.
Simon Cudby photo
Bummer deal for Jake Weimer in Oakland. He was coughing pretty good last week after the race (although I did accuse him of faking it for sympathy) and it turns out he had pneumonia, which followed him all week and forced him out of the race. He had been riding so well this year- hopefully he can get better and get back to his level.
Thanks for reading, send me an email at matthes@racerxonline.com and we can chat about this column and so much more.