Where Are They Now: Scott Burnworth
Hailing from the Golden State, Scott Burnworth got his first motorcycle in 1974 when he was 10 years old. Shortly after his father had removed the headlight, Scott began to show signs that he had some immense racing talent. In 1977, Scott became a minicycle national champion and was soon staring down a pro career.
In 1980, Burnworth received support from Suzuki. He used that year to learn the ropes of the professional divisions and picked up enough speed to really turn some heads, becoming the AMA Rookie of the Year. Yamaha took notice of this effort and rewarded him with a factory ride with a goal for him to compete for the 1981 AMA 125cc national championship. While Scott would come up short in his efforts, he had proved himself enough to earn a ride for the 250 class. In '83, "Burner" moved back to over to Team Suzuki and would compete against some of the greatest riders the sport has ever seen. He would finish a solid second to David Bailey in the 250 outdoor nationals, earning AMA national # 8 for the 1984 season.
With his professional career at full song, it seemed like things could not get any better. Unfortunately, Burnworth would suffer a broken collarbone that knocked a little wind out of his sails at the time he needed it the most. Still, he continued to race among the elite motocross racers in America at a time when motocross was at it's peak.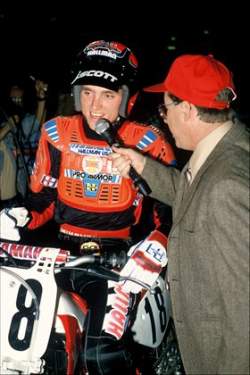 Burnworth at the '86 Anaheim SX
Then came what is arguably his most famous moment, at the 1986 Anaheim Supercross. Scott was a factory Yamaha rider and wore that super-cool-looking black-and-red Hallman riding gear. Shortly after grabbing the holeshot, he tried to square off a high-speed corner when a hard-charging (and, according to Scott, an "out of control") Ricky Johnson came in and cleaned him out. It was a fairly hard crash that pinned Burnworth under his machine for a while.
"Yeah, I didn't really understand why I was suddenly cartwheeling," Burnworth says. "I was a little upset about it, so when I got up I was just kind of riding around, and when Johnson caught me I decided to help Bailey out a little and make it a little hard for Ricky to pass me. Just a little bit, though!"
As the 1987 season came around, Burnworth began to suffer a little burnout and needed a change of scenery. It was during the time he met up with the Spanish KTM distributor and moved to Maresa, Spain, which is right next to Barcelona, to compete in the GPs. Burnworth enjoyed this time, as he was able to see most of the world. He would soon become homesick, however, and made the trek back home.
A friend of Scott's had broken ground on a Jet Ski company called Jet Pilot. Most of you may recall this company, as it was the preeminent Jet Ski wetsuit and accessories business, which was at the time a booming industry. Burnworth would begin working as a graphic designer, a trade he would master and eventually use to create a great life. During this time he would meet his future wife, Debbie, who was a model who worked at Jet Pilot. Together they had two beautiful daughters, Breanna and Brittin.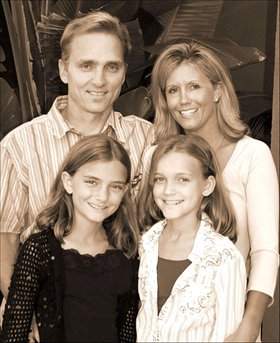 The Burnworth Family
Today Scott has his own graphic-design company, and his designs can be seen all over the motocross industry and on the bikes of race teams like Moto XXX. He also does work for Alpinestars, Maxima, Thor, CoopSport, Amp'd Mobile, ready Racing, Motostik, and more.
If you have any graphics needs you can contact Scott here: scott@burnerdesignusa.com