Anaheim, CA
Anaheim 1 (A1)
Monster Energy AMA Supercross Championship
"Can you hear my spin bike? I'm just doing a cool down spin," asked Monster Energy Yamaha Star Racing racer Levi Kitchen on Thursday, the kid straight out of Washougal, Washington. He was hustling in a bit of pre-race conditioning before the entire racing world begins looking on over to 2000 E Gene Autry Way, Anaheim, California 92806 and the 45,517-seat Major League Baseball stadium referred to as Angel Stadium of Anaheim. This Saturday, Kitchen, as well as a legion of other world-class motocross and supercross racers will take to the radicalized baseball diamond hosting the opening round of the 2023 Monster Energy AMA Supercross Championship.
As history has taught us, Kitchen only competed in nine AMA Supercross and Motocross events in 2022—two supercross main events and seven Lucas Oil AMA Pro Motocross Championship 250 Class races—and in those nine events Kitchen displayed excellent speed and form, a major highlight coming on June 11, 2022, at Thunder Valley when Kitchen raced to a convincing win in the opening 250cc moto. A broken wrist suffered immediately after the Southwick National in July threw a wet blanket on the remainder of the season for Kitchen, the 21-year-old finishing out the year and healing up to where it's now time to go supercross racing in 2023. Set to be sent out with teammate Stiles Robertson of Bakersfield, California, to contest the 250SX West Region beginning this Saturday, the race will mark the Washington native's first date with the Big A.
Racer X: Okay Levi, first off, "The Chef" nickname... I just took notice of that. That's pretty cool!
Levi Kitchen: Yeah, I think [Jason] Weigandt or somebody started that about a year and a half ago. It kind of stuck. Yeah, I like it. I'm just doing a little cool down spin after riding today.
So you guys rode today?
Yep. It was super good. it was a pretty easy day for me. We went and rode and that's it. Now it's time to line up.
So you'll be racing the 250SX West Region in 2023?
Yep. Exactly.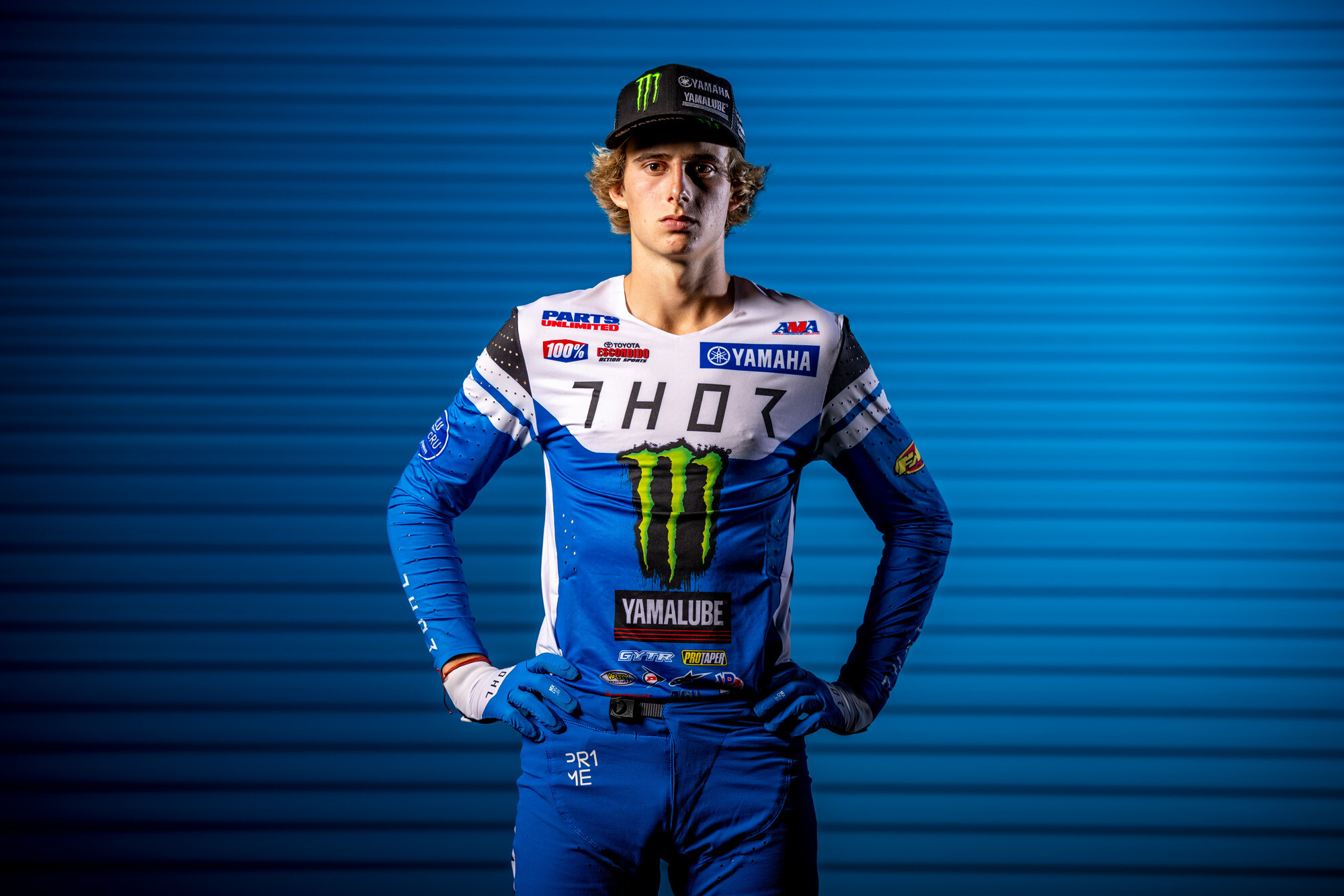 How are you and the team and the motorcycle? Everything in order?
Yep. It's been great. Everything feels pretty easy now. The situation is nice here. The team building and everything is done. Yeah, everything is good with the team and bike. I tested quite a bit at the beginning of the season, but I haven't changed much recently. I'm pretty happy.
You haven't raced inside Angel Stadium before, have you?
Nope, nope. Last year was my rookie year in supercross and I was East Region. I was pretty bummed. I came into the season and after being an amateur, I didn't really ride supercross all that much. When I first got on the Star team, they had me ride it some. Anyway, I didn't have a ton of supercross experience. I felt pretty good going into my rookie year, but I'd already been hurt in the preseason. I broke my shoulder and then I got a few weeks on the bike and then went racing. I was pretty happy with my speed, really. I think my problem and why I got hurt at Texas was because I kind of ride over my head maybe, so I just wanted to try to go to the front and it bit me in the butt. You know this year I think I'm more mature mentally and kind of know I should be. I honestly feel like I'm putting less pressure on myself this year than I did last year.
You raced the Minneapolis 250SX East Region main event last February and placed ninth and spoke to the media about how much you felt you earned in your first supercross. A good point of reference leading into Angel Stadium on Saturday, eh?
Yeah, I know that I'm capable. It's also easy to gauge if you're capable by riding with Star because I mean I'm doing motos with Dylan Ferrandis and Jordon Smith and Nate Thrasher and you name it, every day. It's pretty easy to know that if you're keeping up with those guys then you're probably going to be okay.
Well, not only that, but you won the opening moto at Thunder Valley last summer. I think everyone will back up my thinking that if you can win an AMA Motocross National moto, you certainly have world-class racing speed, huh?
Yeah. Yeah, for sure.
Have you been able to size up your competition? It appears that Jett Lawrence of Honda, Austin Forkner of Kawasaki, and RJ Hampshire of Husqvarna, to name but a few, are inked in to be behind the starting gate this Saturday evening.
Kind of. The teams seem to kind of keep it a secret, especially our team. They like to keep it a secret. As of now it sounds like me and Stilez Robertson are on my team. Like you said, Forkner and [Cameron] McAdoo will be racing for Kawasaki and RJ Hampshire will be on Husqvarna. Jett Lawrence will race for Honda. I don't know. I'm not really too sure as to what everybody is doing. I've kind of heard, but you just never know. I would think everybody would have their minds made up by now. Who knows?
You only lined up for a total of nine races in 2022, but all that withstanding, you know your speed and race craft are going to be right there, huh?
Yeah, definitely. I've kind of changed my whole mindset going into this year. Last year I wanted to show my speed. Last year I was basically a dumb kid who was trying to go as fast as he could. It works, obviously, but I also ended up getting hurt probably too many times. This year I really just want to be there every race and if that means I take a fourth on a night and that's just where I'm at, well, I'm happy to move on to the next weekend. That is kind of how I'm approaching this year because I just know how important it is. If a guy gets a full season in and you only get half of it, you can never make that back up. I just want to be there for every race and to try and build every weekend, really.
Yes, it can totally be a brutal and unforgiving sport at times, and one that is just so easy to get hurt in. Such a fine line, huh?
Yeah. It means everything. You have to stay healthy. These guys, once they are veterans, you don't see them get hurt quite as much because they just know their limits by that point, and they know how hard to push. Us kids, we just like to twist the throttle whether we feel good or not. You know, I also think my biggest goal this year will be starting up front. It makes it all a little bit easier.
I've read in some recent media you've done that you still feel like you're learning quite a bit as you move forward as a professional. What do you think?
Yeah, I'm not as young as some, but I'm still new to the pro thing. Even as far as the factory-supported side of things, I've only been on a race team for a couple of years now, so I'm learning all of these things. Everything they throw at me, I'm like, "Wow, this is cool. This is all new to me." It's still like that. You know, I was used to riding just basic stuff. To me, now everything is cool, and everything feels good. It's a little bit hard for me to set up a bike, but I can kind of adapt to anything. There is still a lot more for me to learn, especially on the race craft side of things. I've only entered two full seasons now and only made two supercross races and [seven] outdoor races in 2022. I have a lot of racing still to do.
Great point. To be a professional supercross racer, an athlete has to be all-in, huh? I mean there is the riding and the racing and the fitness and the training and the testing and even the marketing and inter teamwork and relationships. It's a lot for a young guy, isn't it?
Oh yeah, I definitely think this sport makes people grow up a lot quicker than a normal lifestyle. Like I said, I'm 21 years old now. It's a crazy sport. You move away from home; you get your own house, and you move away from your family. It takes a lot, and it takes a lot of self-discipline. You've got to have a good head on your shoulders, for sure.
How cool that you grew up in Washougal, Washington, and will now go race before a sell-out crowd and a live TV audience of a million or so people come Saturday night inside a Major League Baseball stadium, huh?
Oh, for sure. That's what I always dreamed of. It is definitely cool to see everything kind of fall into place for me. I'm excited.
How can you do when that gate drops on Saturday night?
I mean, to be honest, my expectation with the way I've been riding out here, I know deep down that I can win, but it's going to take some experience. I don't even know. I know that if I feel good on a night and I don't let the fact that I'm at a stadium filled with people and racing under lights get to me, I think I'll surprise a lot of people. I'm not really on anybody's radar. I kind of like that. I've always been an underdog my whole life. I like that feeling. I'm ready.
---
Main image courtesy of Octopi Media