Detroit, MI
Detroit
Monster Energy AMA Supercross Championship
He's known as Bam Bam and says he likes the old nickname Wild Child. He's wide open and aggressive. Yet, he's also wildly…consistent. Justin Barcia is now a veteran so we have plenty of data, and while his image might say he's a reckless racer, the reality is that he's one of the most consistent riders. Aggressive? Yes. A crasher? No. Plus he will always give you his best effort, so he will grind out a decent result even when he's not on his game.
Over the weekend in Detroit, Barcia was carrying a small injury via a cut on his middle finger (insert your own joke there). He persevered. Then many of his rivals crashed, and Barcia hung on to salvage a podium. Now he's up to fourth in points, just three back of a second-place tie between Malcolm Stewart and Jason Anderson. He's been in top ten in every race this year and has four podiums. Detroit really hammered home the consistency.
"It was crazy," he said of Detroit. "I wasn't the fastest guy, but I was just putting in my race. It really didn't fluster me. At one point, I don't know which place I was in and then I ended up in a podium position. I was like, 'All right, just keep plugging along.' Everyone was going down everywhere. Obviously now sitting back it was a scary night. I feel like this year I've been able to do the best I can do every weekend and I podiumed this weekend."
The cut to the middle finger, which required stitches, meant he wasn't as it his best when he grabbed the early lead in the main event.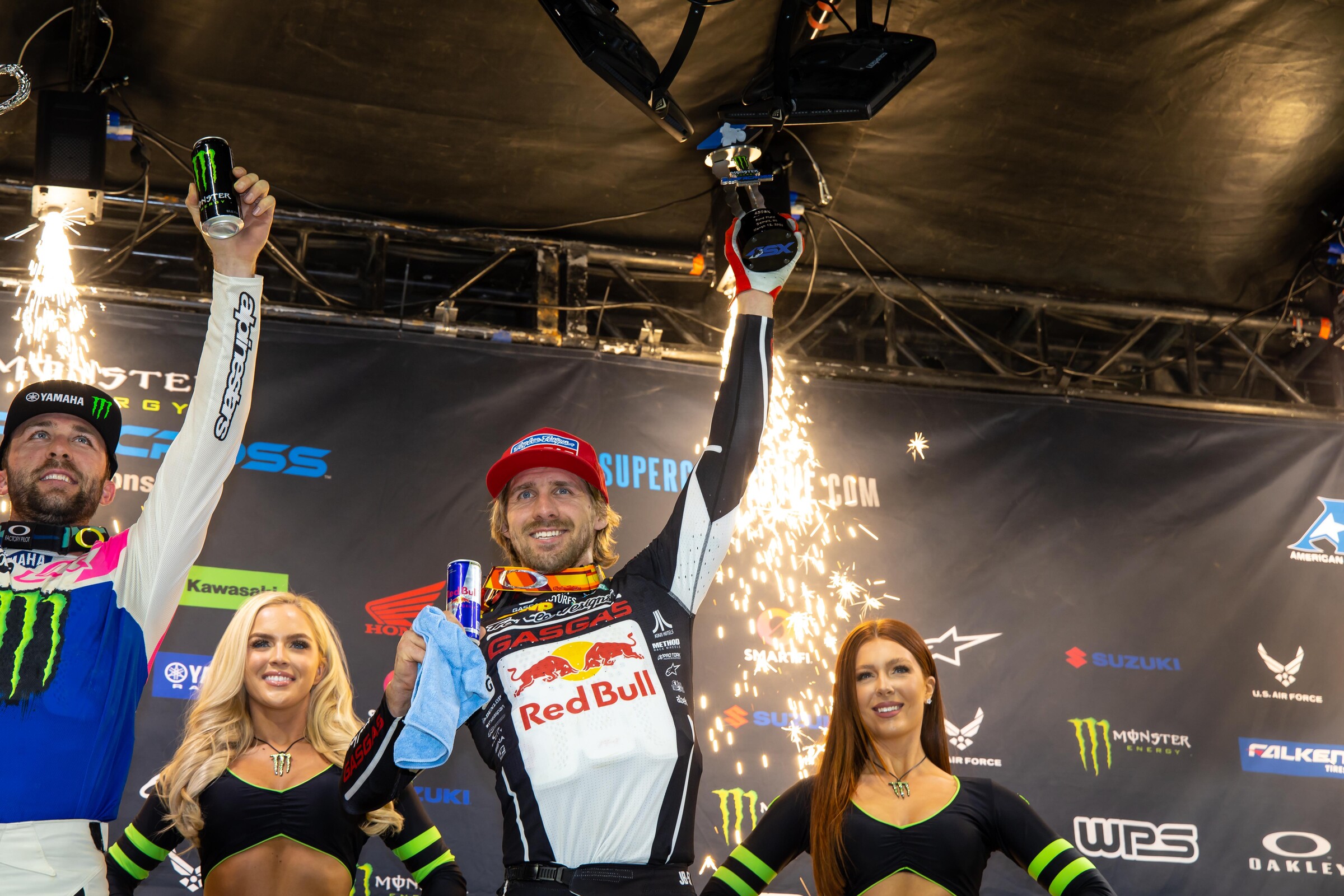 "The only person who thought [I couldn't race] was the doctor, that didn't know anything about dirt bikes, and told me I needed to take two weeks off," Barcia joked. "It happened on Tuesday so I was like, 'I'm going to the race no matter what and I'm going to give it a go.' My mentality is always send it and go for it. The only thing I was really scared about was infection. We've just been cleaning it all day because it is a deep cut, but just heal up next week and we'll be back at it again next weekend."
"Obviously, my intensity [tonight] wasn't the greatest," he added. "It held me back, for sure. I got up to the lead and then got shuffled back pretty majorly. This morning it was not good after the practice. I was in the motorhome talking to my wife. We were trying to decide, like, 'If I can't grip the bike I'm not going to be able to race.' That was the conversation we were having. But, we figured it out and figured out how to make good. We threw some Eli waffle grips on there to hold on [Note: Eli Tomac is one of the few riders to run full-waffle grips at every race]. It was all right. That main event was nuts, honestly. I was just controlling what I could control. That's all I did and it put me in third. I was really close to Mookie [Malcolm Stewart] at the end, so for the day it could have been, it was awesome."
Supercross
| | Rider | Time | Interval | Best Lap | Hometown | Bike |
| --- | --- | --- | --- | --- | --- | --- |
| 1 | Eli Tomac | | 27 Laps | 0:44.537 | Cortez, CO | Yamaha YZ450F |
| 2 | Malcolm Stewart | | +03.556 | 0:45.163 | Haines City, FL | Husqvarna FC 450 |
| 3 | Justin Barcia | | +05.606 | 0:45.061 | Monroe, NY | GasGas MC 450F |
| 4 | Marvin Musquin | | +24.992 | 0:45.570 | La Reole | KTM 450 SX-F |
| 5 | Justin Brayton | | +36.733 | 0:46.108 | Fort Dodge, IA | Honda CRF450R |
Full Results
With riders crashing all over in Detroit, everyone is left looking for a reason why. Was the track too difficult? Barcia doesn't sign up for such theories. This year, in general, the whoops have been very difficult, but when we asked Barcia about that a few weeks ago he said riders complaining about that are "a bunch of babies." He told us he would like the tracks to be built even bigger and steeper. Detroit didn't faze him, either.
"In my opinion, I don't think it was the gnarliest track we've ridden this year, breaking down-wise," he said. "I think the dirt, it was inconsistent. There were really hard spots, and then that back rhythm after the triple was the squishiest stuff ever. It was almost like they pulled the dirt from different spots. So, that one rhythm section was super squishy and then there was concrete after the finish. We were down to plywood a lot, so it's just difficult. The track guys did a good job, but all in all, I think the track layout was good. We were sitting on the gate for a while. They had a long track prep. So to me, they did all they could do, but it was just that dirt. The dirt was just awkward, honestly. It seemed like it was reaching up and grabbing people."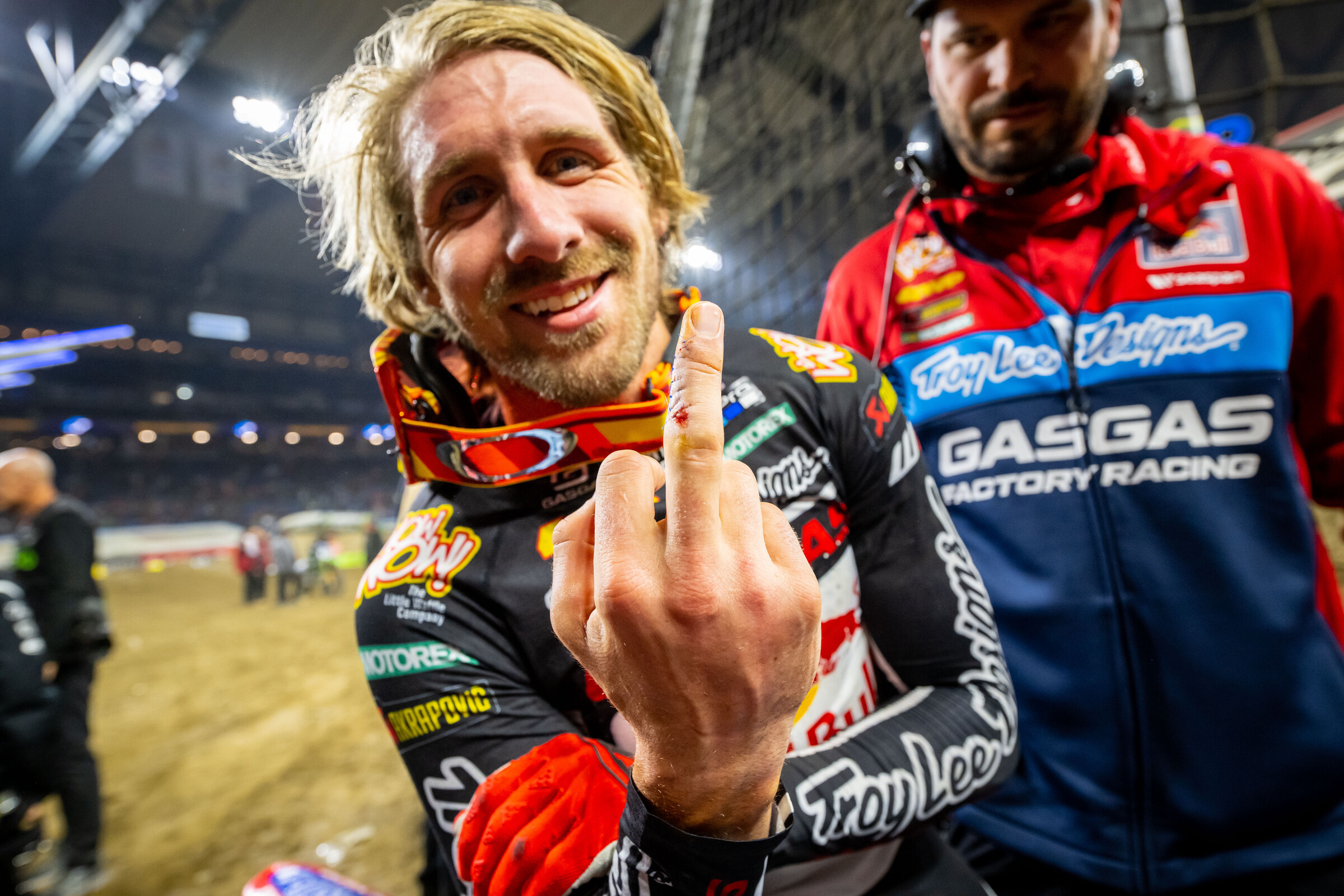 One of the big changes for Barcia in recent years has been basing himself primarily in California. Justin, originally of New York but a long time resident of the Cairo, Georgia/Tallahasse, Florida area, now sees the value in working near the race team in California. There are some downsides, though, as these tracks get rougher.
"We've been searching with the motorcycle a lot lately, I'll be honest. We've been having to put in a lot of work, a lot of long days," he says. Again, Barcia will never cheat you for effort. "The California tracks, it's honestly a little bit difficult to test for us. They just don't break down like the races. So testing to me this year has been a little bit more difficult. I feel like I leave the week on a really good setting and then I come to the race and the track is just so different and broke down. Today my finger was kind of a blessing in disguise because we used every session as a test session. Our main suspension guy, Adam, wasn't able to be here today, so our guy Hunter really had some great ideas and I'm sure he was calling Adam back home. The team did an awesome job. I feel like the bike shined today and I have a lot more to give on it now. I'm excited to heal up this finger and do some riding in the end of the week and go swinging in Indy. I like Indy a lot. It's a good place. I've had a lot of good luck there."