Minneapolis, MN
Minneapolis
Monster Energy AMA Supercross Championship
Last week, several factory race teams held introductions for their 2022 AMA Supercross and Motocross race teams. The Troy Lee Designs/Red Bull/GasGas Factory Racing team held their intro on December 16 at Blackmore Ranch in California. At the intro, it was announced—as expected—all three riders from 2021 would return for the following season: Michael Mosiman, Pierce Brown, and Justin Barcia. It was also announced that Barcia had re-signed with the team through the 2023 season. Our Kellen Brauer was in attendance and caught up to the trio to talk about their preseason prep, cheat meals, and more.
Racer X: So, first of all, it was just announced that you got the new deal through 2023. How did that whole thing come together, how long have you been discussing that, and how exciting is it to get it done?
Justin Barcia: Yeah, stoked to be with the team until 2023. Obviously, the big picture is to be here for the end of my career, and we'll see how long that goes. We really didn't have to work on it too much. It was kind of like, they were happy with me, I was really happy with the team, and it kind of just worked out really easy. Like TK [Tyler Keefe, team manager], Troy [Lee], and all the guys at KTM and all the higher ups were stoked on me, and I was obviously stoked on them. So, I'm super grateful to be here and having fun with them.
How special has this whole year been? Because you brought the first win for them in supercross, the first win for them in motocross, obviously we just heard Troy say how much that [supercross] win meant to him. It's got to be special to be part of this whole program?
It's unreal for me. It makes me obviously feel super appreciated just being a racer but I'm honestly beyond grateful. I'm just grateful for the people. The people on this team just care. They really care about you. Like today for instance with the flat track stuff, that just doesn't really happen in our sport that much to do different stuff. They're just a good time and they care about me, and I care about them. It makes life a lot easier to just go out and race and give it your all when you have a crew like that behind you.
With the flat track stuff, is there some stuff you can learn like similar to flat tracking in Vegas for example?
Absolutely. I feel like any riding you can learn something. With the flat track, you learn sliding into stuff. We all rode together a little bit and we're like setting up passes and you have to think ahead. But yeah, definitely you learn a few things with your body and just a different riding style. For me, anything on a dirt bike is fun so that builds little things for sure.
You spoke a little bit too about how post-career, doing something like [Ryan Sipes] does is interesting to you. But how much interest do you have in that? Is Erzberg seriously on the radar potentially?
I love riding dirt bikes and I don't feel like I grew up just being a motocross rider or supercross rider. I grew up riding, not necessarily riding trails, but just riding whatever. When I was little, I rode for a shop called Maroney's and they did ice racing, they did flat track, so I got to try that stuff a little bit and obviously I got into motocross and that's what I love, but I loved riding anything. So yeah, I think hopefully I can build myself into doing some cool stuff like that because I think no matter what, I love to race dirt bikes. It's not even about making a living at it, but to just have fun when I retire would be sick.
Focusing on 2022 supercross, everyone always brings up the three wins in a row winning the opener. But would maybe winning like the second round be almost more special because then you've finally got the ball rolling a little bit?
Yeah, exactly. That's a great way to put it. Obviously, everyone's like, "What about the four-peat?" But for me, yeah it would be fantastic and cool, but I'm looking at the bigger picture for sure. This year, we had a really good season going but we had a few little hiccups. So, for me, definitely the bigger picture is going all the way to the end. I'd rather win the last race than the first race.
There's been a lot of positive talk about you training with Wil Hahn now. That relationship sounds like it's been great, and you guys have had a great off-season. Is this maybe the best you've felt coming into a season?
Yeah, it's funny, we went bike riding the other day with all the guys and Michael and Pierce were like, "This is the best off-season we've ever had!" And I kind of sat back and thought about it and I was like, "I don't think I've had a better off-season either!" I feel awesome on the bike, I feel fit, and Wil's been great. I've said it a zillion times today, but it's been a lot of fun. It went by really fast. It was not a drag at all. It was obviously a lot of hard work, but just really enjoyed it.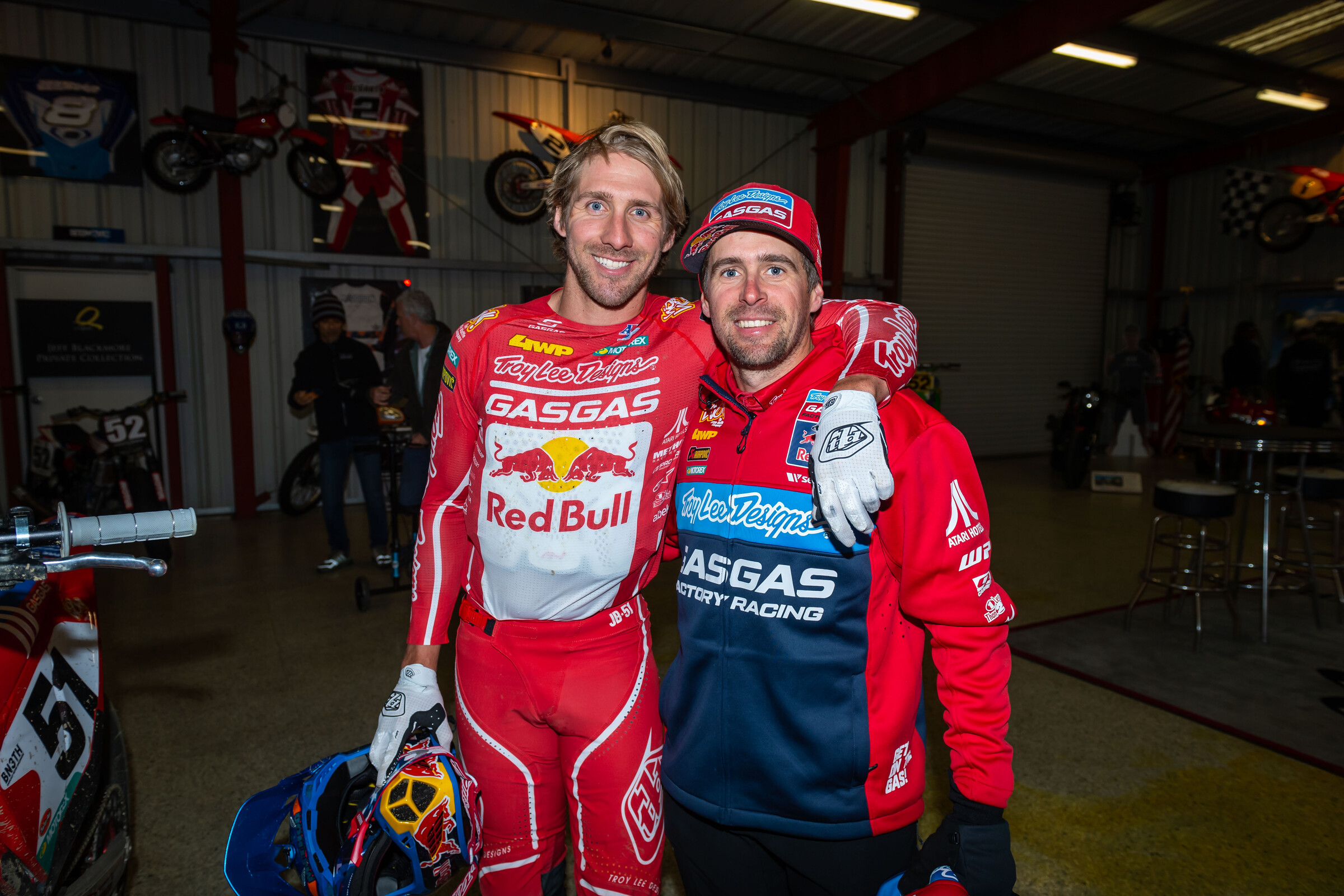 A couple fun questions to end it here. What's the best cheat meal you had this off-season?
Pizza for sure.
Got to get the New York pizza?
Yes, 100 percent. Definitely get more New York style margherita is the pizza I would go for.
This is maybe a little cliché, but if you could think back to one moment this year where you though, "Damn, I'm having a fun time on my dirt bike," is there one thing that stands out?
There's been some good moments, but I would say the thing that brought back a lot of good memories and a lot of fun was just battling with Michael and Pierce [at the test track]. I told them like, "Don't be scared to rub plastics," and yeah, I got put over a berm like more than one time this year and that to me was awesome. I feel like as a team, we've really learned a lot of stuff this off-season just battling and passing and pushing each other every day. And honestly, Michael and Pierce are riding awesome right now and they're keeping me on it for sure. So, just to be around those two has been super positive to me and enjoyable.
With the Dakar Rally coming up, if you and Michael and Pierce had to go race that, who's going to get lost first?
Oh man, I think it would be a solid battle between me and Pierce getting lost first! Michael seems like he's usually pretty calculated and he's probably figure it out, but me and Pierce would be battling for who is lost first.
How many times in your career would you say have you thrown a whip out there and thought, "I'm not sure if this one's coming back?"
You know, honestly not a lot. There's been a few though! Definitely a few in my career that you throw a big whip and you're like, "Oh wow, that was close." But they always seem to come back.
I feel like there was one in Vurb Platinum.
Oh yeah, 100 percent. I overshot, like whipped it so hard and overshot and landed on flat ground and almost killed myself. So usually, that happens. [Laughs]
Racer X: So first off, how has you off-season been?
Pierce Brown: Off-season has been great so far. We have Wil Hahn on board now, he's the new trainer, and we've just been out in California and putting in work. It's just been me, Justin, and Michael. So, it's been really good. We've just been grinding. It's been a long few months, but now we're kind of on the downfall because it's getting closer to A1 so right now it's just kind of fine tuning everything. But the off-season so far has been great for me. It's been a lot of building. I don't think I've built this much on a dirt bike in my life. From when we started in October until now, my mechanic told me I'm like a different person. Like he hasn't seen anyone make that much improvement in that short of time. That to me means a lot because the first two years of my pro career, I haven't had a full off-season. I've been hurt so I've been behind the eight-ball coming into the season trying to catch up. So, to finally have just a heathy off-season and a proper prep for the season brings my confidence up and I feel way better. I'm excited for the new year.
Is there anything specifically that you worked on or was it just kind of everything from training to technique and prep?
It's been everything. I think Wil's been a big part of it too. He's helped me a lot on the mental side. That's something I really haven't worked on at all in my life, so just incorporating that into my everyday life has helped a lot just with everything outside of dirt bikes too. So yeah, I feel like I'm starting to mature a little bit as a person. I think of myself as a pro instead of an amateur. I'm super excited. Wil's been probably one of the biggest breaths of fresh air that I've had, so it's going to be a great year I feel.
On the mental side of it, has it been a little difficult because it seems like every time you've had a little bit of momentum, you've either gotten hurt or had something that stifled it?
Yeah, a little bit. Just little stuff that I didn't know about myself until now. Every time I would gain a lot of momentum like you were saying, like last year I had a really good showing at Daytona in my first race back, next weekend I kind of had a freak accident. Maybe it was bad luck, just fell over in a corner and broke my thumb, was out for a couple weeks and then came back and I just never really found my flow again. So, for me it was kind of just pulling myself back a little bit and letting everything come to me. Like if it's a bad day, it's a bad day. Don't force it.
So, is there any goals you can set for yourself realistically or are you still almost testing the waters?
No, I've set some goals for myself for sure. I want to be a podium guy. I had my first podium, so I just want to get the ball rolling and get up there more often. One of my main goals is to get a win. I haven't got a win yet and there's a bunch of people that I've been racing with my whole life that already have wins. So, it's kind of fueling the fire for me and making me even hungrier to go out there and kill it.
Do you know if you're doing east or west or is it still just up in the air at this point?
No, it's up in the air. Me and Michael are both prepping for West Coast. I think they're just going to drop it on us that day or something like that. I talked to Wil about it and was like, "Dude, what are we doing? What's the deal?" Because me and Michael are pretty close in speed right now. Some days I'm better, some days he's better, so it's kind of a tossup. But Wil just said he wants us to be ready for A1 no matter what in case anything happens. That's the plan right now, so I have no clue what I'm doing.
As good of an off-season as it's been for you, would it be a little bit of a bummer to build up for A1 and then they tell you you're going east, and you have to wait six more weeks?
Yes and no. I just want to go racing. I couldn't care less if it's East Coast or West Coast. But don't get me wrong, I've been wanting to do A1 since I was a little kid. That's one of my dream races that I haven't been able to do that I want to do, but if it doesn't happen, it's going to happen sooner or later.
A couple fun questions to end it, what's the best cheat meal you had this off-season?
Dude, so I've never had Cane's [Raising Cane's] before, right? I had no clue what it was and me and my buddies went there. It might have been Coop [Cooper Webb] who told me about it, so I went. And dude it changed my life. So, every Saturday is like a cheat meal for me, and I go straight to Cane's.
Have you been doing it up to like this past weekend or did you stop a little while ago?
No, I found out like two or three weeks ago! So, it's been a thing. It might happen again this weekend, I don't know.
Alright, give me one time last year where you though, "Riding dirt bikes is awesome." Like, "I'm having a great day," essentially.
I feel like last year I had so many ups and downs that I never really had that moment, but I think Daytona was pretty surreal for me. I was kind of just in awe all day. It started off rough and I was like, "All right, it's just going to be one of those days," and it ended up being one the best nights of my life. So yeah, that was cool. Just like that whole night was an experience. I feel like every day of riding this off-season has been like those days. I'm just super stoked to ride every single day. I've got my gear all laid up in the garage every night before, it's like the first day of school. It's been really exciting.
Racer X: Let's just start off with, how are you? How is Michael Mosiman?
Michael Mosiman: Well currently I'm a little cold. I've been talking a lot tonight, a lot of interviews. But I'm really well. My career is going well. I'm trying to buy another place in Florida so I'm being somewhat of an entrepreneur getting into real estate and that's going really well. My relationship with my girlfriend is going really well, I'm madly in love and you know, anyone who's ever been in love and knows this season, it's so good. My mechanic is awesome. What more could I ask for, really?
The off-season sounds like it's been great too. I wanted to ask you about goals coming into the season because you haven't quite won a race yet, but I feel like you're already a title contender coming into the year. Is that where you're at mentally?
Absolutely. I plan to win the title this year, whatever coast I go on. I have the coast in my head which I plan to go on, but we'll let someone else reveal that.
Yeah, talking to Pierce, it sounds like you guys are both preparing to race A1?
Yeah, we're preparing like we're going to race A1 and we're both ready and equipped. So, it could go either way.
Which coast would you prefer?
West Coast.
If you did have to go to east though, it's not going to be that big of a deal?
Absolutely not. I did great at East Coast rounds last year too. We've kicked it around a little bit, and you know tried to figure out which one would be best. I'd prefer to go west. I think the best guys go west and I want to beat the best.
You guys were talking on stage tonight about actually banging bars at the test track. Is there ever any push back like, "Hey maybe we shouldn't be doing it that hard," or are you guys all fair game?
No, it's pretty much all fair game. You know, no one likes to be passed. There was one time, I got into Justin pretty good, and we could have gone down. If it was a race, he would have gone down, and I would have won. But we know what's going on and we're smart and that's what it is. You try to make a clean, aggressive pass. So, we've realized [the limit], and Justin for a second was like, "Ah-, gr-, you-," and then he was like, "Nope, that's good!" And then, he's done the same thing to me so it's like it's all fair game and everyone loves it. The mechanics love it because they're not just doing pit boards and watching you go around another lap just the same as you did before. You know, it's exciting and they're like, "Oh that's fun! I like this stuff!" I think that's one of the things that just makes it really fun for us all.
A couple fun questions, what was your best cheat meal this off-season?
So, I followed Aldon's [Baker] program really well. And even before I was at Aldon's, I never did any sweets. Like when I was 13, I said, "I'm not eating anymore sweets." At like 13! You're still a kid! I was a kook! And that determination has still gotten me to this place, but this year I just let loose. I'm looser. My diet is better than what it was on Aldon's program in a lot of ways but so much stress has been taken off in a lot of ways. Because it's not like, "Oh, if you eat this, then you're going to have to make up for it." Not make up for it, you can't make up for stuff, it is what it is. But, it's just been a lot less stress. So, I made gingerbread cookies and I'm getting in the holiday spirit! And I had a couple gingerbread cookies, and I loved them! They were delicious. And guess what, if on race day those gingerbread cookies are make or break for me, how weak is my self-confidence? How weak is my belief that I'm going to let a gingerbread cookie… like no. I could have 1,000 gingerbread cookies and still go kick butt on the weekends. And I'm just in a different place and a different mindset and gingerbread cookies are not going to be make or break. I would say that's the best.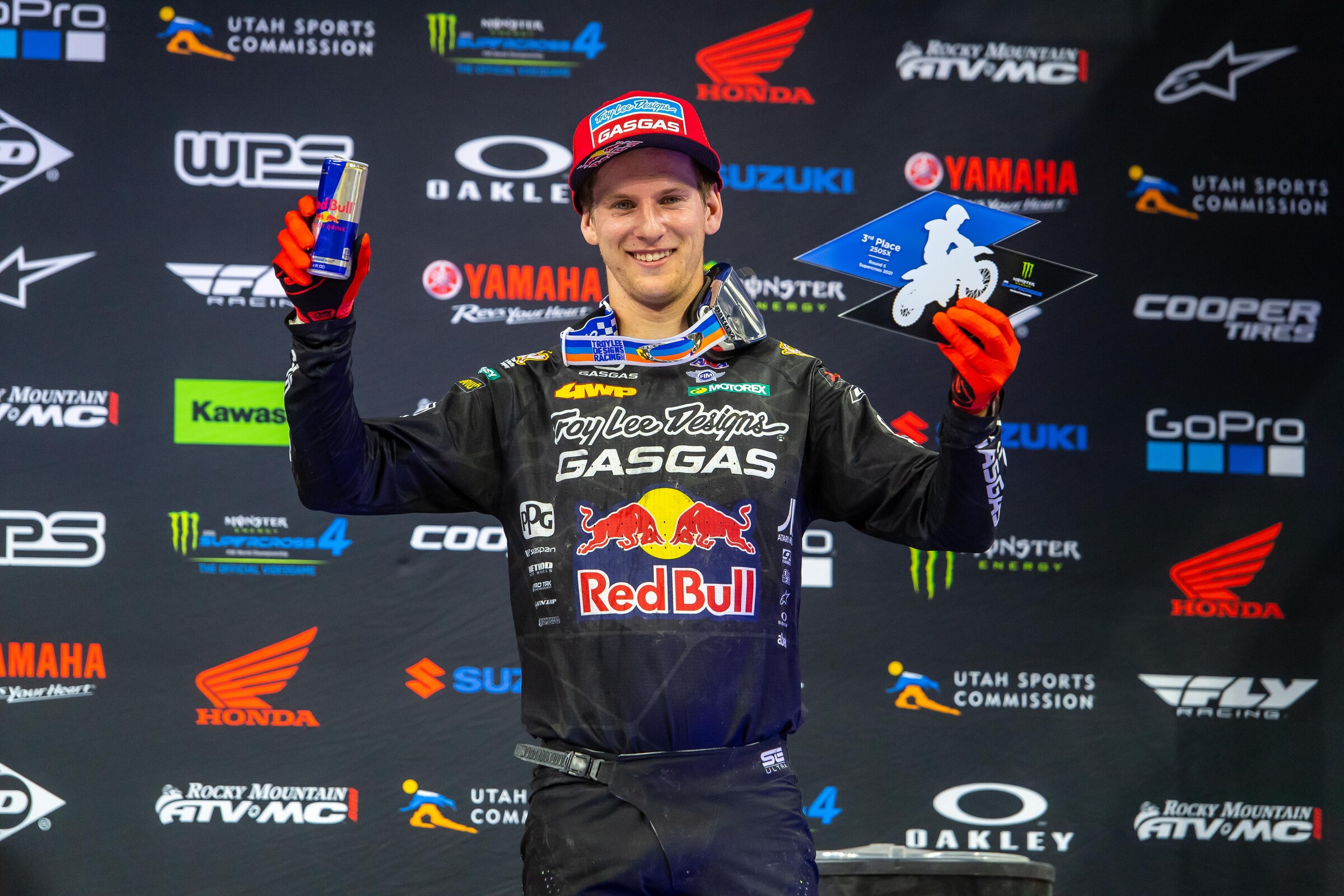 You've gotten to know your teammates pretty well, but if you all three had to race Dakar, who's going to get lost first?
[Laughs] Pierce. Yeah, Pierce, no doubt. He'd probably be on his phone the whole time. He'd get enamored with the screen there, maybe swiping right a couple times, I don't know! I think Pierce would get lost.
You're also into a lot of different hobbies outside of moto, what's kind of the one hobby that's got you hooked right now?
So, it's tricky. I'm particularly locked in right now to winning this season. Oh, you know what's my hobby right now? Real estate investing. I spend so much time on Zillow and it's so exciting for me. I got the board game Cash Flow and I've been learning a lot about that. I've been wanting to learn a lot about that for a long time, and off-season I really doubled down and I'm actually under contract for a place and I turned my house into a rental house and moved to a different place. So, I got some stuff in the works and it's pretty exciting. I've been under contract with five or six different houses in the last four months and the market has been nuts. I've made offers on way more houses than that. I've just got a lot of different things up my sleeve, so it's been a huge hobby of mine and a borderline addiction. So, I've got to control the Zillow hours.
All right, so you'll be a real estate mogul after your racing career then?
Yeah, I hope so! I told someone like, "Yeah, I could probably make more money investing in real estate and doing different things this year than I can racing motocross." I truly believe that but I'm going to go race motocross because I think it's awesome and I'm not in it for the money, but that's there.