Anaheim, CA
Anaheim 1 (A1)
Monster Energy AMA Supercross Championship
If you don't know much about Logan Karnow and don't understand the title of this article, just keep reading. He was not a basketball prodigy, by the way. Logan grew up in Vermilion, Ohio, in a family with deep motocross roots. His dad, Ken, won the Vet B Plus 30 title at Loretta Lynn's Ranch in 1995. His mom, Lana Dunfee, was an accomplished female motocross racer. He also has uncles on both sides of the family who raced at a high level. Logan was destined to be a racer.
Logan first rode at the age of four and quickly fell in love with two wheels. Like most kids who eventually turn pro, his family traveled the country racing. He raced all the outdoor events you would expect, including the AMA Amateur National Motocross Championship at Loretta Lynn's Ranch in 2006 and 2009, but his main focus was amateur arenacross.
"I grew up doing a lot of races in Ohio, Pennsylvania, Illinois, and Indiana," Karnow said. "That was my big thing. I won a lot of what they called The World Arenacross Championships. I kind of excelled at that. My results were better there versus doing outdoor races. I think doing that set me on the fast track for supercross", Logan said. He also qualified for the U.S. Open World Arenacross Finals at the MGM Grand in 2004.
The Ohio native is a student of the sport. He's extremely knowledgeable on what he calls "old moto," by which he means 2005 and 2006. "I literally know almost every word to the Bar to Bar videos. I'm a dork when it comes to that. I'm like AC," Karnow says. Growing up his favorite rider was Jimmy Button, who owned 7 Clothing at the time and Logan ran the #7. When he met Jimmy at MGM, he gave Logan some merchandise and that's all it took. When asked if he ever lined up next to someone he was a fan of he answered, "I lined up next to Chad Reed one time. That was pretty cool. I asked Julien [Perrier] with PRMX, 'Please get a picture.' He hadn't got the picture and the 30-second board was up. I was like, 'Get the picture! This is once in a lifetime.'"
In 2018 and 2019, not only did he race supercross, he competed in the Canadian SX Triple Crown Series. He finished third in Canada both years. He also won the Quebec Arenacross Series Championship in 2018, which gave him a lot of confidence, and a great night thanks to a legendary after party. The life of a privateer is a compelling one.
As a Privateer, Logan has raced for a couple different teams. Perrier, owner of Team PRMX, started helping Logan in 2016.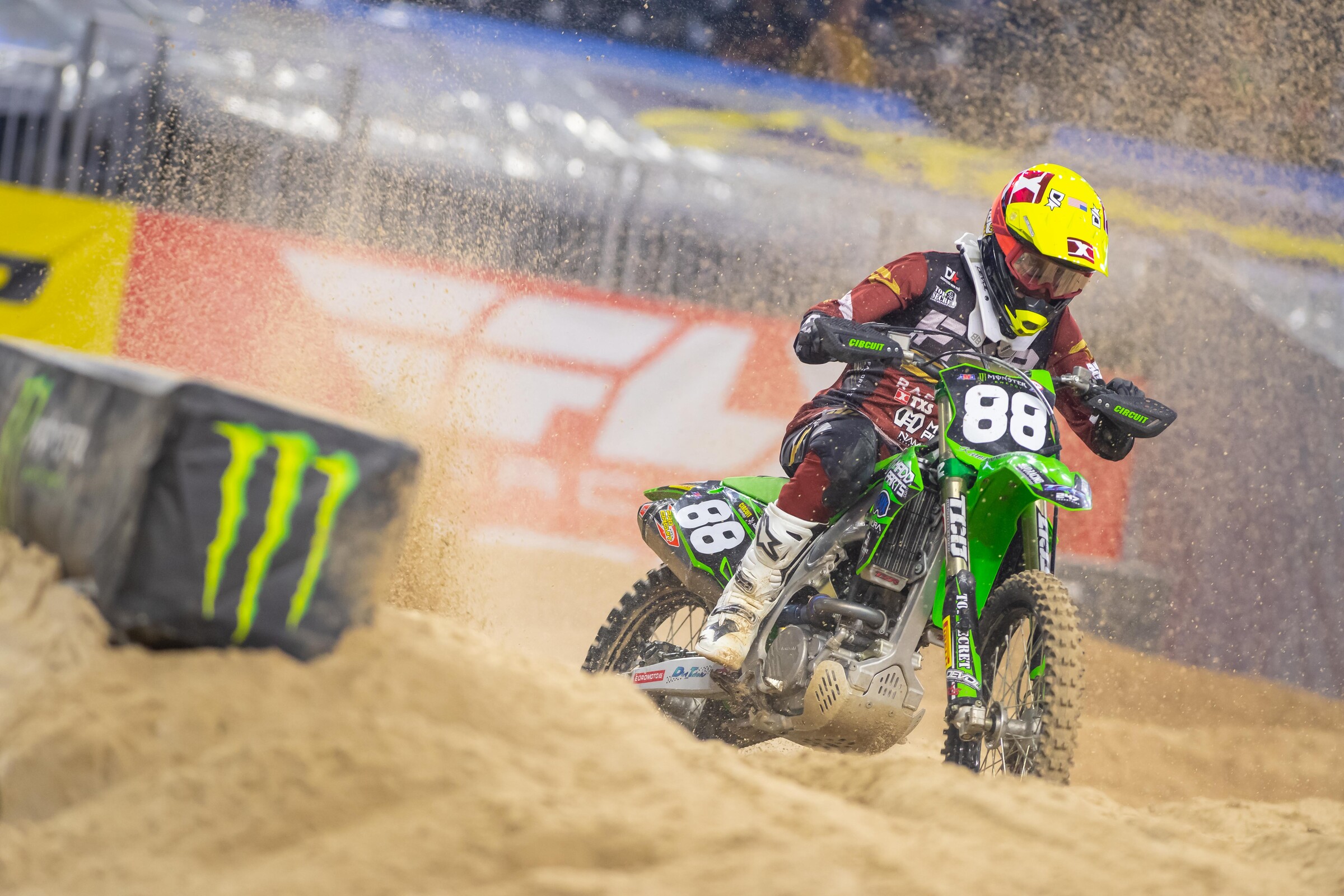 "Julien wanted to start helping a guy in supercross and I was one of the first guys he supported. He's still like my second dad", Karnow says. "If something happened to my bike, it was less stressful knowing I had support to fix it. It was so helpful when I didn't have anything."
In 2021, Karnow moved to Bubba Pauli's International Supercross team.
"I kind of just wanted a change of pace. It was amazing having his help," Karnow recalls. While there, he had a chance to work with Pedro Gonzalez, the fastest rider Mexico has ever produced. "If I had a bad race, [Gonzalez] didn't want me to dwell on that. He'd say, 'Okay, you got a good start'. Or, 'Your first couple laps were good.' Always finding positives here and there," Logan said. He told me, "I remember seeing him on the Pro Circuit bikes. It was exciting to have him there. He was changing our air filters. He just wanted to help."
The 2021 Monster Energy AMA Supercross season was the best of Karnow's career. He finished tenth overall in the 250SX West Region, with his best finish being a seventh at Salt Lake City 1. Karnow is aware a lot of the competition was hurt, but maintains that, "Staying healthy is a lot of it. I was one of the ones who didn't make a stupid mistake. And I benefited from it."
A moment he will never forget from the '21 season happened at round three in Houston, Texas. He was in the second 250SX heat race in which he pulled his best start of the season. He took the lead coming out of the first turn and looked to be headed directly to the main. Unfortunately, he made a mistake at the end of lap one and ended up in what many call the "Steve Matthes Memorial Nets." Aaron Plessinger and Jason Anderson, who were heading to the gate for the first 450SX heat race, were saved by nothin' but net. Logan was bummed but says it's not all bad. He got a lot of publicity out of it. All things considered; it was an impressive year.
Take some time at your local supercross and go talk to these privateers. They generally have great personalities, funny stories, and are willing to visit with the fans. Karnow is no exception. He's a kid who loves riding his dirt bike, hanging with his friends, riding BMX, and talking moto. Find him after the race and he may even drink a White Claw with you. I asked him if there's any benefit to being a privateer.
"One of the benefits is driving across the country to most of the races," he said. "You see a lot of cool stuff. I'm kind of over it now, but it's been cool."
For 2022 Logan is doing his own program, which is a big change. "This year is different," he explained. "I've had to contact every single sponsor. I'm emailing, texting, calling, getting all the logos, getting the banners done, and trying to do my training on top of that. I told Bubba Pauli the other day, 'I respect what you do. It's a lot of work.'"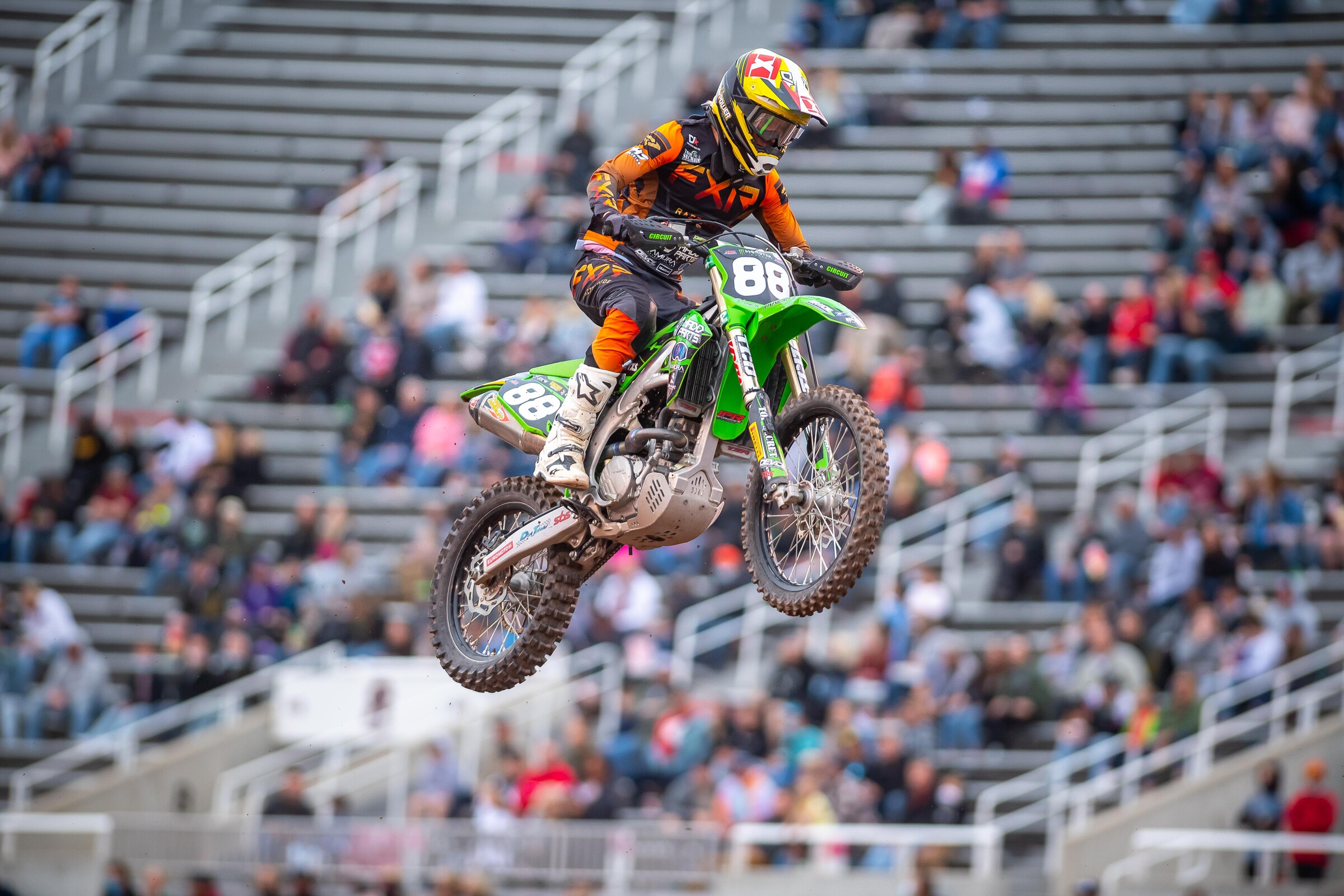 Bubba is still letting Karnow train with him, and he has Daniel Loub helping him as a trainer.
"I'm working my butt off," he said. "My trainer works under Peter Park, who trains top level guys in the sport. It's no joke. It's insane. I'm doing more laps than I ever have. I usually struggle toward the end of the main. This year I won't be struggling."
Karnow will also be moonlighting in the 450 class when he has off-weekends in 250SX. Look for Team MotoZone at all 17 rounds. The #67 will have Travis Delnicki wrenching for him.
As far as goals for 2022, Karnow said, "I'd like to be a top-10 threat. I want to work hard and do the best I can. It would be cool to make some 450 main events. That would be exciting." If you want to show some support for Karnow, visit LoganKarnow.com and purchase some of his merchandise, which should be available soon.